You are here
Iraq sets May 12 date for elections to be contested by Abadi, Iran allies
By Reuters - Jan 22,2018 - Last updated at Jan 22,2018
Iraqi soldiers check the documents of passengers as they control one of several checkpoints they set up along the main 50-kilometre road between the area of Karmat Ali on the northern outskirts of Basra and the town of Al Dayr on January 13 (AFP photo)
BAGHDAD — The Iraqi parliament on Monday set May 12 for elections the winner of which will face the daunting tasks of rebuilding Iraq after a three-year war with the Daesh terror group and a battle against entrenched corruption that is eating away at its oil revenue.
Parliament voted in Baghdad to approve the date proposed by Prime Minister Haider Al Abadi who is seeking reelection, buoyed by a surge in popularity for successfully leading the war on the militants, with support from a US-led coalition.
Sunni and Kurdish lawmakers had asked for elections to be postponed, to allow the return of hundreds of thousands of displaced people to their homes, but Iraq's highest court on Sunday ruled that that would run against the constitution.
The May election will decide the prime minister who will lead the country for the next four years, a position reserved to the Shiite Arab majority.
The personality of the prime minister will be important for Iraq to attract reconstruction funds at a conference planned for this purpose in Kuwait in February.
Baghdad says at least $100 billion will be needed to rebuild houses, businesses and infrastructure destroyed in the war.
But deep-rooted corruption remains an obstacle to attracting investment: the oil-rich nation is the 10th most corrupt worldwide, according Transparency International.
"Having Abadi as prime minister would be reassuring for the donors, given his strong views about the need to fight corruption, but he will be required to take stronger action," said Hisham Al Hashimi, a Baghdad-based analyst.
Two Iran allies
Among other contenders for the top executive job are former prime minister Nuri Al Maliki and Hadi Al Amiri, a former transportation minister who bolstered his clout during the war on Daesh — both of whom are among Iran's closest allies in Iraq.
Amiri, the leader of the Badr Organisation, initially formed an electoral alliance with Abadi, but later announced they will be running separately and possibly form an alliance after the elections for the purpose of forming a government.
"Regardless of the identity of the winner, Iran will have leverage," said Hassan Shaaban, a political commentator and rights activist in Baghdad. "Given the escalation with Washington, it is very important for Iran that Iraq's leadership understands and preserves its interests."
US President Donald Trump this month threatened to exit an agreement that curtails Iran's nuclear programme in return for lifting international sanctions, citing violations of the agreement by Tehran.
His administration also considers as a threat Tehran's support for groups like Lebanon's Hizbollah, Yemen's Houthi rebels and some Iraqi paramilitary groups.
Amiri's Badr Organisation was the largest group making up the Popular Mobilisation Forces, a coalition of paramilitary mainly backed by Iran with a considerable popular base among the Shiite Muslim majority but accused by Sunni and Kurdish politicians of abuses including population displacement.
Abadi took over the premiership in 2014 from Maliki, who was widely blamed by Iraqi politicians for the army's collapse as Daesh seized a third of Iraq.
Maliki, who holds the ceremonial position of vice president, remains one of the most influential Shiite politicians in his capacity of leader of the Dawa Party.
Even though Abadi is a Dawa member, Maliki declined to endorse him, and the competition between them two means that they would need to seek the support of other Shiite parties, as well as Sunni and Kurdish groups, to form governing coalitions.
Influential Shiite cleric Moqtada Al Sadr has said he is backing an alliance called "On the Move" (Sa'iroun) focused on fighting graft, formed between some of his supporters, the Iraqi Communist Party and other small secular groups.
Sadr, who has a large following among Iraq's urban poor, had criticised Abadi for his possible alliance with Amiri, saying it contradicted the prime minister's stated ambitions to reform the state. No candidate for the premiership has yet emerged from his "On the Move" alliance.
"Whoever emerges as top contender for the premiership, he won't have enough seats to rule and will have to form understandings with others, with Shiite, Sunni and Kurdish groups to have a solid governing base," said analyst Al Hashimi.
up
71 users have voted, including you.
Related Articles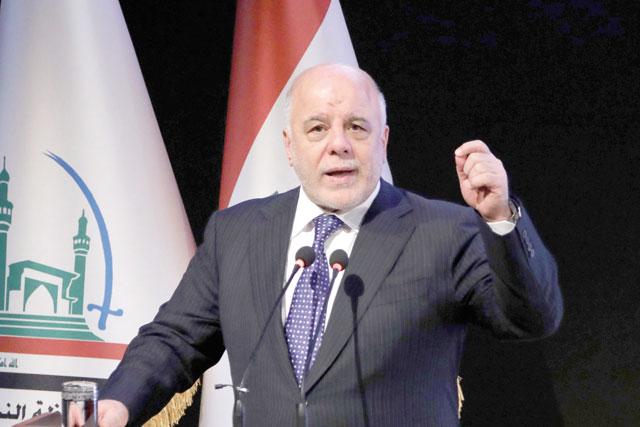 Jan 14,2018
BAGHDAD — Iraqi Prime Minister Haider Al Abadi on Sunday announced he would stand for reelection on May 12 at the head of a cross-sectarian
May 03,2018
BAGHDAD — Former Iraqi Prime Minister Nuri Al Maliki fulfilled his life-long goal of wresting power from the country's minority Sunnis after
Jun 24,2018
NAJAF/BAGHDAD — Prime Minister Haider Al Abadi and cleric Moqtada Al Sadr said their political blocs would enter into an alliance, bringing
Newsletter
Get top stories and blog posts emailed to you each day.