You are here
Iran's Raisi to visit Damascus on Wednesday, in first since Syria war
By AFP - Apr 30,2023 - Last updated at Apr 30,2023
TEHRAN — Iran's President Ebrahim Raisi will travel to Damascus on Wednesday, Iranian state media reported, touting a "very important" two-day visit against the backdrop of increased regional engagement with the Syrian regime.
"Dr Raisi's trip to Damascus next Wednesday is a very important trip due to the changes and developments that are taking place in the region," IRNA state news agency on Sunday quoted Iran's ambassador to Syria, Hossein Akbari, as saying.
According to IRNA, Raisi will lead a "high economic-political delegation" in his two-day trip at the official invitation of Syrian President Bashar Al Assad.
Tehran, a major ally of Assad, has supported his government during Syria's 12-year-old conflict, but no Iranian president has visited there since the war started in 2011.
The visit comes weeks after a landmark rapprochement agreement between regional rivals Iran and Saudi Arabia, which has also underlined greater Arab willingness to re-engage with the once isolated Syrian government.
"This trip will not only be beneficial for Tehran and Damascus, but it is also a very good event that other countries in the region can also take advantage of," Akbari was reported as saying.
There was no immediate official comment from the Syrian presidency.
The last Iranian president to visit the Syrian capital was Mahmoud Ahmadinejad, in September 2010.
Assad last visited Tehran in May, in his second reported trip to the Islamic republic since the war began.
Iran's supreme leader Ayatollah Ali Khamenei last year hailed the relationship between Tehran and Damascus as "vital for both countries", saying it should be strengthened "as much as possible".
Iranian Foreign Minister Hossein Amir-Abdollahian said on Friday the planned presidential visit signals the "multidimensional" cooperation between the two countries.
Related Articles
May 08,2022
TEHRAN — Syrian President Bashar Assad met with Iran's supreme leader Ali Khamenei and President Ebrahim Raisi during a brief visit to Tehra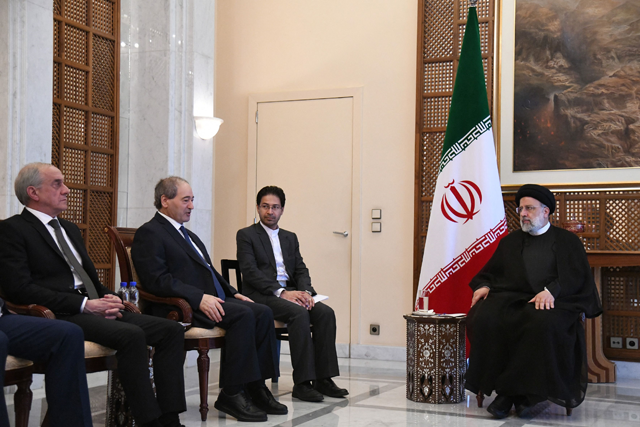 May 04,2023
DAMASCUS — Iran's president on Thursday hailed his visit to Damascus as a "turning point", after Tehran's support helped Syria retake most o
Jan 12,2023
TEHRAN — An Iranian-British dual national sentenced to be hanged for spying for UK intelligence once held roles at the top of Tehran's defen