You are here
Iran warns Bahrain 'will pay price' for crackdown on Shiites
By AFP - Jun 22,2016 - Last updated at Jun 22,2016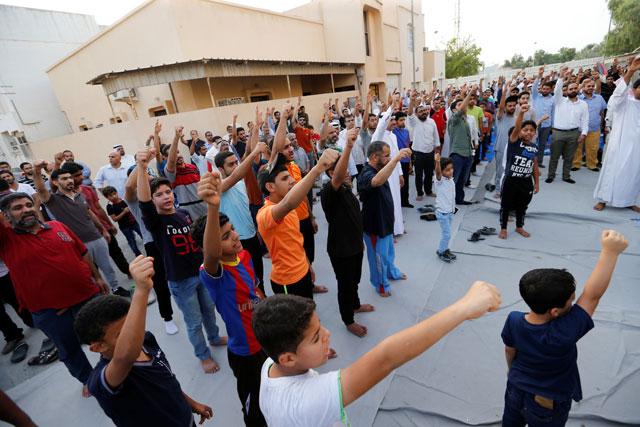 Supporters chant religious slogans during a sit-in in the village of Diraz, west of Manama, Bahrain, on Tuesday (Reuters photo)
DUBAI — Iran has warned Bahrain that it is fanning armed rebellion and "will pay the price" after an escalating crackdown on the country's Shiite majority saw a top cleric stripped of citizenship.
Washington and the United Nations have also raised concerns about moves by the Sunni-ruled kingdom against Shiites, who account for some 70 per cent of the Gulf state's population.
Bahrain has been shaken by unrest since security forces crushed Shiite-led protests demanding a constitutional monarchy and an elected prime minister in 2011.
Tensions have reached fresh heights in recent days, with the suspension of the Al Wefaq main Shiite opposition group and, on Monday, the stripping of top Shiite cleric Sheikh Isa Qassim's citizenship.
Predominant Shiite power Iran has long championed the rights of the community in Bahrain and a prominent Iranian general said the move against Sheikh Qassim was a step too far.
"Surely they know that the aggression against Ayatollah Sheikh Isa Qassim is a red line... that will leave no option for the people but to resort to armed resistance," Qassem Suleimani, head of the elite Revolutionary Guards' overseas operations arm, the Quds Force, told state media late on Monday.
Bahrain's rulers "will pay the price and it will have no result but the destruction of this bloodthirsty regime," he added.
Iran's foreign ministry criticised the "extrajudicial" measures by Bahrain that "dash hopes of reform through dialogue".
Blow to freedom
Bahrain has repeatedly accused Iran of interfering in its affairs and inciting violence among Shiites, a claim Tehran denies.
The Bahraini interior ministry alluded to the accusations in its statement announcing the decision against the Shiite spiritual leader.
Qassim abused his position to "serve foreign interests and promote... sectarianism and violence", it said.
Saudi Arabia's government voiced support for its neighbour, saying it stands by Bahrain in "measures taken to preserve the security, stability and safety of its citizens" and to protect "unity and social cohesion".
The Arab heavyweight has been a strong backer of Manama and repeatedly accused arch-rival Iran of meddling in Bahraini affairs.
There was no immediate indication of Qassim's fate but, in theory, he would be left stateless and could face deportation through a legal process.
A leading Bahraini human rights group on Tuesday urged authorities to stop revoking citizenship "to punish political dissent".
The move against Qassim "is yet another blow to freedom of speech and expression in Bahrain", the Bahrain Centre for Human Rights said.
It urged the government to "immediately and unconditionally reinstate" the citizenship of Qassim and others, saying that it had documented evidence of at least 261 people being stripped of their nationality since 2012.
Lebanon's Iran-backed Shiite Hezbollah movement urged Bahrainis to "express their anger" at a decision it said showed there would be "no reforms, nor rights, nor dialogue".
Street protests erupted in the cleric's home village of Diraz, west of the capital Manama, on Monday, witnesses said.
They said police sealed off the village, where thousands of demonstrators waved portraits of their religious leader and chanted slogans against King Hamad.
US 'deeply troubled
As well as the suspension of Al Wefaq — whose political chief Sheikh Ali Salman is serving a nine-year jail term on charges of inciting violence — the crackdown has seen a series of arrests and jailings.
Earlier this month, the head of the Bahrain Centre for Human Rights, Nabeel Rajab, was rearrested after being released from prison last year for health reasons.
A week earlier, prominent Shiite opposition activist Zainab Al Khawaja announced she was leaving the country shortly after being released from several months in jail for ripping up a picture of King Hamad.
Bahrain, which is connected to Saudi Arabia by a causeway and lies across the Gulf from Shiite Iran, is a key ally of Washington and home to the US Fifth Fleet.
The stripping of Qassim's citizenship nonetheless drew a rebuke from Washington, with State Department spokesman John Kirby saying the United States was "alarmed".
"We remain deeply troubled by the government of Bahrain's practice of withdrawing the nationality of its citizens arbitrarily," Kirby said.
"Our concern is further magnified by reports that Sheikh Qassim was unable to respond to the accusations against him... or challenge the decision through a transparent legal process."
The UN human rights office also expressed concern over the "intensified crackdown on the freedoms of expression and association and the right to a nationality".
It urged Bahrain's rulers "to deescalate the situation instead of taking such damaging steps in quick succession".
up
82 users have voted, including you.
Related Articles
May 24,2017
DUBAI — Bahraini police opened fire on Tuesday on a protest by supporters of a top Shiite cleric, with at least one demonstrator reported de
Jul 17,2016
DUBAI, United Arab Emirates — A court in Bahrain ordered the country's main Shiite opposition group to be dissolved on Sunday, deepening a c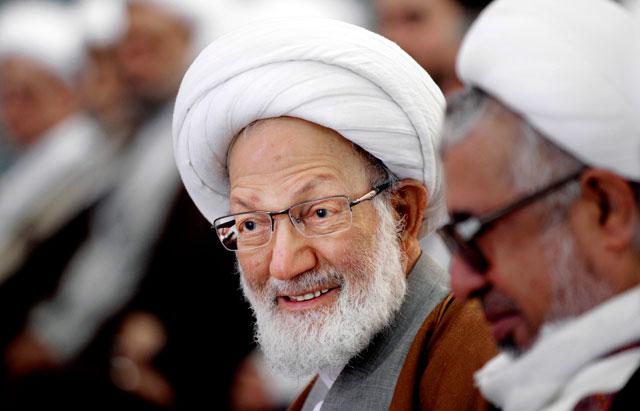 Jun 26,2016
DUBAI — Iran's supreme leader has blasted as "foolishness" a decision by Bahrain's leaders to strip a top Shiite Muslim cleric of his citize
Newsletter
Get top stories and blog posts emailed to you each day.