You are here
Iran says it is redesigning Arak reactor to cut plutonium capacity
By Reuters - Jun 12,2014 - Last updated at Jun 12,2014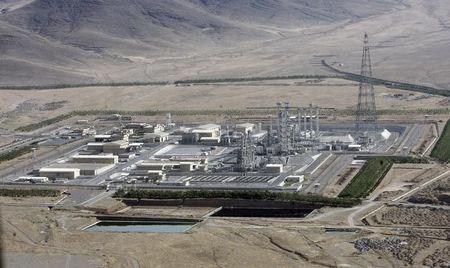 DUBAI/VIENNA — Iran is "busy redesigning" a planned research reactor to sharply cut its potential output of plutonium, a senior Iranian official said in comments that seemed to address a thorny issue in negotiations with big powers.
The future of the Arak plant is among several sticking points that Iran and six world powers need to resolve if they are to reach a deal by late July on limiting Iran's controversial nuclear programme in exchange for an end to sanctions.
The main stumbling block is the permissible scope of Iran's uranium enrichment. The lack of progress in bridging negotiating gaps has left the self-imposed
July 20 deadline for a long-term settlement looking increasingly unrealistic, and Iran has said a six-month extension may be necessary.
The West is worried that Arak, once operational, could provide a significant supply of plutonium — one of two materials, along with highly enriched uranium, that can produce a nuclear explosion.
Iran says the 40-megawatt Arak reactor is intended to produce isotopes for cancer and other medical treatments. It agreed to halt installation work at Arak under a six-month interim deal struck with the powers last November that was geared to buy time for negotiations on a comprehensive accord.
After the latest round of talks in Vienna in May, a diplomat from one of the powers said Iran had appeared to row back on its previous readiness to address Western fears about the nuclear weapons potential of Arak. Iran has since dismissed one mooted solution as "ridiculous".
Redesigning
But the head of Iran's atomic energy organisation, Ali Akbar Salehi, appeared to return to a more conciliatory stance in comments to the official IRNA news agency late on Wednesday.
The amount of plutonium the reactor will be able to yield will be reduced to less than 1kg a year from 9-10kg in its original design, he said. Western experts say 9-10kg is more than enough for one nuclear bomb.
"We are currently busy redesigning that reactor to arrange for that alteration," Salehi was quoted by IRNA as saying.
After discussions with senior US officials in Geneva earlier this week, Iran questioned the feasibility of the July deadline for a permanent accord, intended to minimise the risk of a wider Middle East war over Tehran's nuclear ambitions.
While an extension is possible under the terms of the talks, experts believe both Iran and the powers may face domestic political pressures to toughen their terms during this extra time period, making a breakthrough harder to achieve.
The next round of negotiations will be held in the Austrian capital Vienna on June 16-20.
"There is a lot of work to be done to reach a comprehensive, credible and lasting agreement," French Foreign Ministry spokesman Romain Nadal said. He said talks between French and Iranian officials in Geneva on Wednesday — part of a series of bilateral meetings between the powers and Iran — were "useful".
In April, Princeton University experts said Arak's annual plutonium production could be lowered to less than 1kg if Iran changed the way Arak was fuelled and lowered its power capacity.
Iran could revert
However, Iran expert Ali Vaez said the major powers and Israel — Iran's arch enemy — remained concerned that Iran could suddenly revert to the original design, and build a reprocessing facility to extract plutonium from spent reactor fuel.
"That would be a lengthy but hard-to-stop process," Vaez, of the International Crisis Group think tank, said in a report.
Heavy-water reactors like Arak, fuelled by natural uranium, are seen as especially suitable for yielding plutonium.
Nuclear expert David Albright said a key issue in the negotiations was whether Iran would agree to change the Arak reactor core to one sized for low-enriched uranium fuel.
"Then it cannot revert back to a natural uranium core so easily. As of two weeks ago, Iran had not agreed to that," Albright, of the US-based Institute for Science and International Security, said in an e-mail.
The powers want Iran to scale back its capacity to refine uranium in order to deny it any capability to quickly produce enough of the material for a bomb. Iran says it needs to refine uranium to fuel a planned network of nuclear power plants.
French Foreign Minister Laurent Fabius said this week the talks were "still hitting a wall" on the enrichment issue.
After meeting Iranian officials in Rome this week, a senior Russian foreign ministry official said some aspects of a comprehensive solution to the Iranian nuclear problem could be agreed during next week's meeting, but more effort was needed.
"The chances for it are increasing. This adds to an optimism but requires additional efforts," the Russian news agencies Itar Tass and Interfax quoted Deputy Foreign Minister Sergei Ryabkov, Moscow's chief negotiator, as saying.
Related Articles
May 18,2014
Iran appeared to take a harder line in its nuclear dispute with world powers on Sunday by dismissing as "ridiculous" one idea that could allay Western concerns about a planned atomic research reactor.
Apr 19,2014
Iran's dispute with world powers over its unfinished Arak heavy water reactor has been "virtually resolved", it said Saturday, less than a month before nuclear talks seeking a permanent agreement.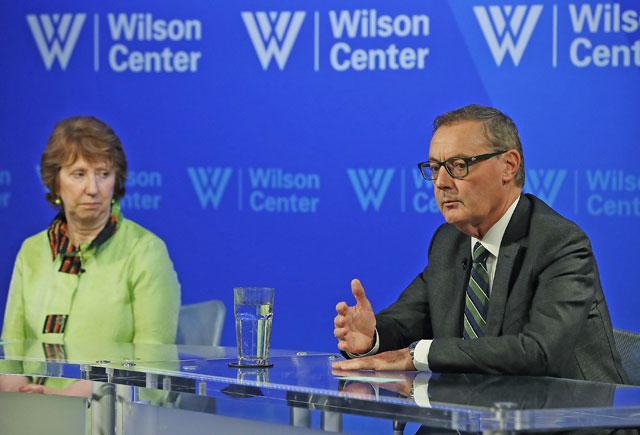 Jun 03,2018
PARIS/WASHINGTON — The remaining parties to the Iran nuclear deal have warned the United States that its decision to withdraw from the pact
Newsletter
Get top stories and blog posts emailed to you each day.