You are here
Hamas says more than 80 dead in Israeli strikes on Gaza camp
UN Palestinian refugee agency condemns 'horrifying' school attacks
By AFP - Nov 19,2023 - Last updated at Nov 19,2023
Palestinians carry an injured person as rescuers search the rubble of a building for survivors following Israeli bombardment in Khan Yunis in the southern Gaza Strip on Saturday (AFP photo)
GAZA STRIP, Palestine — Health ministry in Gaza said more than 80 people were killed Saturday in twin strikes on a northern refugee camp in the besieged strip, including a UN school used as a shelter for people displaced by the Hamas-Israel war.
The Israeli forces relentless air and ground campaign on Gaza has killed 12,000 people, including 5,000 children, according to the authorities in Gaza,
"At least 50 people" were killed in an Israeli strike at dawn on the UN-run Al Fakhura school in the camp, which had been converted into a shelter for displaced Palestinians, an official at Gaza's health ministry told AFP.
According to UN figures, some 1.6 million people have been displaced inside Gaza by six weeks of fighting.
A separate strike on Saturday on another building in Jabalia camp killed 32 people from the same family, 19 of them children, the official said. The ministry released a list of 32 members of the Abu Habal family it said had died.
The head of the United Nations agency for Palestinian refugees on Saturday denounced the strikes on UN-run schools in Gaza.
Philippe Lazzarini said he had seen "horrifying images and footage of scores of people killed and injured" in one of his agency's schools "sheltering thousands of displaced". "These attacks cannot become commonplace, they must stop," he posted on X, formerly Twitter.
On Saturday hundreds of people fled on foot after the director of Gaza's main hospital said the Israeli army ordered evacuation of the facility where some 2,000 people were trapped.
Columns of sick and injured, some of them amputees, were seen making their way out of Al Shifa hospital towards the seafront without ambulances along with displaced people, doctors and nurses, as loud explosions were heard around the facility.
On the way, an AFP journalist saw at least 15 bodies, some in advanced stages of decomposition, along a road lined by badly damaged shops and overturned vehicles, as Israeli drones buzzed overhead.
The health ministry said 120 wounded, along with an unspecified number of premature babies, were still at Al Shifa hospital that has become the focus of the recent fighting.
'Patients cannot leave'
In Gaza City, Israeli troops had called over loudspeakers to evacuate Al Shifa "in the next hour", an AFP journalist at the hospital reported.
They also called the hospital's director, Mohammed Abu Salmiya, telling him to ensure "the evacuation of patients, wounded, the displaced and medical staff, and that they should move on foot towards the seafront", he said.
But Israel's army denied ordering the evacuation, saying instead it had "acceded to the request of the director" to allow more civilians to leave.
According to Ahmed El Mokhallalati, a doctor at the hospital, "most of the medical staff and patients had left" but he was staying at Al Shifa along with five other doctors.
Despite the evacuation order, "many patients cannot leave the hospital as they are in the ICU beds or the baby incubators", Mokhallalati said on X, formerly Twitter.
The United Nations estimated 2,300 patients, staff and displaced Palestinians were sheltering at Al Shifa before Israeli troops entered it on Wednesday.
Related Articles
Aug 03,2014
An Israeli air strike killed 10 people and wounded about 30 on Sunday in a UN-run school in the southern Gaza Strip, a Palestinian official said, as dozens died in Israeli shelling of the enclave and Hamas fired rockets at Israel.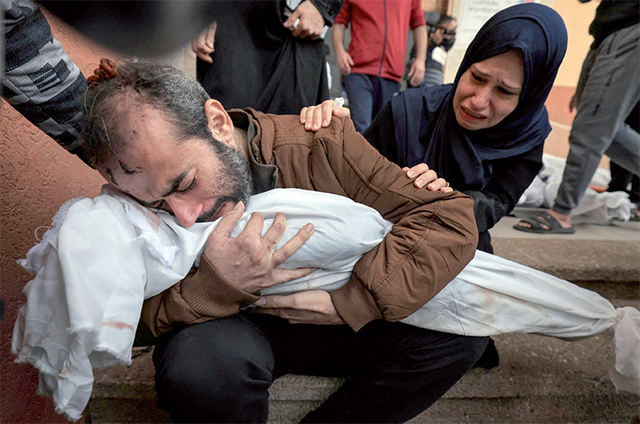 Nov 20,2023
GENEVA — The World Health Organisation (WHO) said on Sunday it had led an assessment mission to Al Shifa hospital in Gaza City and determine
Nov 03,2023
RAFAH, Occupied Palestine — Hundreds more foreigners and dual nationals fled war-torn Gaza for Egypt on Thursday as Israeli forces bombarded