You are here
Gaza hospitals out of fuel, caught in fighting
20 of Gaza's 36 hospitals are 'no longer functioning' — UN
By AFP - Nov 13,2023 - Last updated at Nov 13,2023
Relatives mourn over the bodies of loved ones killed during overnight strikes on Rafah in the southern Gaza Strip, at Al Najjar hospital on Sunday, amid the ongoing battles between Israel and Hamas (AFP photo by Said Khatib)
GAZA STRIP, occupied Palestine — Israeli war jets continued their strikes against Gaza's biggest hospital, where thousands were trapped and a lack of fuel forced a nearby major medical centre out of service.
Gaza City's Al Shifa hospital is caught in Israel's ground offensive and the compound has been repeatedly hit by strikes, one of which health officials said destroyed the cardiac ward on Sunday.
Fears intensified for Palestinians seeking shelter and patients needing treatment after Gaza City's Al Quds hospital went out of service due to lack of generator fuel, the Palestinian Red Crescent said.
"The hospital has been left to fend for itself under ongoing Israeli bombardment, posing severe risks to the medical staff, patients and displaced civilians," it added.
Inside embattled Gaza, witnesses at the Al Shifa hospital told AFP by phone on Sunday that "violent fighting" had raged around the hospital the whole night.
The Israeli military has pledged to aid the evacuation of babies from the hospital, noting that "staff of the Al Shifa hospital has requested that tomorrow".
Mohammad Zaqut, head of all hospitals in Gaza Strip, told AFP: "The situation in Al Shifa is catastrophic."
"No one can enter or leave" the hospital, he added.
Twenty of Gaza's 36 hospitals are "no longer functioning", according to the UN's humanitarian agency.
Very little aid has made it into Gaza in the five weeks of war, with the densely populated coastal territory effectively sealed off by a total blockade that Israel has vowed to maintain until the hostages are freed.
But as fighting raged, around 800 foreigners and dual nationals, as well as several wounded Palestinians, were evacuated from the besieged Gaza Strip to Egypt on Sunday, a Gaza border official said.
Al Qahera News, an outlet close to the Egyptian intelligence services, reported the crossing of an additional "seven wounded Palestinians" through the terminal.
Rafah is the only crossing out of Gaza not controlled by Israel, and had been closed on Friday and Saturday.
Since November 1, dozens of wounded Palestinians have been evacuated to Egyptian hospitals, with hundreds of dual nationals and foreigners, including Americans, French, Russians and Poles, also leaving through Rafah.
Thousands flee south
Perched on trucks, crammed in cars, pulled by donkeys on carts and on foot, many thousands of Palestinians have fled Israeli army strikes on the territory squeezed between Israel, Egypt and the Mediterranean.
Youssef Mehna, one of many who moved south, said his sick wife is in a wheelchair so he had to rent "carts pulled by donkeys, trucks, cars" to transport her.
Sometimes, between rides, they were forced to go on foot. "So it was me who pushed my wife's chair," he told AFP.
Almost 1.6 million people have been internally displaced since October 7, according to the UN agency for Palestinian refugees UNRWA. This equals about two-thirds of Gaza's population.
However, people arriving in the south were no longer able to find tents or improvised shelter, with some sleeping in the streets, according to AFP journalists.
Strikes were also hitting buildings at the southern end of Gaza in Rafah, the area to which civilians have been urged to evacuate.
A strike in southern Bani Suheila destroyed a dozen houses on Sunday, killing at least four people and wounded at least 30, said an AFP reporter at the scene.
Meanwhile, around 500 foreigners and dual nationals, as well as several wounded Palestinians, were evacuated from the Israeli-bombed Gaza Strip to Egypt on Sunday, reports from both sides of the border said.
Some "500 foreign nationals from 15 different countries entered Egypt," an Egyptian security official told AFP on condition of anonymity.
The border authority of the Hamas government in Gaza had called late Saturday for "all foreign passport holders and people on evacuation lists" to report to the terminal, located at the southern tip of the Gaza Strip and leading to Egypt's Sinai.
Related Articles
Nov 04,2023
GAZA STRIP, Occupied Palestine — The health ministry in Gaza said at least 15 people were killed on Saturday when a UN school sheltering tho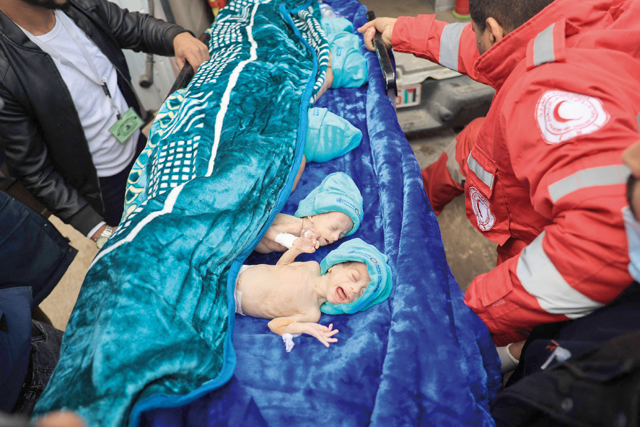 Nov 20,2023
GAZA STRIP, Palestine — Gaza's health ministry said on Monday Israeli forces had struck the Indonesian Hospital and killed at least 12 peopl
Nov 07,2023
Gaza Strip, occupied Palestine — The death toll in Gaza has surpassed 10,000 people, the health ministry said on Monday after nearly one mon