You are here
For flag-burning Iranians, US detente seems distant
By AFP - Nov 04,2014 - Last updated at Nov 04,2014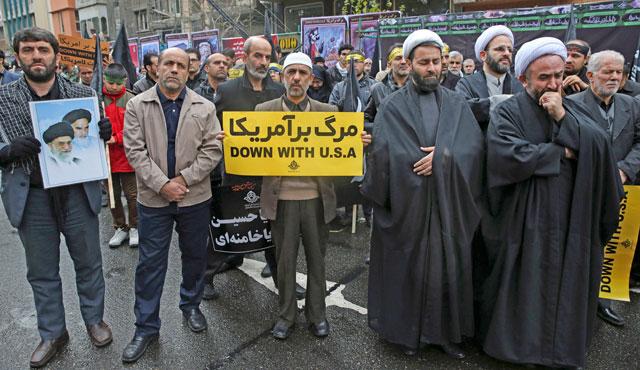 TEHRAN — Iran's relationship with the United States could soon be redefined by a nuclear agreement, but at a protest Tuesday marking the storming in 1979 of the American embassy, antipathy still ran deep.
With chants of "Death to America", several thousand gathered in Tehran to mark 35 years since the day students breached the embassy's walls and seized hostages, sending diplomatic relations into freefall.
In what has become an annual ritual of defiance, the US flag, as well as those of Israel and Britain were set ablaze while many protesters carried "Down with USA" placards.
This year's anniversary came as Iran and the West make headway in seeking a deal over Tehran's controversial nuclear programme, but Tuesday's crowd of 2,000 to 3,000 spoke of anything but detente.
"That is diplomacy, but I am here to mark the oppression, cruelty and injustice of America," said Hamed Kargari, a 24-year-old student, when asked if the nuclear talks made this year's protest less relevant.
The two-storey former embassy building, known as the "Den of Spies" in Iran on account of alleged plots conceived there, stands as a memorial to bygone US influence.
Its outside walls are covered with anti-American slogans and the compound is controlled by the Revolutionary Guards who underpin the clerical regime that has been in power in Iran since the overthrow of the US-backed Shah in 1979.
Tuesday's demonstration coincided with Ashoura, the commemoration of the killing of Imam Hussein in 680 AD, now one of the holiest days in Shiite Islam, Iran's predominant faith.
'The big devil'
As rain poured down, some protesters drew a parallel with modern times, suggesting Iran's nuclear activities were symbolic of Hussein's resistance to the powerful Caliph Yazid, whose army eventually killed the imam.
"The big devil will never change its position," said Gholam Reza, 50, pointing at a giant mock-up poster on the road next to the embassy depicting US President Barack Obama as the caliph firing Israeli missiles at children in Gaza.
"We would like to have a nuclear deal, but not one that treads on our red lines," said Reza, commander of a unit in the Basij paramilitary volunteer force established by Ayatollah Ruhollah Khomeini after the revolution.
After readings from the Koran to mark Ashoura, American, British and Israeli flags were soaked in fuel and set on fire, turning them into ashes in less than a minute while men, women and a few children looked on.
The demonstration highlighted the gulf that remains between Iran's conservative hardliners and the moderate government of President Hassan Rouhani, who last year chose to re-open talks with the West.
"We are not the sort of people who will compromise," said Zahra Darvish, surrounded by other women wearing traditional head-to-toe black chadors and separated from men at the protest.
"Imam Hussein did not compromise. Right now, the Yazid of the time is the United States," she said, referring again to the loathed caliph.
Her friend Azar Amini, then aged 24, was outside the embassy when it was overrun in 1979.
A teacher since, she spoke darkly of a potential war with the United States — the chances of which have receded but not disappeared since Rouhani won power and reopened the nuclear talks.
"We don't want a war, but if the United States goes to war with us I will go to war with my four sons."
Related Articles
Feb 10,2014
His Majesty King Abdullah on Monday sent a cable of congratulations to Iran's supreme leader, Ayatollah Ali Khamenei,  and its president, Hassan Rouhani, on the occasion of Iran's national day.
Oct 01,2017
KARBALA, Iraq — Hundreds of thousands of Shiite Muslim pilgrims gathered in the Iraqi shrine city of Karbala on Sunday for ceremonies markin
Jan 13,2014
Unblocking billions of dollars in funds to Iran under a landmark six-month nuclear deal with the West will have a significant economic and psychological impact on the Islamic republic, experts said Monday.
Newsletter
Get top stories and blog posts emailed to you each day.