You are here
Dubai deal triggers Somalia port row with breakaway north
By AFP - Mar 13,2018 - Last updated at Mar 13,2018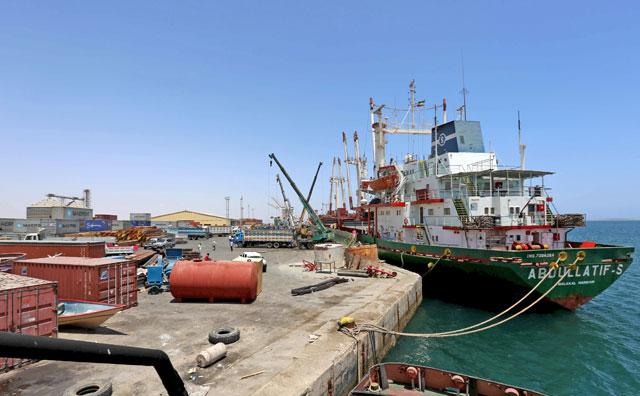 A ship is docked at the Berbera Port in Somalia, on May 17, 2015 (Reuters photo)
MOGADISHU, Somalia — Somalia's parliament has declared "null and void" a port deal signed by breakaway Somaliland that has raised tensions between Mogadishu and Hargeisa.
Dubai-based DP World this month struck a deal giving Ethiopia a 19-per cent stake in Somaliland's Berbera Port.
The move has angered Somalia, which does not recognise Somaliland's long-standing claim of independence and has a history of animosity with Ethiopia.
Declaring the deal unconstitutional and therefore "null and void" Mogadishu's parliament on Monday asserted in a resolution: "It is only the Federal Government of Somalia that can engage in international deals."
"All ports, and airports in the country are national property and... no one can privately claim ownership," it said, after 168 out of 170 MPs voted the deal down.
The resolution went on to ban DP World from operating anywhere in Somalia.
"The DP World company intentionally violated the sovereignty of Somalia, so this company is banned completely from operating in Somalia," parliament said.
The company currently manages Bossaso Port in semi-autonomous Puntland, as well as Berbera.
It is unclear how Mogadishu would enforce the proposed ban, nor whether President Mohamed Abdullahi Mohamed will assent to it.
Last month the United Arab Emirates infrastructure giant ran into trouble elsewhere in the Horn of Africa when it accused Djibouti of illegally seizing the Doraleh container terminal, the main transit route to landlocked Ethiopia.
The company plans to invest $442 million (359 million euros) developing Berbera on the Gulf of Aden shipping route, and has retained a majority 51-per cent share in the port.
The remaining 30 per cent is owned by Somaliland's government.
Somaliland's foreign minister, Sacad Ali Shire, defended both the initial deal with DP World, signed in 2016, and the recent buy-in by Ethiopia, which hopes the Berbera corridor will offer it another route to the sea for imports and exports.
"The deal was bilateral, one initially between DP world and Somaliland, and both of them have the right to sell their shares if the other side agrees. That is the basis under which Ethiopia is allowed to join," he told reporters in Hargeisa on Sunday.
The Mogadishu parliamentary statement ratchets up tensions between Somalia and its breakaway northwestern region whose independence claim since 1991 has gone unrecognised.
up
98 users have voted, including you.
Related Articles
Nov 13,2017
MOGADISHU — Residents of the self-proclaimed state of Somaliland voted on Monday in its third presidential poll, hoping to prove its democra
Apr 14,2018
NAIROBI, Kenya — Tensions between Somalia and the United Arab Emirates ratcheted up the previous week as Mogadishu ditched a military deal w
Jun 18,2015
CAIRO — Former Egyptian president Mohamed Morsi will appeal a conviction for violence, kidnapping and torture imposed by a court over the ki
Newsletter
Get top stories and blog posts emailed to you each day.