You are here
Deadly clashes rock Yemen as UN raises emergency level
By AFP - Jul 02,2015 - Last updated at Jul 02,2015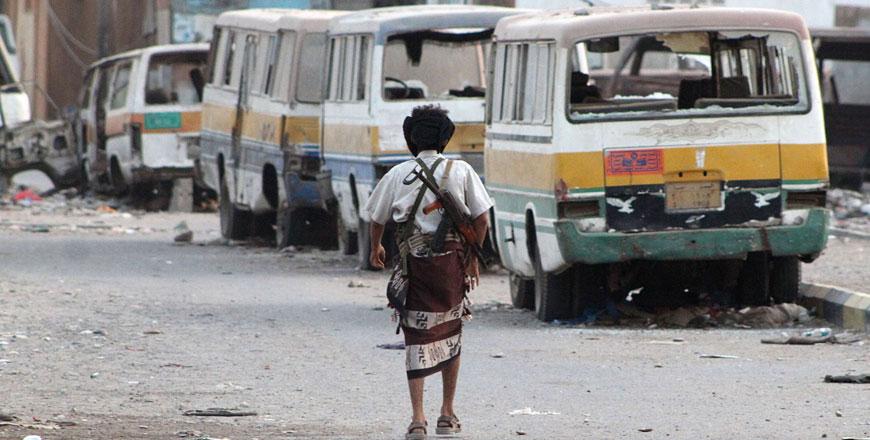 A Yemeni fighter loyal to exiled president Abed Rabbo Mansour Hadi walks on a damaged street in the Dar Saad suburb of the southern city of Aden on Wednesday (AFP photo)
ADEN — At least 22 people were killed Thursday in Yemen as fighting raged in the southern port of Aden and Saudi-led warplanes bombed Shiite rebels in Sanaa, military officials and medics said.
The violence came a day after the UN declared its highest level of humanitarian emergency in the country, where it says some 3,000 people, half of them civilians, have been killed since March.
And the UN cultural agency UNESCO said Thursday that two ancient Yemeni cities on its World Heritage sites list are in danger because of the violence.
The clashes in Aden erupted at dawn in northern part of the port city, killing seven rebels and five pro-government fighters, a military officials said.
Two civilians were also killed in rebel shelling of a western district early Thursday, that also damaged several homes, residents said.
The bloodshed comes a day after rebel rocket fire hit a residential district of Aden, killing 31 civilians and wounding more than 100.
Meanwhile, a port near the Aden oil refinery came under rebel artillery fire for a fifth consecutive day Thursday, as a fire continued in the area, said Aden Refinery Co. spokesman Naser Al Shayef.
In Sanaa, warplanes pounded several positions of the Houthi rebels around midday Thursday, residents reported.
Medical sources said eight rebels were killed and at least 10 wounded in the strikes, which they described as the most violent since the Muslim fasting month of Ramadan began two weeks ago.
The coalition has been bombing the Iran-backed Houthis and their allies since March 26 in support of President Abedrabbo Mansour Hadi, who fled to Saudi Arabia.
Amnesty International warned of "the high price civilians continue to pay amid the... air strikes all over the country" and accused the coalition of failing to "abide by the requirements of international humanitarian law".
That requires belligerents to "take all possible steps to prevent or minimise civilian casualties", said Donatella Rovera, senior crisis response advisor at Amnesty.
But there is "no indication" the coalition has done "anything to prevent and redress such violations", said Rovera, who is currently in Yemen.
'Humanitarian catastrophe'
On Wednesday, the United Nations declared Yemen a level-three emergency, the highest on its scale, as aid chief Stephen O'Brien held talks to discuss the crisis there.
UN chief Ban Ki-moon also called anew for an "immediate end to the fighting in Yemen to help stem the unfolding humanitarian catastrophe in the country", a spokesman said.
Wednesday's statement said that, in addition to some 3,000 Yemenis killed since March, the war has also left 14,000 wounded and displaced more than a million people.
It said "21 million [over 80 per cent of Yemen's population] need immediate help" and that "close to 13 million people are unable to meet their food needs", while "15 million people have no health care".
"Outbreaks of dengue and malaria are raging unchecked," it added.
UNESCO, meanwhile, placed Sanaa and the southeastern city of Shibam on its list of endangered World Heritage sites due to the violence.
Sanaa, known for its many Islamic sites and ancient multi-storeyed mud brick buildings, has sustained damage in the conflict, said UNESCO.
Shibam, nicknamed the "Manhattan of the Desert" for its high-rise mud brick buildings, is also "under potential threat from the armed conflict", it added.
Related Articles
Aug 15,2020
SANAA — Muddy waters lap overfoot in Sanaa's Old City, inhabited without interruption for more than 2,500 years but now facing disaster afte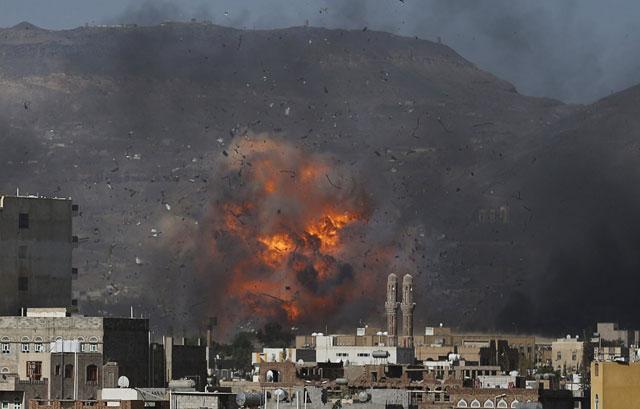 May 14,2015
A helicopter gunship belonging to the Saudi-led coalition targeting Yemen's Shiite rebels hit a truck in the country's north early Thursday, killing nine people travelling in the vehicle, Yemeni security and military officials said.
Oct 10,2015
SANAA — Warplanes from the Saudi-led coalition raided positions of the Iran-backed Shiite insurgents east of the rebel-held capital Friday,