You are here
Clashes rock Sudan despite truce as ex-PM warns of 'nightmare'
By AFP - Apr 30,2023 - Last updated at Apr 30,2023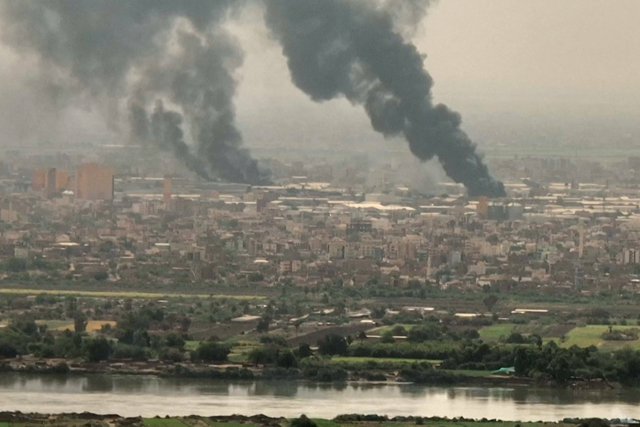 This image grab taken from AFPTV video footage on Friday, shows an aerial view of black smoke rising over Khartoum (AFP photo)
KHARTOUM — Heavy fighting again rocked Sudan's capital on Sunday as tens of thousands have fled the bloody turmoil and a former prime minister warned of the "nightmare" risk of a descent into full-scale civil war.
Army forces clashed with paramilitaries in Khartoum as deadly hostilities have entered a third week despite the latest ceasefire, which was formally set to expire at the end of the day.
"There has been very heavy fighting and loud gunfire ... since the early morning on my street," a southern Khartoum resident told AFP.
Clashes were reported around the army headquarters in central Khartoum, and the army also carried out air strikes in the capital's twin city of Omdurman across the Nile River.
Foreign nations have scrambled to evacuate thousands of their citizens by air, road and sea since the fighting plunged the poverty-stricken country into deadly turmoil on April 15.
A first Red Cross plane brought eight tonnes of humanitarian aid to Port Sudan, from Jordan, on Sunday. It carried surgical material and medical kits to stabilise 1,500 patients, the International Committee of the Red Cross said.
Millions of Sudanese have endured crippling shortages of water, food, medicines and other basic supplies, while tens of thousands have fled to neighbouring countries, with more on their way.
Satellite images showed long bus convoys at the Egyptian border, while the UN said tens of thousands had escaped to Chad, South Sudan, Ethiopia and the Central African Republic.
The turmoil could deepen further in the power struggle between army chief Abdel Fattah Al Burhan and Mohamed Hamdan Daglo, head of the paramilitary Rapid Support Forces (RSF).
Sudan's former premier Abdalla Hamdok warned Saturday that the conflict could deteriorate into one of the world's worst civil wars.
"God forbid if Sudan is to reach a point of civil war proper... Syria, Yemen, Libya will be a small play," Hamdok told an event in Nairobi. "I think it would be a nightmare for the world."
Risk of famine
The violence has killed at least 528 people and wounded about 4,600, the health ministry said, although the real casualty toll may be higher from fighting in 12 out of Sudan's 18 states including the Darfur region.
The UN World Food Programme has warned the unrest could plunge millions more into hunger in a country where 15 million people already need aid to stave off famine.
Some of those killed still lie on the roads of Khartoum, and the ICRC's Africa regional director Patrick Youssef told journalists the Sudanese Red Crescent was "trying to get to the bodies in the streets".
Only 16 per cent of hospitals are functioning in Khartoum, according to the World Health Organisation, with many facilities shelled in the fighting.
The warring sides have agreed to multiple truces but none has taken hold, as chaos and lawlessness have gripped the capital city of five million and other regions.
The latest three-day ceasefire, due to expire at midnight (2200 GMT) Sunday, was agreed Thursday after mediation led by the United States, Saudi Arabia, the African Union and the United Nations.
As the battles have raged regardless, the rival generals have taken aim at each other in the media.
Burhan again branded the RSF a militia that aims "to destroy Sudan" while Daglo called the army chief "a traitor".
Local authorities in Khartoum on Sunday put civil servants on open-ended leave "due to the security situation", though the majority of residents have already been hiding at home since the fighting broke out.
Tens of thousands flee
Sudan was ruled for decades by Islamist-backed strongman Omar Al Bashir, who was ousted by the military in 2019 after mass pro-democracy protests.
The coup brought Burhan and Daglo to power, and they seized full control in another military takeover, in 2021, before turning on each other.
UN Secretary-General Antonio Guterres has urged negotiations to end the bloodshed.
"There is no right to go on fighting for power when the country is falling apart," he told Saudi-owned Al Arabiya television on Saturday.
"My appeal is for everything to be done to support an African-led initiative for peace in Sudan."
About 75,000 have been displaced by the fighting, the UN said.
At least 20,000 have escaped to Chad, 4,000 to South Sudan, 3,500 to Ethiopia and 3,000 to the Central African Republic, it said.
The fighting has also triggered a mass exodus of foreigners and international staff.
Saudi Arabia said it had taken about 5,000 people to safety on ships across the Red Sea.
A US-organised road convoy arrived in Port Sudan Saturday to join the exodus.
And the UK Foreign Office said just under 1,900 Britons had been taken out on 21 flights, following large airlifts by France, Germany and other nations.
Fighting, looting and lawlessness have raged in the Darfur region. At least 96 people were reported killed in El Geneina, West Darfur, the UN said.
Darfur is still scarred by a war that erupted in 2003 when Bashir unleashed the Janjaweed militia, which left at least 300,000 dead and close to 2.5 million displaced according to UN figures.
"What's happening in Darfur is terrible," Guterres said. "The society is falling apart, we see tribes that now try to arm themselves."
Related Articles
Oct 16,2023
PORT SUDAN — Six months after tensions between rival Sudanese generals ignited a devastating war, thousands lie dead, millions are displaced
May 21,2023
KHARTOUM — Sudan's de facto leader Abdel Fattah Al Burhan sacked his deputy-turned-rival Mohamed Hamdan Daglo on Friday, as forces loyal to
Jul 22,2023
WAD MADANI, Sudan — At least 20 Sudanese civilians have been killed by rocket fire on residential areas of one of Darfur's main cities and b