You are here
Bahrain's heir, opposition leaders discuss national dialogue
By AFP - Jan 15,2014 - Last updated at Jan 15,2014
DUBAI — Bahrain's Crown Prince Salman Bin Hamad Al Khalifa met opposition leaders Wednesday in a bid to revive a national dialogue that was suspended last week.
The meeting focused on "ways to overcome the obstacles that have hindered the national dialogue," designed to bring the country out of the current political crisis, the official news agency BNA reported.
Prince Salman urged representatives of the political groups to "show seriousness, transparency and credibility" in order to "strengthen the rule of law and institutions," in the tiny Gulf kingdom, it said.
BNA added without elaborating that "it was agreed on the main issues to be discussed under national dialogue in a coming stage".
Bahrain's government announced Thursday that it had suspended the dialogue that began last February but was boycotted months ago by the main Shiite opposition.
It gave no indication whether the process, aimed at ending the political impasse in the Sunni-ruled Gulf kingdom with a Shiite majority, could resume.
The decision came after eight Sunni associations announced that they too would suspend their participation in the talks.
A joint statement said this was due to "the absence of a party that was invited to take part in the dialogue and its withdrawal" from the talks.
It was also because of "government stances that show their lack of will to discuss matters on the agenda" leading to "unfruitful sessions" of the dialogue.
On September 18, five groups, including the main opposition Shiite movement Al Wefaq, pulled out of the national reconciliation talks after prominent Shiite ex-MP Khalil Marzooq was arrested on charges of inciting terrorism.
He was released after the trial opened but was banned from leaving the country, which has been hit by a sporadic Shiite-led uprising since February 2011.
The government has blamed the suspension of the national dialogue on "the five [Shiite] associations" for repeatedly failing to join the talks.
The kingdom has been deadlocked politically since February 2011. A similar round of talks that year failed, with the government making no concessions.
Al Wefaq withdrew from talks in July 2011, but joined the dialogue last year.
At least 89 people have been killed in Bahrain since the protests began, according to the International Federation for Human Rights.
Related Articles
Feb 08,2014
Bahrain's Shiite-dominated opposition unveiled Saturday a roadmap for restarting national dialogue talks suspended last month, and renewed demands for a constitutional monarchy in the Sunni-ruled kingdom.
Jan 23,2014
Bahrain's crown prince has pulled reconciliation talks back from the brink by organising a meeting with the Shiite opposition, and the appointment of a royal delegate, and agreed topics for new talks, have raised some hope of progress.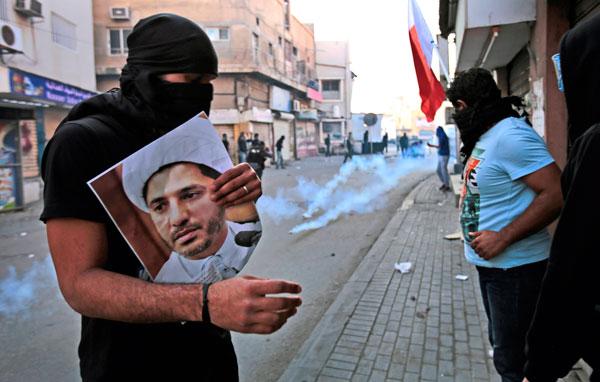 Jun 15,2016
DUBAI — A Bahraini court ordered the suspension of the country's main opposition group Al Wefaq on Tuesday, its lawyer said, in what appeare