You are here
Algeria court halts billionaire Rebrab's media purchase
By AFP - Jun 16,2016 - Last updated at Jun 16,2016
ALGIERS — An Algerian court on Wednesday halted a bid by billionaire Issad Rebrab, the country's richest entrepreneur, to buy a media group that has been critical of President Abdelaziz Bouteflika.
Rebrab's $45 million purchase of the El Khabar group would have added an influential daily newspaper and a TV channel to his estimated $3.3 billion portfolio.
But a few days after the sale was agreed in April between El Khabar and Ness-Prod, a subsidiary of Rebrab's Cevital conglomerate, the government went to court to stop the deal.
The government cited an article in the law that prevents a single legal entity owning more than one Algerian daily newspaper. Rebrab already owns the French-language daily Liberte.
Rebrab has frequently accused the government of blocking his attempts to invest both in Algeria and overseas.
The El Khabar sale would have included the KBC television channel and one of Algeria's flagship dailies, also called El Khabar (The News) — with a circulation of 300,000.
The group had strongly opposed Bouteflika standing for a fourth term as president during 2014 elections, supporting his rival, former prime minister Ali Benflis.
It is facing financial difficulties after losing advertising business from the state.
"You don't win a case of this size against the state," Khaled Bourayou, an expert on Algerian media law, told AFP.
"We face a justice system subservient to the executive," he said.
The state's efforts to block the sale of El Khabar, which also includes a printing press and a distribution firm, caused an outcry from Algeria's independent press and the political opposition.
Dozens of journalists and El Khabar employees gathered outside the administrative court in the Algiers suburb of Birmandreis, holding copies of the newspaper and chanting "El Khabar won't die", despite a heavy police presence.
Rebrab was Algeria's richest man and the ninth-richest in Africa in 2015, according to Forbes magazine.
He founded Algeria's biggest privately held conglomerate, Cevital, which employs 12,000 people and is active in electronics, steel, and food and has recently acquired businesses in France and Italy.
Forbes says the Algerian industrialist also owns one of the largest sugar refineries in the world, producing around 1.5 million tonnes a year.
Related Articles
May 12,2016
ALGIERS — Former Algerian energy minister Chakib Khelil brushes off talk of presidential ambitions.
Aug 30,2015
ALGIERS — A retired Algerian intelligence chief, formerly in charge of counter-terrorism, is being held in a military prison after his arres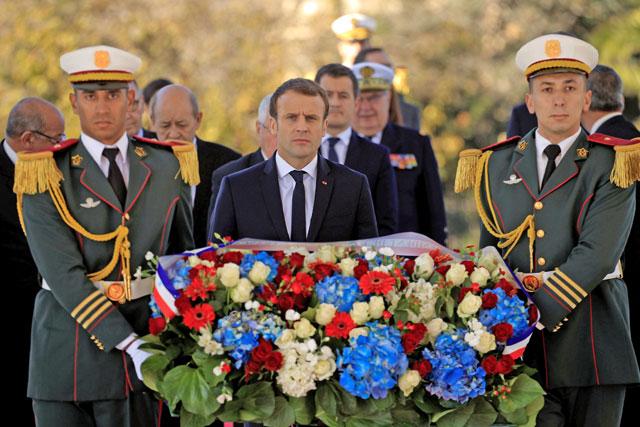 Dec 07,2017
ALGIERS — French President Emmanuel Macron on Wednesday made his first official visit to Algeria, announcing that he came as a "friend" desp
Newsletter
Get top stories and blog posts emailed to you each day.