You are here
Air strikes pound insurgent enclave close to Damascus
Two Palestinian refugees killed on Sunday, 'thousands' of homes destroyed in Yarmouk camp — UNRWA
By Agencies - Apr 22,2018 - Last updated at Apr 22,2018
A Syrian government soldier jumps into an anti-aircraft armoured vehicle in Al Hajar Al Aswad, on Sunday, during a regime offensive targeting Daesh terror group in the southern districts of Damascus (AFP)
BEIRUT/LONDON — Air strikes pounded an extremist-held area near Damascus on Sunday, footage broadcast by Syrian state TV stations showed, as the Syrian government stepped up efforts to wipe out the insurgency's last foothold near the capital.
Thick clouds of smoke rose from Al Hajar Al Aswad area and the sound of jets could be heard in broadcasts from the area just south of Damascus that is controlled by insurgents from the Daesh and Nusra Front groups.
UNRWA, the UN agency that cares for Palestinians, said two Palestinian refugee civilians — a father and son — had been killed in their home in the adjacent Palestinian camp of Yarmouk.
Thousands of homes had been destroyed in Yarmouk in the last four days of fighting, Chris Gunness, UNRWA spokesman, said.
"There must be safe passage for the sick and the wounded and the dying civilians," he said. "Yarmouk has been transformed into a death camp, like one of the lower regions of hell".
The militant-held enclave is adjoined by a pocket held by other rebel groups fighting under the Free Syrian Army banner.
Agence France-Presse reported on Sunday that a woman, her husband, and their child were killed in the Yarmouk shelling late on Saturday, according to the Britain-based Syrian Observatory for Human Rights.
"This brings to nine the number of civilians killed since the shelling escalated on Thursday," said observatory head Rami Abdel Rahman.
Yarmouk was once a densely-populated and thriving district of the capital, but it has been ravaged by violence since Syria's conflict broke out in 2011.
Syria's government imposed a crippling siege on it in 2012, and fighting among rebels and rival extremists has exhausted residents.
In 2015, Daesh overran most of Yarmouk, and the small numbers of other rebels and extremists, including from Al Qaeda's former affiliate, that had a presence there agreed to withdraw just a few weeks ago.
President Bashar Al Assad, backed by Iran and Russia, is seeking to crush the last few besieged rebel enclaves, building on the defeat of insurgents in the eastern Ghouta region, which was the rebels' last major stronghold near the capital.
Anti-Assad rebels hold a chunk of territory in the southwest and the northwest, and Kurdish-led militias, backed by the United States, control an expanse of northern and eastern Syria.
Related Articles
Apr 23,2018
BEIRUT, Lebanon — The Syrian army bombarded a militant enclave in south Damascus on Monday, state television and a war monitor said, as Pres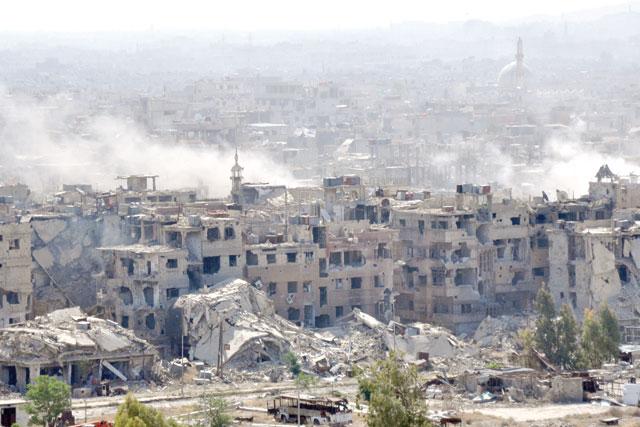 Apr 21,2018
BEIRUT/AMMAN — Syrian rebels began withdrawing from an enclave northeast of Damascus on Saturday and will go to northern Syria, state TV and
Apr 11,2015
Syrian rebels shelled a government-held neighbourhood in the northern city of Aleppo early Saturday, killing at least nine people and wounding dozens, Syrian state television and an activist group reported.
Newsletter
Get top stories and blog posts emailed to you each day.