You are here
Aid arrives in flood-hit Libya but hopes fade for survivors
29 tonnes of aid arrive in eastern city of Benghazi — WHO
By AFP - Sep 16,2023 - Last updated at Sep 16,2023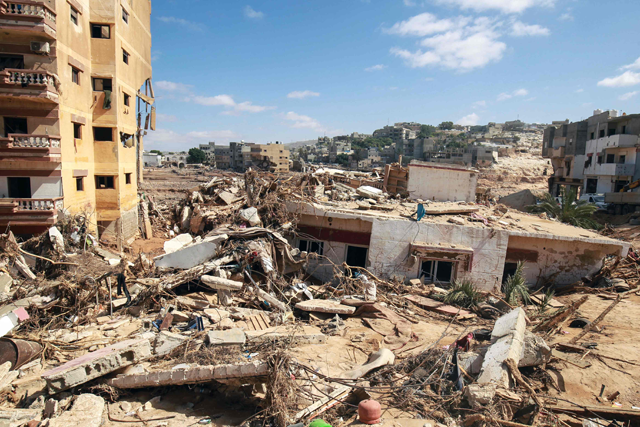 The rubble of buildings that collapsed during floods are piled up after the Mediterranean storm 'Daniel' hit Libya's eastern city of Derna on Thursday (AFP photo)
DERNA, Libya — Shipments of international aid began to arrive in Libya on Saturday, offering a lifeline to thousands despite dwindling hopes of finding more survivors days after deadly flash floods.
Sunday's disaster submerged the port city of Derna, washing thousands of people and homes out to sea after two dams burst under the pressure of torrential rains triggered by a hurricane-strength storm.
Conflicting death tolls have been reported, with the health minister of the eastern-based administration, Othman Abdeljalil, putting the number of lives lost at 3,166.
The World Health Organisation (WHO) said "the bodies of 3,958 people have been recovered and identified", with 9,000 more still missing, as it announced 29 tonnes of aid had arrived in the eastern city of Benghazi.
"This is a disaster of epic proportions," said Ahmed Zouiten, the WHO's Libya representative.
An AFP correspondent saw two aid-laden planes, one from the United Arab Emirates and another from Iran, land in Benghazi, more than 300 kilometres west of Derna.
The Italian embassy said a ship had arrived off Derna with two helicopters, bulldozers, tents, blankets and pumps.
Tonnes of aid from Saudi Arabia and Kuwait have also arrived in the east, along with a field hospital from France.
Hatem Al Tawahni, medical director of Benghazi Medical Centre, told AFP 15 injured from Derna are now being treated there.
One patient, Eid Kayat Abdel Khalef, was working in Derna when the flood hit. He said 75 people from his hometown of Al Sahrif in Egypt were killed.
"There are people whose fate is completely unknown... we don't have any information about them," he added.
A steady stream of vehicles trickled into Derna on a makeshift road as diggers toiled to shift rubble.
In Al Bayda, 100 kilometres west of Derna, people worked to clear roads and homes of mounds of mud.
'Confusion and chaos'
A volunteer in Al Bayda who is originally from Derna said many people had told her of the "confusion and chaos" of relief efforts in the flood-stricken port city.
"I have also lost a lot of loved ones there," said Rahab Shneib.
"Despite the ongoing efforts of many humanitarian organisations to bring comfort to the heart, it is important to note that many people have remarked on the lack of organisation."
Derna resident Mohammad Al Dawali said: "In this city, every single family has been affected."
Seir Mohammed Seir, a member of the security forces, said more than 1,500 families had been saved, along with a three-month-old girl.
"Her entire family died, she was the only one who survived."
The floods were caused by hurricane-strength Storm Daniel, compounded by poor infrastructure in Libya which was plunged into turmoil after a NATO-backed uprising toppled and killed longtime president Muammar Qadhafi in 2011.
The Islamic Relief aid organisation warned of a "second humanitarian crisis", pointing to the "growing risk of water-borne diseases and shortages of food, shelter and medicine".
But the Red Cross and the WHO pointed out that contrary to widespread belief, the bodies of victims of natural disasters rarely pose a health threat.
The spokesman for the eastern-based Libyan National Army, Ahmed Al Mesmari, said the floods had affected "over 1.2 million people".
The United Nations has launched an appeal for more than $71 million to assist hundreds of thousands in need.
"We don't know the extent of the problem," UN aid chief Martin Griffiths said on Friday, as he called for coordination between Libya's two rival administrations — the UN-backed, internationally recognised government in Tripoli, and one based in the disaster-hit east.
Civilian access blocked
The head of the eastern-based government, Oussama Hamad, announced new measures would be imposed from Saturday, closing the disaster zone off from civilians.
After opening a probe, Libya's prosecutor general Al Seddik Al Sur said the two dams at the origin of the disaster had been cracked since 1998.
But repairs begun by a Turkish company in 2010 were suspended after a few months when the 2011 revolution flared, and the work never resumed, the prosecutor said, vowing to deal firmly with those responsible.
The scale of the devastation has prompted shows of solidarity, as volunteers in Tripoli gathered aid for the flood victims in the east.
Libyan Red Crescent teams were "still searching for possible survivors and clearing bodies from the rubble in the most damaged areas" of Derna, its spokesman Tawfik Shoukri said on Friday.
Other teams were trying to deliver much-needed aid to families in the eastern part of Derna, which had been spared the worst of the flooding but was cut off by road, he added.
The International Organisation for Migration, meanwhile, said "over 38,640" people had been left homeless in eastern Libya, 30,000 of them in Derna alone.
Climate experts have linked the disaster to the impacts of a heating planet, combined with Libya's decaying infrastructure.
"A puzzle of dysfunction, incompetence, carelessness, neglect and corruption is slowly emerging behind the catastrophe in Derna," said Wolfram Lacher, Libya specialist at the German Institute for International and Security Affairs.
Newsletter
Get top stories and blog posts emailed to you each day.