You are here
200 arrested, dozens hurt in fresh Tunisia unrest
By AFP - Jan 10,2018 - Last updated at Jan 10,2018
Tunisian protesters clash with security forces in the town of Tebourba on Tuesday (AFP photo)
TUNIS — More than 200 people have been arrested and dozens hurt during clashes in several parts of Tunisia, the interior ministry said Wednesday, after a second night of unrest driven by anger over austerity measures.
The North African country has been hailed for its relatively smooth democratic transition since its 2011 uprising, but seven years after the revolution tensions over economic grievances are high.
Tunisia has seen rising anger over hikes in value-added tax and social contributions after a tough new budget was applied at the start of the year.
Interior ministry spokesman Khalifa Chibani told local radio that 49 police officers were wounded during clashes across the country and that 206 "troublemakers" were arrested overnight.
Properties were damaged, he said, including a branch of the Carrefour supermarket chain in the suburbs of Tunis that was looted.
A witness said youths threw stones at shop windows on Tuesday evening, taking advantage of the chaos to steal goods including electrical appliances. The police intervened, firing tear gas.
The army has been deployed around banks, post offices and other government buildings in the country's main cities, the defence ministry said.
Stones, tear gas
In Tebourba 30 kilometres west of the capital Tunis, hundreds of young people took to the streets on Tuesday after the funeral of a man in his 40s who died in the unrest.
Police have insisted they did not kill the man. The results of an autopsy have not been made public.
Unrest was also reported in the working-class neighbourhoods of Djebel Lahmer and Zahrouni on the outskirts of Tunis, the central cities of Gafsa and Kasserine, and the northern town of Jedaida.
But AFP correspondents said calm had returned to these areas on Wednesday morning.
In the central town of Sidi Bouzid, the cradle of the protests that sparked the 2011 Arab Spring uprisings, youths blocked roads and hurled stones, causing the police to retaliate with tear gas, an AFP reporter said.
A representative of Tunisia's Jewish community said two Molotov cocktails were thrown at the entrance to two Talmudic schools on the Mediterranean island of Djerba, but their interiors were not damaged.
Friday protest
The recent unrest started with peaceful protests against the austerity measures last week, but escalated into clashes with police in the night of Monday to Tuesday.
Activists have called for a massive demonstration on Friday against the austerity measures, which are expected to increase the cost of living.
They have called for the revision of the legislation behind the VAT and social contribution hikes, as well as better welfare for struggling families.
"There are acts of looting and robbery but also a political message from a section of the population that has nothing to lose and feels ignored" seven years after a revolution demanding work and dignity, said political scientist Selim Kharrat.
He said that many public buildings have been targeted while the government has "taken a pretty strong stance against the protesters".
The powerful UGTT trade union said young unemployed Tunisians had legitimate demands but condemned the "violence and looting", calling for peaceful protests.
Tunisia's economy has struggled since the 2011 revolution, which was fuelled by unemployment and graft.
Protests are common in the North African state in the month of January, when Tunisians mark the anniversary of the revolt that unseated dictator Zine El Abidine Ben Ali.
January 2016 saw the biggest wave of public discontent since the uprising as the death of an unemployed protester in Kasserine sparked days of unrest.
In December, unemployed protesters and activists marched through the streets of Sidi Bouzid, angry over the lack of jobs and opportunities that continue to plague residents.
The revolution in Tunisia began in the town in December 2010 after street vendor Mohamed Bouazizi set himself on fire and later died in a protest over unemployment and police harassment that spiralled into Ben Ali's overthrow.
Related Articles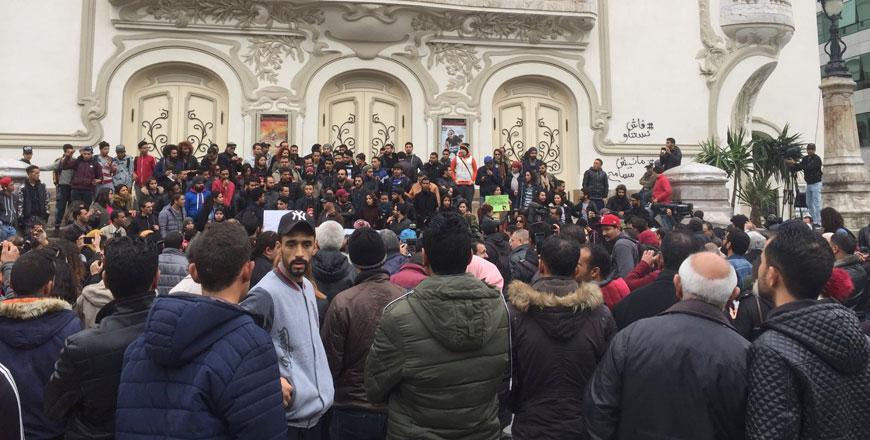 Jan 11,2018
TUNIS — A third night of unrest has shaken Tunisia where authorities said Thursday more than 600 people have been arrested this week as ange
Jan 22,2016
KASSERINE, Tunisia — Fresh protests over unemployment and poverty in central Tunisia on Thursday raised fears of growing social unrest five
Jan 23,2016
TUNIS — Tunisian Prime Minister Habib Essid pleaded Saturday for people to be "patient" after a wave of protests against poverty and unemplo
Newsletter
Get top stories and blog posts emailed to you each day.