You are here
Workshop for Muslim, Christian research students concludes
By Rula Samain - Jul 16,2017 - Last updated at Jul 16,2017
AMMAN — The Royal Institute for Inter-Faith Studies (RIIFS) has recently concluded a week-long workshop for Muslim and Christian research students.
The Muslim-Christian workshop titled "Abrahamic Reflections on Philosophy, Science and Religions" was held last week in cooperation with Kaufman Interfaith Institute (KII) and the Grand Valley State University in the US.
Kelly James Clark, workshop leader and KII senior research fellow, said that the goal of the event was to provide a forum for works by Muslim and Christian philosophy or theology research students and early career professors.
As part of the project, the KII is working to identify young Muslim scholars who wish to join international projects with Christian scholars around the world, he told The Jordan Times.
Clark said that a great collection of works concerning Christianity and science already exists, but works regarding Islam and science still lag behind.
"We aim at extending the project to the Muslim world; communicating a positive vision of both science and faith," he said.
Clark noted that believing in science does not contradict with one's faith, and whoever believes otherwise is misguided.
"Part of the project is to be both science affirming and religion affirming; being a faith believer is not in conflict if one is also a science believer," said Clark, who is also an author and co-author of more than 20 books.
Clark described the workshop as "an intellectual exchange experience".
Such workshops based on cross-cultural and cross-religious interactions give followers of Abrahamic faiths a chance to use their beliefs for peace and compassion against those who use them for violence, said Clark.
It is also a chance for friendship and fellowship, Clark added.
The workshop hosted more than 16 students from Jordan, Turkey, Egypt, Morocco, Algeria, Pakistan, India, the US and the UAE.
Students were asked to write no more than 3,000 words on topics of theism, Islamic theology and science and religion.
RIIFS Director Majeda Omar told The Jordan Times that there is an "urgency" to discuss such topics.
"The almost one-week interaction would positively affect the PhD students' perspective, which, in turn, would not only affect their community but also the students they are teaching."
"Later, the papers presented will be published in RIIFS' monthly bulletin," Omar added.
Among the participants were Kate Finley from the US and Enis Doko from Turkey, who both agreed that the three-day tour of Petra and the Dead Sea before the workshop started was an "excellent" opportunity for the scholars to get acquainted and break down barriers.
While Finley finds it "interesting" that there are similarities between Islam and Christianity, Doko treasured the fact that he learnt about the Arab culture and benefited "a lot from the Christian professors".
Related Articles
Sep 26,2017
MADABA — Interreligious dialogue must be followed by action and inspire working together to shape a culture of peace and harmony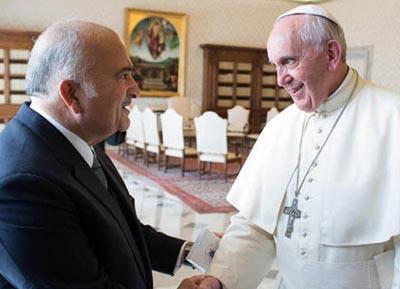 Aug 07,2016
AMMAN — Established in 1994, the Royal Institute for Inter-Faith Studies (RIIFS) has been working for decades to achieve HRH Prince Hassan's
May 06,2018
AMMAN — The capital will host this week the fifth colloquium held by the Royal Institute for Interfaith Studies (RIIFS) and the Pontifical C
Newsletter
Get top stories and blog posts emailed to you each day.