You are here
Women in parliaments forum opens
By JT - May 04,2016 - Last updated at May 04,2016
Senate President Faisal Fayez delivers an address at the opening of the Women in Parliaments Global Forum under the Dome, on Wednesday (Petra photo)
AMMAN — Deputising for His Majesty King Abdullah, Senate President Faisal Fayez on Wednesday inaugurated the Women in Parliaments Global Forum (WIP) for 2016, the Jordan News Agency, Petra, reported.
The two-day WIP, held under the title "Women in Politics: Fast Forward" is attended by 260 women parliamentarian from 89 countries, and it discusses pressing issues on the international agenda.
Participants are also exchanging best practices and expertise to enhance the role of women in parliaments and policymaking.
At the forum, held for the first time in the Middle East and North Africa, women lawmakers and political leaders from the region and the world are discussing women's role as decision makers.
During the opening ceremony, Fayez delivered the greetings of King Abdullah to the participants and wishes of success for the WIP in empowering women in all fields of politics, society, economy and culture.
The Senate president said women must have a major role in peace negotiations and rebuilding after conflicts, noting that without acknowledging women's role, goals of sustainable development cannot be achieved.
Also speaking at the opening ceremony, Lower House Speaker Atef Tarawneh highlighted the challenges of changing mindsets to enhance the presence of women in the community.
In the late 1970s, women in Jordan became ministers, Tarawneh noted, adding that they then had a presence in Parliament, winning seats through elections.
The speaker also highlighted women's administrative roles in the public and private sectors.
For her part, the founder of WIP, Silvana Koch-Mehrin, commended Jordan's role in spreading peace, stability and religious tolerance, noting that the WIP meeting is a chance to exchange expertise.
She said that the forum is a good chance to achieve equal participation for women, noting that men still form 80 per cent of parliament members and 95 per cent of world leaders.
President of Lithuania and Chair of the Council of Women World Leaders Dalia Grybauskaite said the council contributed to enhancing women's participation around the world, noting that there is more work to be done to offer women proper education.
Amal Al Qubaisi, president of the UAE Federal National Council, commended Jordan's role in hosting the WIP as an indication of seriousness towards empowering women, highlighting the political achievements of Arab women.
Related Articles
Apr 30,2016
AMMAN — Lower House Speaker Atef Tarawneh on Saturday said holding the Women in Parliaments Global Forum (WIP) in the Kingdom on Wednesday w
May 03,2016
AMMAN — The 2016 Women in Parliaments Global Forum (WIP), which is scheduled to open in Amman on Wednesday, is an important international ev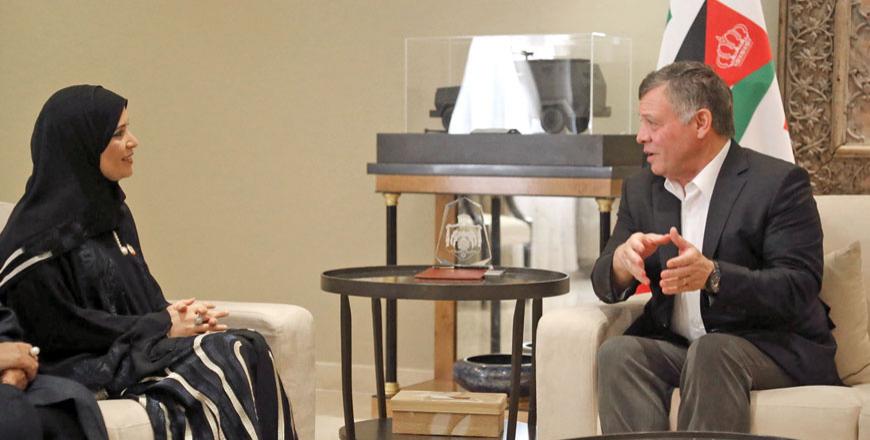 May 05,2016
AMMAN — His Majesty King Abdullah on Thursday discussed bilateral relations with Amal Al Qubaisi, the president of the UAE Federal National