You are here
Women's rights groups hesitant to celebrate election results
20 female candidates, including 3 Islamists, clinch seats out of House's 130
By Rana Husseini - Sep 22,2016 - Last updated at Sep 23,2016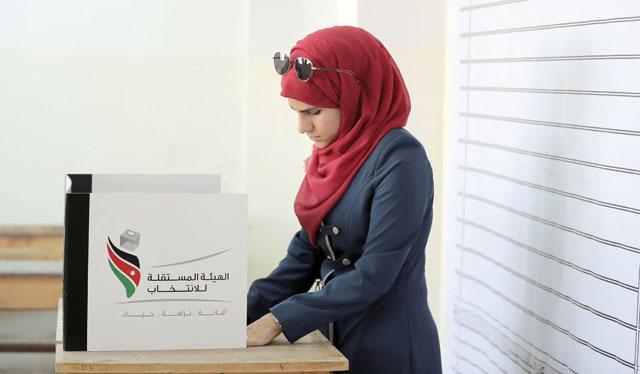 A woman votes at a polling centre in Amman on Tuesday (Photo by Hassan Tamimi)
AMMAN — Activists on Thursday expressed mixed reactions to the parliamentary election results, as five women won seats outside the 15-seat quota, including three Islamists.
The head of the Women's Committee at the Senate, Senator Mai Abul Samen, said the results were a clear indication that people "truly believe in women's role and were convinced by their performance... that is why we have a good number of women who won through direct competition".
But Abul Samen told The Jordan Times that the elected women in general "will still lack the mindset of true work and will focus their work on service to their own communities, as is the case with many male deputies".
Women who belong to political parties, mainly the Islamic Action Front (IAF), "will direct their work towards their party's agendas, and history has taught us that it is almost always against women's rights", the senator warned.
The IAF is the political wing of the banned Muslim Brotherhood, and three of its female candidates won seats in the new Parliament.
Jordanian Women's Union President Tahani Shakhshir agreed with Abul Samen, and said that IAF female MPs "adopt conservative Islamic ideologies that will surely not work in favour of women".
Overall, the election results were below expectations both "in quantity and quality", Shakhshir told The Jordan Times.
Laila Naffa, from the Arab Women Organisation, also expressed scepticism over the new female MPs, specifically the IAF lawmakers whose wins were "a negative development for women in Jordan".
"In previous parliaments, some female deputies were with us and some were quiet. I fear this time that we will have female deputies from the IAF who will be vocal against women's rights," Naffa told The Jordan Times.
Some 1,252 candidates ran in Tuesday's elections, including 920 Muslim males, 245 Muslim females, 58 Christian males, five Christian females, 22 Circassian and Chechen males and two Circassian and Chechen females, according to official figures.
Women's rights groups have repeatedly criticised the Elections Law, saying it was difficult to understand and limits governorates with high populations to one female candidate.
Activists launched several campaigns before the law was passed, asking the government and Parliament to increase the number of seats for women in governorates with multiple districts — Amman, Zarqa and Irbid — but their calls were not considered by the government or the legislative body.
Jordanian National Commission for Women Secretary General Salma Nims said the results were disappointing "because we were hoping for more women in the Lower House".
However, Nims remained optimistic about the election of female IAF MPs, noting that in the past "they were open to discussing women's rights".
"But we will have to wait and see how they perform under the Dome and hopefully we can find an agreeable formula that will work in favour of women in Jordan," Nims told The Jordan Times.
Activists have complained over the years of many factors that have hindered women from running in elections and publicising their campaigns, such as financial constraints, tribes or families who are still not convinced that women belong in Parliament, and who believe that a woman's place is at home and in the kitchen.
The Elections Law is based on an at-large voting system, in which candidates can run for parliamentary elections on one large multimember ticket.
The law divides Jordan into 23 electoral districts, with one district for each governorate, while the capital contains five districts, Zarqa has two and Irbid has four.
The number of MPs as per the new Elections Law is 130.
Under the proportional electoral system, winning lists are allocated seats according to the percentage of votes they receive. The seats are distributed to the ticket members with the most votes.
Each voter can only pick one list and must then select a candidate or candidates from the ticket.
Related Articles
Sep 20,2016
AMMAN — Women's rights activists are standing by their August predictions that a maximum of three women could clinch seats outside the women
Aug 18,2016
AMMAN — The women's movement has expressed optimism that some female parliamentary candidates could clinch seats outside the 15-seat designa
Sep 20,2016
AMMAN — Voters and activists in Amman on Tuesday stressed the importance of electing qualified women to the Lower House, noting that female