You are here
WHO says COVID-19 may be airborne disease
By Bahaa Al Deen Al Nawas - Jul 08,2020 - Last updated at Jul 08,2020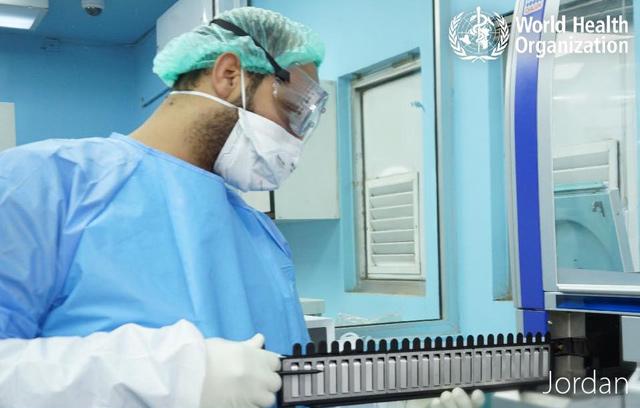 The possibility of airborne transmission of COVID-19 suggests that tiny particles can remain in the air for hours after a person breathes or talks, especially in crowded, closed areas without proper ventilation (Photo courtesy of World Health Organisation Facebook page)
AMMAN — The possibility of airborne transmission of COVID-19 is currently being studied and requires further research and evidence, Spokesperson for the National Epidemiological Committee Nazir Obaidat told The Jordan Times on Wednesday over the phone.
"The World Health Organisation [WHO] is studying the possibility and will announce the results later," Obaidat said, noting that the coronavirus is transmitted through respiratory droplets that can be emitted from a sneeze or cough. Droplets that land on surfaces may then spread when a person touches the surface, then touches their face, especially the eyes and nose.
The possibility of airborne transmission of the virus suggests that tiny particles can remain in the air for hours after a person breathes or talks, especially in crowded, closed areas without proper ventilation, Obaidat said.
While the theory that COVID-19 is spread via airborne particles remains in question, Obaidat advised people to wear face masks and follow health instructions to remain safe, and to observe physical distancing.
During the WHO's daily briefing on Tuesday, the organisation's technical lead on the COVID-19 pandemic Maria Van Kerkhove said: "We have been talking about the possibility of airborne transmission and aerosol transmission as one of the modes of transmission of COVID-19."
"We are producing a scientific brief on summarising where we are, we have been working on this for several weeks now and we engage with a large number of groups — epidemiologists, clinicians, IPC specialists, engineers, mathematical modellers and others — to try to consolidate the growing knowledge around the transmission," she said.
Kerkhove reiterated that the virus is a respiratory pathogen, "and so it is important that what we know fits into the guidance that we have, which is why a comprehensive package of interventions are required to be able to stop transmission".
According to Kerkhove, this includes not only physical distancing, but also wearing face masks in certain settings, specifically in places and situations in which it is impossible to practise physical distancing, and especially for healthcare workers.
"We are also looking at the possible role of airborne transmission in other settings, particularly closed settings where you have poor ventilation," she said, concluding that a brief will be issued in the coming days with more information on this topic.
Newsletter
Get top stories and blog posts emailed to you each day.