You are here
War in Gaza exposes journalists to risks, experts call for intensifying protections
By Maria Weldali - Nov 06,2023 - Last updated at Nov 05,2023
Journalists, relatives and friends pray over the body of Palestine TV journalist Mohamed Abu Hatab and eleven family members killed when their home was hit in the Israeli bombardment of Khan Yunis, in the southern Gaza Strip on Friday (AFP photo)
AMMAN — Protection of journalists and media personnel reporting from the Gaza Strip is absent in a war suffocating journalistic freedom, according to an expert.
Speaking with The Jordan Times, Saja Aliwi, the spokesperson for the International Committee of the Red Cross in Jordan said "protecting journalists and media professionals as they report on the ongoing war, is crucial as the very nature of their work makes them exposed to the dangers inherent in military operations."
Aliwi added that the current situation in besieged Gaza Strip demonstrates serious threats to the safety of journalists and media personnel.
Media professionals are increasingly at risk of being wounded, killed or detained while reporting in armed-conflict situations, Aliwi said.
"This is why we stress that civilians, including journalists are protected under international humanitarian law against direct attacks," Aliwi added.
"In a war that normalised the dehumanisation and extermination of Palestinians... there is no sense of protection," President of the Centre for Defending Freedom of Journalists Nidal Mansour, told The Jordan Times.
"The bombing of hospitals, schools and ambulances, is not just violating all humanitarian laws and international conventions, it is against humanity," Mansour said.
Mansour added that "Israel is committing its crimes against Palestinians in the dark" by cutting off all communications and Internet services connecting Gaza to the outside world.
From war reporting on the frontlines to keeping up with continuous Israeli atrocities, journalists and media professionals in Gaza are being prevented from delivering the honest truth, Mansour said.
Remembering veteran Palestinian journalist Shireen Abu Akleh, who was killed a year-and-a-half ago by Israeli forces, Mansour said that the deliberate targeting and silencing of Palestinian journalists did not start on October 7, but has been going on for over 75 years.
He said that the Palestinian Journalists Syndicate, revealed that so far 29 journalists and 11 media representatives were confirmed dead. Mansour argued that the protection granted by the Geneva Conventions is inadequate and highlighted the need for additional agreements and treaties to ensure safety.
As of November 4, investigations revealed that at least 36 journalists and media professionals were killed among an estimated 10,000 civilians since the start of the war, according to the Committee to Protect Journalists.
Related Articles
Nov 22,2023
AMMAN — Minister of Government Communications Muhannad Mubaidin on Tuesday condemned the killing of Al Mayadin TV journalists by Israeli str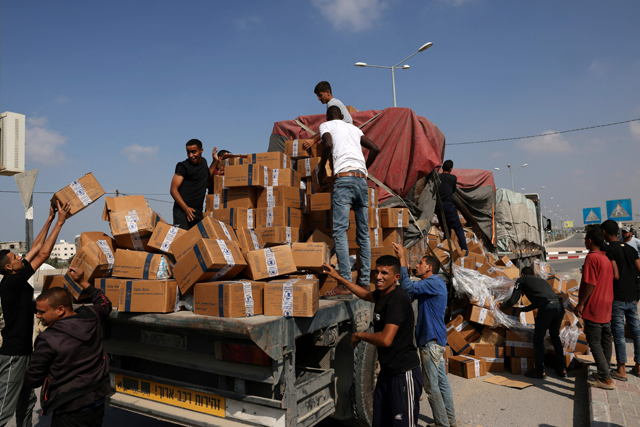 Nov 04,2023
AMMAN — Amid the deepening humanitarian crisis in the besieged Gaza Strip, the International Committee of the Red Cross (ICRC) calls for unr
Nov 22,2023
AMMAN — Jordan Press Association (JPA) on Tuesday condemned targeting a journalist and cameraman by Israeli strike on south of Lebanon.