You are here
Wadi Rum experience provides tourists with 'unforgettable memories'
Visitors savour tranquillity, bedouin hospitality in Valley of the Moon
By Ahmed Bani Mustafa - Oct 14,2016 - Last updated at Oct 14,2016
Wadi Rum, around 230km south of Amman, has provided the scenery for several Hollywood films, including 'Lawrence of Arabia' and 'The Martian' (Photo courtesy of Jessica Carpenter)
WADI RUM — Visitors of the Valley of the Moon, Wadi Rum, find a peaceful refuge to unwind from all of life's burdens and return to the simple life.
But there are many other reasons to visit Wadi Rum, some 300km south of Amman, including nature, history and culture.
"Just the silent beauty of a place such as this will always have a place in my memory; the clear star-filled sky with magical sunsets and bedouin hospitality is inspiring," said British tourist Hanna Sibley, during a recent visit to the valley.
"Silent nights with just a fox's shrill call make Wadi Rum and its people truly awe-inspiring," she told The Jordan Times.
For June, visiting from Scotland, the vast landscape prompts a sense of perspective.
"The vastness of the place tells you how small you are. But at the same time you don't have any uncomfortable feeling of being alone, as you know the hospitality and helpfulness of the bedouins are always there," she said.
Jessica Carpenter, an American tourist, said the valley's beauty was "nothing short of breathtaking".
"The vastness, towering rock formations, peaceful silence and endless starry night are memories that will stay with me forever," she added.
Bronwyn, from Australia, works in Saudi Arabia and said she seized the opportunity to cross the border and visit Jordan.
"The hospitality of bedouin people for me was beyond compare. The welcoming feeling really initiates an amazing desert experience," she added.
US tourist Kevin said he enjoyed the physical experience, "gallivanting" around the sands of Wadi Rum. "We trekked through the desert, climbed up the rocks, watched the stars and ate good food as well."
A bedouin host and his son had taken the group on a 14km walk through their ancestral home, said Australian tourist Jan Hindmarsh.
The tour guide explained how water was collected in a land where it is a precious commodity, and showed the group ancient inscriptions on the rocks to inform caravans where water can be found and how far it is.
"I can only say that my visit to Wadi Rum is a highlight of my life due to the hospitality of locals and the magnificent scenery in the home of the bedouins," Hindmarsh said, adding that the bedouin lifestyle in Wadi Rum, also called the Valley of the Moon, could only be described as a peaceful and relaxed way of life while being at one with nature.
Wadi Rum is part of "the Golden Triangle" of tourist attractions in Jordan, along with Aqaba and Petra. The protected area is also one of UNESCO's four World Heritage Sites in the Kingdom.
The desert valley was mentioned in Greek and Roman ancient history accounts, and was described by Lawrence of Arabia as "vast, echoing and godlike".
It has provided the scenery for several Hollywood films, including "Lawrence of Arabia" and "The Martian".
Related Articles
Jul 25,2017
AMMAN — Residents of Wadi Rum have complained of Tourism Ministry's ban on tourists' trips to their area, insisting that the area is safe fo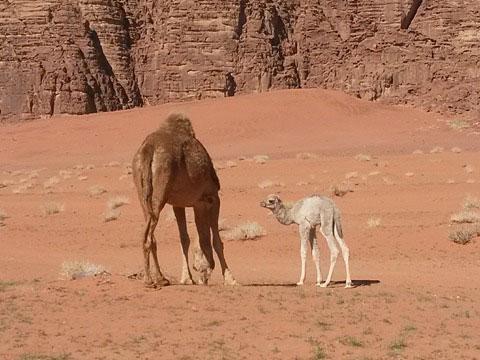 Oct 02,2017
AMMAN — Insulated in the desert wilderness of southern Jordan, bedouins of Wadi Rum, 330km south of Amman, still preserve customs and tradit
Sep 01,2016
AMMAN — Around 3,000 domestic tourists will take a trip to Petra and Wadi Rum, in an initiative organised to mark World Tourism Day and the