You are here
Upcoming 'unusually' cold air mass signals major crop damage, says Farmers' Union
By Mays Ibrahim Mustafa - Mar 28,2023 - Last updated at Mar 28,2023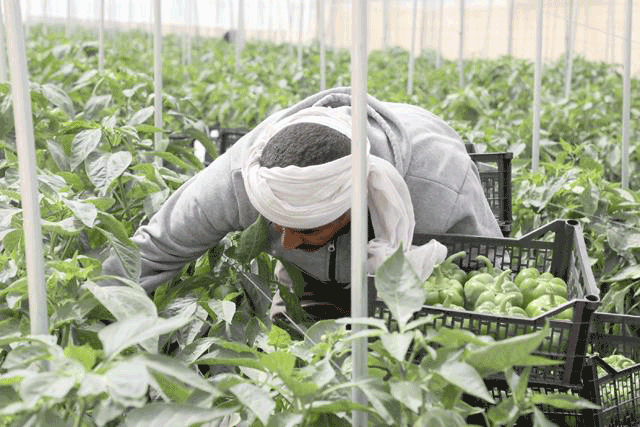 Representative image (JT file photo)
AMMAN — Farmers are fearful that an upcoming cold spell might damage their crops, especially fruit trees, according to Director-General of the Jordan Farmers' Union Mahmoud Al Oran.
In its five-day weather forecast, Arabia Weather, a weather forecasting company, said that the Kingdom on Thursday will be affected by an "unusually" cold air mass, causing temperatures to drop below 5°C during the night in some areas.
Moreover, clouds are likely to appear at different altitudes with the possibility of scattered rain showers in limited areas across the Kingdom during the day and at night, according to Arabia Weather.
It also forecast the formation of frost, especially in desert areas, eastern lowlands and highlands in the Kingdom's southern region during the early morning hours.
Speaking with The Jordan Times, Oran noted that this decrease in temperatures will have a "drastic" impact on the flowering and fruit setting stages of some fruit trees during the spring.
"Farmers have had a really rough and dry year … Our hope for a better season was only revived by the last two weather depressions, which brought heavy rainfall," he said.
Delayed rainfall and warm winter days, which are "indicators of climate change", left farmers dealing with numerous challenges, according to Oran.
He pointed out that these events caused many fruit trees to lag behind in "chill" hours, which are hours below 7°C that are necessary to ensure optimal and well-timed bud and fruit development.
For example, the latest weather depressions helped almond trees reach their minimum chilling requirement of 200 hours. However, this delay affected the quantity and quality of their produce, he added.
During the upcoming months, cherry, apricot, peach, then apple trees usually set their fruits. Therefore, if temperatures decrease below their usual levels during this period, their buds and flowers will suffer "substantial" damages, Oran continued.
Areas with fruitful trees that are most vulnerable to frost formation primarily include the highlands in Mafraq, Shoubak, Ajloun, Irbid, Azraq, Tafileh and Salt, he said.
Newsletter
Get top stories and blog posts emailed to you each day.