You are here
UNRWA alerts 28,000 staff it cannot pay November salaries on time
Lazzarini appeals to donors to help maintain UNRWA's vital role
By Rana Husseini - Dec 01,2021 - Last updated at Dec 01,2021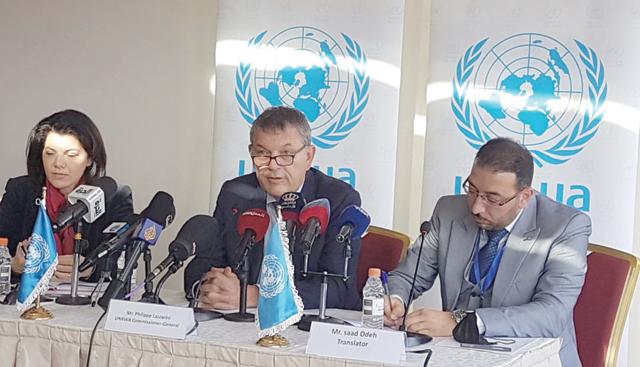 UNRWA Commissioner General Philippe Lazzarini speaks during a press conference in Amman on Tuesday (Petra photo)
AMMAN — UNRWA Commissioner General Philippe Lazzarini on Tuesday warned that the UN agency's funds are shrinking and that the agency is at a "very dangerous junction".
"I appealed to donors to help maintain the vital and irreplaceable role that UNRWA plays in the region," Lazzarini said on Tuesday at a press conference held in Amman.
Lazzarini added that as there is still no political solution to the question of Palestine refugees; they continue to rely on UNRWA for services and assistance that allows them to live with dignity.
The UN official said he was forced to inform 28,000 personnel that UNRWA "does not have sufficient funds to pay their November salaries on time", Lazzarini said.
UNRWA's inability to pay staff and daily paid workers can have a severe impact on services to millions of refugees, Lazzarini warned.
As Commissioner-General of UNRWA, Lazzarini said his top two priorities are to continue all critical services for Palestinian refugees, such as health and education, as well as paying UNRWA employees their salaries in full.
He pointed out that the humanitarian needs of Palestine refugees keep increasing while funding to the agency has stagnated since 2013.
"We still have to mobilise 60 per cent of our costs and year after year after year we have had a shortfall of about $100 million," Lazzarini told The Jordan Times.
At the beginning, the agency could adapt itself through efficiency and austerity measures, Lazzarini explained.
However, he was quick to add that it would be difficult to continue in that manner since as an agency "we will collapse and if we collapse and we reach a tipping point no one knows what will happen after that".
Lazzarini also stressed that the rights and wellbeing of Palestinian refugees are at the heart of the UNRWA mandate and the worst that can happen to Palestine refugees is to see their services interrupted.
The interruption of services will fuel frustration, anger and disarray among Palestine refugees. UNRWA staff will feel even more abandoned by the international community, he added.
Most Palestine refugees have nowhere to turn but to UNRWA, the UN official said.
"Continuing going to UNRWA schools and health centres means something is still normal, reliable and hopeful in the life of Palestine refugees," he added.
"We owe this to the Palestine refugees, who have for far too long felt abandoned. We owe it to the region, who cannot bear another humanitarian disaster," Lazzarini said.
Meanwhile, the UN official praised the Kingdom and other host countries, as they are the most generous donors towards Palestine refugees.
"I particularly salute their representatives for their role in seeking a de-escalation of the strike that was slated for later this week," Lazzarini maintained.
UNRWA employees in the agency's five areas of operation (Jordan, the West Bank, Gaza, Lebanon and Syria) recently announced plans to strike Thursday unless the UN agency comes forward to meet their demands.
The employees had demanded the cancellation of exceptional leave without pay and protested the postponement of bonuses amid the agency's continuous funding shortages, a source close to the UNRWA Workers Union, who preferred to remain anonymous, told The Jordan Times on Monday.
Lazzarini also welcomed the resumption of US support to UNRWA. However, he noted, despite the resumption of US support, it has been offset by the reduction of funding from a few large donors and the absence of others.
In mid-November, 29 foreign ministers, state ministers, deputy ministers and representatives of 61 countries and international organisations participated in the international ministerial conference to support UNRWA, which was co-organised by Jordan and Sweden to mobilise political and monetary support to the UN agency.
UN Secretary General António Guterres spoke during the event about the pivotal role of UNRWA in the lives of generations of the Palestinian refugees and its critical role in enhancing regional stability.
Guterres stressed that despite countries' approval of the UN mandate to UNRWA, it is still facing an existential crisis, calling for providing it with enough and sustainable support that can enable it to provide its vital services to Palestinian refugees and bridge the financial gap immediately, saying that "investment in UNRWA is an investment in peace and hope".
In his inaugural speech, Jordanian Deputy Prime Minister and Foreign Minister Ayman Safadi stressed the importance of the international community to continue to provide financial support to the agency.
He emphasised the need to support the agency so it can offer its services to over five million Palestinian refugees and provide a decent life to them and UNRWA employees, who count on their monthly salaries to live in dignity.
Newsletter
Get top stories and blog posts emailed to you each day.