You are here
UNICEF is shifting approach to broader understanding of vulnerability — Jenkins
By Saeb Rawashdeh - Apr 28,2018 - Last updated at Apr 28,2018
UNICEF Representative to Jordan Robert Jenkins delivers a lecture at the Columbia Global Centres in Amman on Wednesday (Photo courtesy Columbia Global Centres)
AMMAN — The shift from a small programme focused on "policy and advocacy investments for children" to "a large-scale humanitarian programme" was the subject of the talk delivered by UNICEF Representative to Jordan Robert Jenkins at the Columbia Global Centres in Amman on Wednesday.
Jordan is a difficult country to summarise quickly, said Jenkins, who joined UNICEF in 1995, emphasising "positive trends" in the country's human development index which he attributed to all those working in socioeconomic sectors and to the Kingdom's leadership.
However, there are still mass disparities and inequities between various groups, he pointed out.
"If you picture a hundred average children in Jordan, boys and girls of all ages, you will find some going to school while others are not; you will see some living in advantaged neighbourhoods and some in disadvantaged areas. This highlights the geographic disparities in Jordan," Jenkins said.
As we look to various variables, we see that although each child has their own story, some common characteristics tell a much broader story of vulnerability, Jenkins, who earned his PhD in Education from the University of Bath, stressed.
"If we overly focus on one sole dimension of exclusion, then we ignore other key vulnerabilities," he explained, noting that Jordan has one of the youngest populations in the world.
"Twenty nine per cent of youth are not involved in education, training or employment, a very high percentage which is one of UNICEF's main concerns as it deprives them from a future," Jenkins continued.
A particularly vulnerable group is that of unemployed young females, he elaborated, noting that when the combination of age and gender are "key dimensions of vulnerability".
"Interestingly enough, girls who pursue their education outperform boys by the age of 15," he pointed out, saying that, after graduation, a big disproportion on the labour market can be found between men and women, with many females remaining at home.
UNICEF is also addressing the phenomenon of early marriage, which particularly affects the Syrian refugee population, the expert noted.
Beside gender, geography is another key vulnerability dimension as some regions of Jordan are more underprivileged than others, Jenkins said.
"Disability [intellectual and physical] is, of course, a critical characteristic of vulnerability as children with disabilities have to overcome significant barriers to accessing services, realising their full potential," the UNICEF representative underscored, noting that "it is very much the case here in Jordan".
"Five years ago, we responded to one vulnerable group — Syrian refugees — focusing on the humanitarian operation but, with time, we shifted towards capacity-building and addressed vulnerabilities in a much broader sense," Jenkins elaborated, stressing: "We now have the 'luxury' to address other populations and the lessons we learned in the last five years is that we need to leverage the national capacities to become more efficient and effective."
This capacity building will also help break down barriers between societal groups and boost social cohesion, he stressed.
UNICEF's social protection programme has provided cash grants for vulnerable Syrian refugees over the last five years, in addition to winterisation kits, Jenkins said,.
"There are 206 double-shifted schools for Syrian refugees, achieved with the help of the Ministry of Education," he said, noting that UNICEF is moving from informal education to a certified education.
Jenkins also highlighted the importance of psychological work for children who experienced physical violence and dealt with trauma while in war-torn Syria.
"To enable us to implement this shift, we now need a better analysis of inequities among children. Shifting to a broader vulnerability approach has a potential to address cost-effectiveness and focus on multiple vulnerabilities. This will enable us to erase the lines between people, as when work focuses on one group, it reinforces their difference from other groups," Jenkins concluded.
Related Articles
Oct 04,2018
AMMAN — UNICEF's Regional Director Geert Cappelaere expressed his gratitude to Jordan in affirming the rights of all children at the end of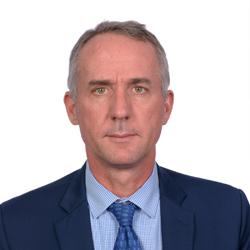 Jan 13,2019
AMMAN — UNICEF Jordan will refocus on vulnerable children of all nationalities in Jordan in 2019, while continuing to support Syrian refugee
Jan 09,2014
UNICEF's work with Syrian refugees in the Kingdom will not affect the agency's country programme in Jordan, according to a senior UN official.