You are here
Undercover traffic officers to monitor behaviour of public transportation drivers
By Dana Al Emam - Sep 23,2015 - Last updated at Sep 23,2015
AMMAN — Traffic policemen dressed in civil attire will be using means of public transportation to monitor drivers' abidance by traffic regulations.
Policemen will penalise drivers of public vehicles, mainly taxis, who do not use meters, as well as those who refuse to transport passengers or illegally cherry pick passengers going to destinations the drivers find convenient, according to a Public Security Directorate (PSD) statement issued Wednesday.
The campaign, which is part of the PSD's preparations for Eid Al Adha, will also fine drivers of privately owned cars who transport passengers for money in a move to punish those who put finances above the safety of passengers.
Any of these violations will result in seizing the vehicle up to a week and it will not be returned unless the driver pays the fine, the statement said.
So far, 'a total of 150 cars have been temporarily seized in Amman, Irbid and Zarqa governorates'.
Commenting on the issue, Ahmad Abu Haidar, president of the Transport Services and Taxi Owners Union, urged drivers of public transportation vehicles to comply with traffic regulations.
"Many non-car-owning families depend on taxis to move around during Eid and visit their relatives," he told The Jordan Times over the phone, commending the PSD's inspection move.
Meanwhile, the union receives a "very limited" number of complaints from consumers, according to the sector leader, who cited private cars working as taxis as a major issue facing the sector.
He also cited an increase in privately owned cars used for personal use, due to the lack of a "regulated" transportation system.
There are some 11,000 taxis in Amman, while the number in all the other governorates reaches 4,700, according to Abu Haidar, who also cited some 3,000 fixed-route service cars, in addition to some 2,000 internal and external travel vehicles and some 2,000 driver-training cars.
Citizens can report violations of traffic regulations by calling the directorate's command and control centre at 911 or traffic operations at 06/4888230 or 0790190848, according to the PSD.
Related Articles
Jan 17,2016
AMMAN — Around 4,000 private cars are ferrying passengers for a fee in the capital, the president of the Transport Services and Taxi Owners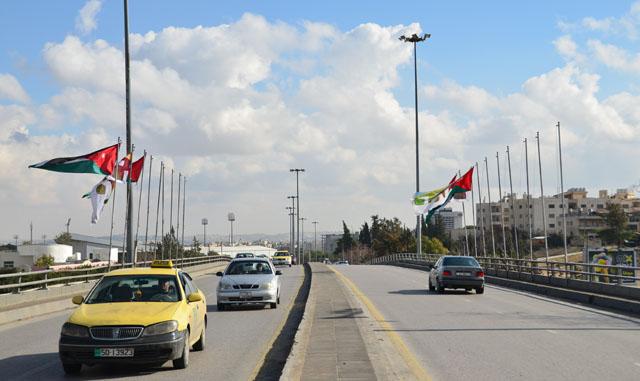 Apr 16,2015
A traffic ticket related to public transport drivers' apparel sparked debate among passengers and sector representatives on Thursday. 
Oct 05,2015
AMMAN – Commuting by taxi is not always a pleasant experience for many Amman residents due to "bad attitude of some drivers", according to a
Newsletter
Get top stories and blog posts emailed to you each day.