You are here
TRC requests ban of Careem app from all networks
By Mohammad Ghazal - Apr 23,2018 - Last updated at Apr 23,2018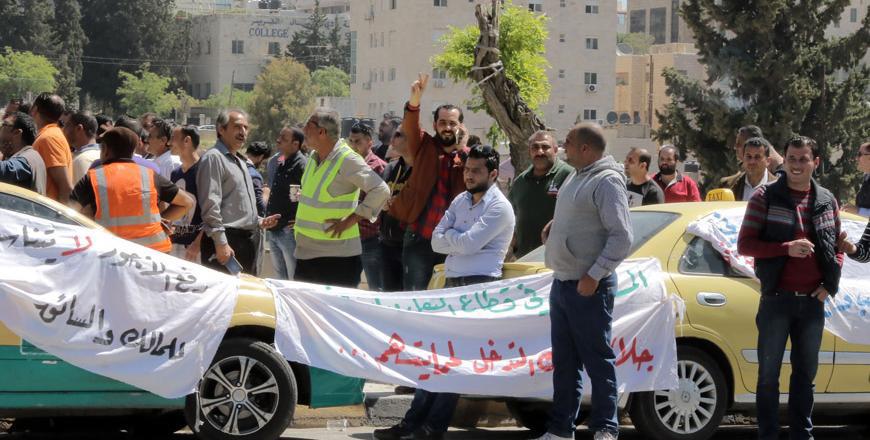 Taxi drivers protest the implementation of ride-hailing apps in front of Parliament in April last year (Photo by Osama Aqarbeh)
AMMAN — The Telecommunications Regulatory Commission (TRC) on Monday said it requested the telecom operators to ban the taxi hailing app Careem.
The TRC on Sunday sent a letter to the country's telecom companies following a recent ruling by West Amman Court which banned ride-hailing app Careem from operating in the Kingdom until it gets the necessary licences from the concerned authorities, the TRC told The Jordan Times on Monday.
The application will be banned on all telecom networks including 2nd, 3rd and 4th generation networks, the TRC said, noting that it sent the letter to the operators in implementation of the court ruling.
Users have voiced outrage about the decision to ban the app.
"Yellow taxis commit many violations when driving. They never stop talking to passengers and they pick and choose passengers," Areej Hammoudeh, a teacher of Arabic at a private school in Al Rabieh area, told The Jordan Times on Monday.
She said she "tries to use public transportation because it is cheaper, but sometimes I am forced to use taxis. Although cars working with Careem are more expensive, at least they never say no when I want to go anywhere… they are available anytime and are one click away".
"Passengers should have the right to choose, I pay more for Careem cars because I am happy with their service. I had a very bad experience with yellow cabs," she added.
Ahmad Al Sheikh, who works as an accountant at a food processing factory, echoed similar sentiments."I have a car, but sometimes I use taxis when my wife needs the car. Most of the time, yellow taxis refuse to drive me to my workplace near Al Wihdat saying there is so much traffic in the area," he said.
"Because I do not use the taxis much, I started ordering Careem cabs. Although they charge more than the yellow taxis, they are always available and do not say no to any destination so it is more convenient to use them… banning the application will affect many who like to use the service," Al Sheikh continued.
Mahmoud Kharabsheh, a lawyer hired by several owners of yellow taxis' offices who filed lawsuits against Careem recently, said: "Yellow taxis investors paid millions of dinars for their investments and it is fair that the app is banned."
"Investors in yellow taxis pay fees annually to the government, and it is unacceptable to allow people to drive their own cars and start working as taxis as this is against the laws in Jordan," the lawyer told The Jordan Times on Monday, adding that "investors pay income tax and hire thousands of drivers".
He stated that "the court ruling that banned Careem from operating and demanded the ban of the app on all app stores was a right decision".
According to yellow taxis investors, the prices of taxis dropped from JD60,000 to around JD40,000-JD45,000 after the apps were allowed and started to be used by passengers.
There are around 17,000 yellow taxis currently operating in Jordan.
According to the 2010 Public Transport Law, it is mandatory to obtain a special licence to operate a public transport vehicle.
Related Articles
Dec 03,2016
AMMAN — The government on Saturday said it has no plans to block ride hailing apps such as Uber and Careem. "It is difficult to block s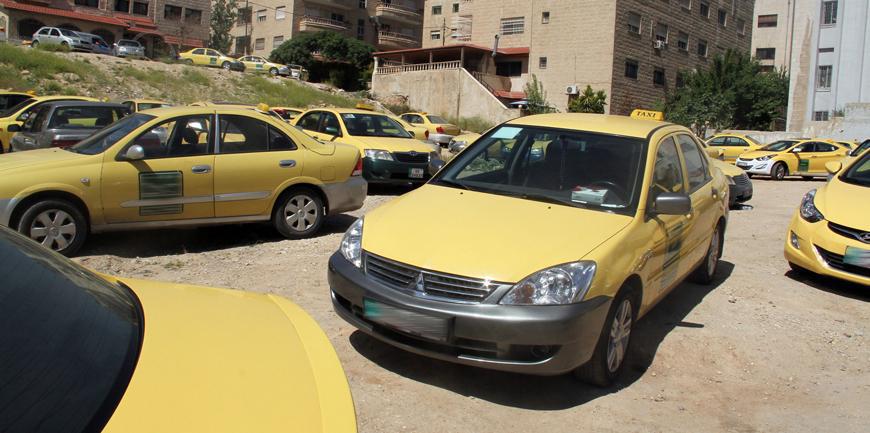 Feb 21,2018
AMMAN — Owners of thousands of yellow taxis will file lawsuits against ride-hailing app companies and authorities, demanding compensation fo
Mar 07,2017
Amman — Ride-hailing app Careem on Tuesday announced the start of bringing yellow taxis under its wings, helping put an end to a month-long
Newsletter
Get top stories and blog posts emailed to you each day.