You are here
'Too many Syrian refugees in Jordan at risk of remaining excluded from development'
61 INGOs commend Kingdom's response to Syrian crisis at Brussels conference, warn of remaining threats to refugees' future livelihoods
By Camille Dupire - Apr 25,2018 - Last updated at Apr 25,2018
Tens of thousands of Syrians are still stranded at Jordan's northeastern border with Syria, according to JIF representative (Photo by Amjad Ghsoun)
AMMAN — A consortium of 61 international NGOs working in Jordan has welcomed the renewed partnership between Jordan and the international community to ensure that thousands of Syrian refugees and vulnerable Jordanians do not fall further into poverty.
Speaking at the conclusion of the second Brussels conference on "Supporting the future of Syria and the region", Jordan INGO Forum (JIF) representative Hanalia Ferhan said: "Despite its own economic crisis, Jordan has made great strides to welcome Syrian refugees and has been commended for doing so, and the Jordanian response was referred to as a model of global best practice at the conference."
"However, too many refugees remain excluded from this long-hoped for development," Ferhan warned in a statement e-mailed to The Jordan Times.
Forty per cent of Syrian school-aged children remain out of school in Jordan despite the government's efforts to facilitate the registration of all children living in Jordan. Meanwhile, both the international community and the Jordanian stakeholders have yet to tackle the underlying barriers to school enrollment and retention, the JIF representative explained, citing the poor quality of education and the increasing poverty of Syrian families as factors that drive children away from school.
"Groundbreaking reforms have been led by Jordan to open and ease access to work permits for Syrian refugees; yet, work permits on their own do not mean new jobs," Ferhan stressed, pointing out that restrictions still exclude refugees from high-skilled employment and semi-skilled labour, hamper the registration of Syrian-owned businesses which has left Syrian women further behind.
The INGOs representative welcomed the intention outlined in the conference's final document to open more sectors to Syrian refugees and increase women's participation, stressing that "further flexibility, including entrepreneurship opportunities for Syrians is neither a burden nor a competition for Jordanians, but an opportunity to boost the economy, capitalise on generated revenues and further formalise the job market".
Ferhan underscored the need to ensure legal and civil registration for all Syrian refugees in Jordan in order to fulfill the commitments of the Jordan Compact, commending the recent Ministry of Interior-UNHCR campaign to regularise the status of informal Syrians living outside of camps.
"However, the unresolved situation of tens of thousands of Syrians stranded at the northeastern border with Syria, and the thousands of refugees held in village five of Azraq refugee camp casts a shadow on Jordan's efforts," Ferhan pointed out, adding that "at a time when the situation in Syria is not conducive to the safe and voluntary return of refugees, solutions respecting freedom of movement, due process and the principle of non-refoulement should be found for Jordan to continue to be a model response".
The independent network of 61 INGOs implementing development and humanitarian programmes responding to the needs of vulnerable Jordanians, Syrian, Palestine and Iraqi refugees living in Jordan urged for the partnership between Jordan and the international community to "combine sustained funding in support of Jordan's leadership and economic needs, with a response that is needs and rights-based, as committed to in the final Brussels document".
Related Articles
Feb 11,2018
AMMAN — The members of an independent network of international non-governmental organisations (INGOs) operating in Jordan this week started
Apr 23,2018
AMMAN — A network of 61 international non-governmental organisations (INGOs) working in Jordan have recently come together to produce "Walk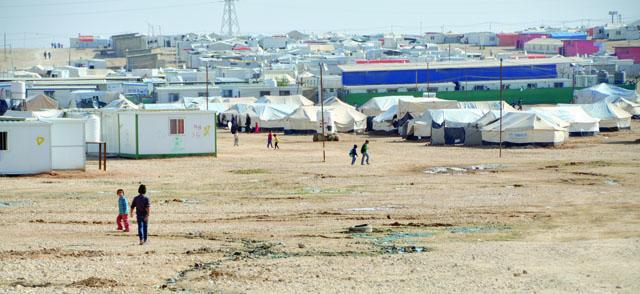 Mar 05,2018
AMMAN — Local organisations have welcomed the Ministry of Interior's (MoI) announcement of a brand new campaign aimed at regularising the st
Newsletter
Get top stories and blog posts emailed to you each day.