You are here
Thousands strike, rally against income tax draft law
Association leaders threaten a repeat as government insists it has no second thoughts about bill
By Raed Omari - May 31,2018 - Last updated at May 31,2018
Activists take part of a rally near the Professional Associations Compound in Amman to protest against the amended Income Tax Law on Wednesday (Photo by Amjad Ghsoun)
AMMAN — Thousands of citizens rallied on Wednesday in front of the Professional Associations Compound to protest against the 2018 amendments to the Income Tax Law.
The sit-in followed a nationwide strike on Wednesday called upon by the Professional Associations.
Following the sit-in, the Professional Associations Council announced that it would call for another strike next Wednesday and a similar rally in the same place to demand the "departure of the government" in case their demand of withdrawal of the income tax bill remains unmet.
Head of the Council Ali Obous, who is also president of the Jordan Medical Association, said that a new rally will be staged next week in case the government insists on the new amendments to the Income Tax Law, Cyber Crimes Law and Civil Service Law.
The government last week endorsed the 2018 amendments to the Income Tax Law. Prime Minister Hani Mulki stressed that dialogue over the key law would continue with lawmakers "to reach a just version that ensures success in combatting tax evasion and improve services offered to citizens".
Minister of State for Media Affairs Mohammad Momani said that the bill is part of a comprehensive economic and financial reform drive, reflecting policies that the government adopts to achieve self-reliance and build a strong economy that "strengthens political positions".
Lower House Speaker Atef Tarawneh on Tuesday said that the government's draft version of the Income Tax Law is non-binding for the House, stressing that the chamber will deal with the draft law in consideration of citizens' needs and aspirations.
"The referral of the draft law to the House does not mean surrendering to the government's version of the law", Tarawneh said.
In response to the call for Wednesday's strike on social media networks, many shops were seen closing. #Jordan_strike and #Maanash (in English 'we don't have) have been the most tweeted hashtags in Jordan.
Participants in Wednesday's rally raised slogans condemning "the government resorting to citizens' pockets" to solve economic woes.
Mulki met Wednesday with Senate President Faisal Fayez to discuss the issue, with the premier saying that the government is continuing dialogue on the draft law and explaining its contents to various stakeholders including the Senate and Lower House, various civil society institutions and other concerned bodies.
He stressed that the government is "serious" about carrying out the economic reforms to salvage the ailing economy.
Finance Minister Omar Malhas was quoted by Khaberni.com as saying that the government would not withdraw the law and will leave the decision in the hands of lawmakers.
Related Articles
Nov 24,2018
AMMAN — Professional associations on Saturday renewed their rejection of the 2018 income tax draft law, saying "escalatory yet democratic me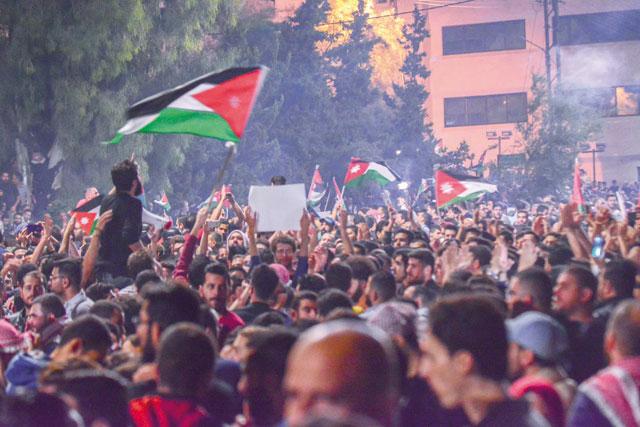 Jun 06,2018
AMMAN — The Professional Associations Council announced on Tuesday that it will go ahead with another strike today in protest against the in
May 26,2018
AMMAN — Professional Associations Council has decided to start a strike next Wednesday in protest of the new amendments to Income Tax Law.Fo