You are here
Theatrical alchemy, youth craft empowerment through play-based education
By Pascal Studer - Nov 01,2023 - Last updated at Nov 02,2023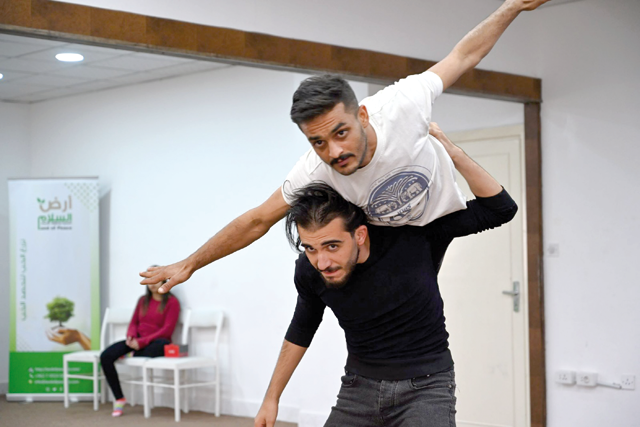 Hassan and Abud along with other young adults aged between 18 and 30 have created a piece of theatre in which they express experiences they have made, living in under-served communities in Jordan (Photo courtesy of Pascal Studer)
AMMAN — In a Saturday afternoon in Irbid, two young men, Hassan and Abud were working on their scene in a play that they both have influenced deeply as part of Seenaryo, a local NGO registered in Jordan, Lebanon, and the UK which utilises theatre and play-based education within marginalised communities.
Hassan and Abud along with other young adults aged between 18 and 30 have created a piece of theatre in which they express experiences they have made, living in under-served communities in Jordan.
The outcome of this participatory theatre: People processing negative experiences in a healthy way and building capacities important to developing life-skills.
Seenaryo's Executive Director Lara McIvor explained: "We use the power of theatre to help children and young adults to find a way to express themselves, adhering confidence."
Bearing that in mind, the touching moment between Abud and Hassan doesn't strike as a surprise: The scene is about Abud having lost his brother. "Abud brought this up. Then, we talked about how we could integrate this in the play", Lama Amine elaborated. Amine is the Head of Arts, usually based in Lebanon. In this way, a game of ping pong between the young adults and the directors emerges.
Nevertheless, the audience should have freedom to interpret what they see on stage. Is a young woman dancing with a man really about love? Why are five actors pulling invisible strings, making the emotionless woman in the middle move? "The plays are intentionally subtle, and the audience should have the ability to understand and derive their own interpretations," McIvor said.
In tandem to their work in communities, Seenaryo has established track record in another field of play: The education of children. Believing in every child's right to learn, Seenaryo has invented the Playkit app which gives teachers the opportunity to use a play-based approach.
In the app, you can for example switch between social and emotional learning, health or the natural world. "It can be seen as a guide for pedagogues," McIvor explains.
Trying to expand, the main core goal stays the same: Lifelong learning through theatre and play. And it bears fruit. During the break, the 19-year-old Hassan talked about how he overcame his shyness through acting.
Roaa's struggles to be on time disappeared in her daily hectic schedule, she said.
The result of their efforts can be seen on Saturday the 4th of November at the National Centre for Culture and Arts in Amman at 6:00pm.
Related Articles
Aug 15,2021
Not only is play-based learning in classrooms important, but did you know it could also play a role at home?In March 2020, Jordan went into
Jan 10,2019
AMMAN — UNICEF and the LEGO Foundation recently teamed up to distribute thousands of boxes of LEGO to schools, kindergartens and Makani cent
May 21,2018
AMMAN — The National Council for Family Affairs (NCFA) on Sunday signed a partnership agreement for early childhood development (ECD) with P