You are here
Taxi library offers commuters a ride into the world of books
By Mays Ibrahim Mustafa - Jun 03,2023 - Last updated at Jun 03,2023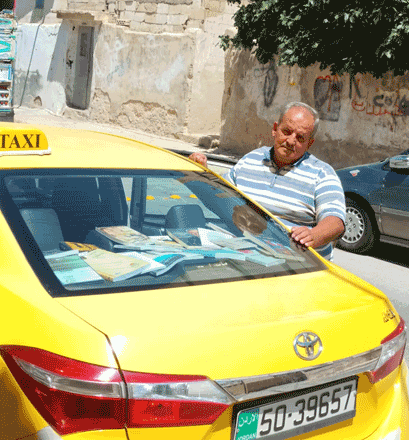 Yaser Mislat turned his taxi into a rolling library (Photo courtesy of Yaser Mislat)
AMMAN — A little over a year ago, Yaser Mislat turned his taxi into a rolling library, cruising Jordan's streets to recruit readers.
The 60-year-old is a volunteer in an initiative that aims to bring the library to busy commuters with places to go.
"I believe it's a waste for books to simply set on shelves … Books are meant to be in the hands of people who appreciate what they have to offer," he told The Jordan Times.
The initiative, called the "Taxi Library", was launched by the National Library of Jordan (NLJ) in 2022, according to its director-general, Nidal Ayasrah.
In 2012, the NLJ had launched the "Your Book is Your Friend" initiative to encourage reading and provide access to books for free in all governorates across the Kingdom, he told The Jordan Times.
Ayasrah noted that up until today, the initiative, which mainly targets underserved and marginalised communities, has managed to distribute roughly 200,000 books.
Its largest event took place in 2019 at the Roman Theatre of Amman, where 40,000 books where laid out for visitors to choose what they wanted free-of-charge, he said.
"Two taxi drivers volunteered to help us transfer books to the Roman Theatre prior to launching the initiative, and that's when we came up with idea of starting a mobile library," Ayasrah added.
Five taxi drivers are currently part of the "Taxi Library" initiative, which has so far distributed over 700 books, he continued.
"Instead of staring at their mobile screens, people can now enjoy reading a book while they're stuck in traffic, and if they like it, they can take it for free … When taxi drivers run out of books, they pass by the library and load up again," said Ayasrah.
The goal is to help people build reading habits in addition to cultivating curiosity and encouraging the practice of self-learning, he added.
Mislat said that his love for books and reading is what lead him to participate in this initiative.
"Books allow me to escape life's daily hassles and explore other worlds, through which I can learn and benefit from the wisdom and experiences of others," he noted.
Mislat began cultivating his reading habits at 10 years old, encouraged by his late older brother, who was an Arabic language teacher.
"Books have been very generous to me; they've given me a lot without asking for anything in return … Extending that generosity to others is the least I can do," he said.
The library also launched the "Donate a Book to Build a Library" initiative five years ago, according to Ayasrah.
"If people have books they've read and no longer need and wish to help establish libraries at underserved areas, they call us and we come collect them," he said.
Over 10,000 have been donated so far and were used to establish libraries at schools and villages in Irbid, Jerash and other governorates, he added.
Newsletter
Get top stories and blog posts emailed to you each day.