You are here
Surge in gas cylinder demand hits 45 per cent amidst rainy weather
By Mays Ibrahim Mustafa - Nov 20,2023 - Last updated at Nov 20,2023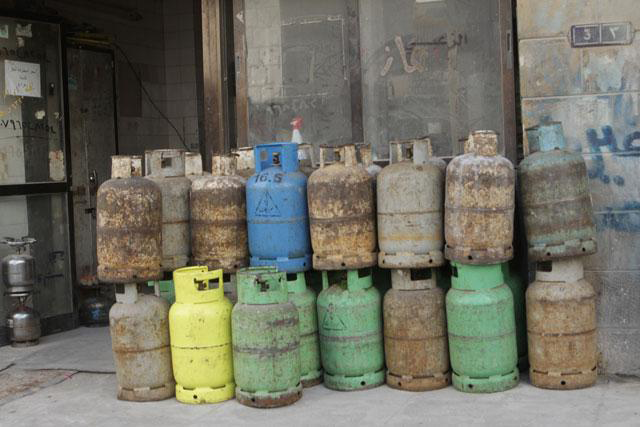 Gas cylinder demand on Monday increased from 90,000 gas cylinders to 140,000 cylinders (JT file photo)
AMMAN — Demand on gas cylinders increased by over 45 per cent on Monday, prompted by the rainy weather depression which began impacting the Kingdom on Sunday, according to the Gas Station Owners Association (GSOA).
GSOA President Nahar Seidat told The Jordan Times that demand on Monday increased from 90,000 gas cylinders to 140,000 gas cylinders.
This number is expected to increase as cold weather conditions continue to impact the Kingdom throughout the week, added Nahar.
The JMD weather forecast showed that most regions across the Kingdom are expected to experience relatively cold weather conditions on Tuesday, with the possibility of light and sporadic rain showers in the northern and central regions.
Wednesday is forecast to witness the appearance of clouds at low altitudes in most regions, and brisk south-easterly winds with the potential to stir dust, particularly in the Badia area, leading to lower horizontal visibility.
Temperatures on Tuesday are expected to reach a high of 18°C during the day, dropping to 9°C at night, while on Wednesday temperatures are forecast to range between a high of 19°C and a low of 11°C, according to JMD.
Its four-day weather forecast also predicts the appearance of clouds at low altitudes in the east of the Kingdom, with the possibility of light rain showers in parts of eastern regions.
Nahar pointed out that liquefied petroleum gas remains a more popular choice for keeping homes warm during winter than kerosene, due to its lower cost.
However, demand on Kerosene witnessed a 10 to 15 per cent increase on Monday, according to Nahar.
He stressed that there has been no reported cases of "manipulated gas cylinders".
Around 33 million gas cylinders were distributed last year, he added, noting that the association had then dealt with only four complaints from consumers.
Related Articles
Dec 19,2022
AMMAN — Demand for fuel derivatives, specifically gas cylinders and diesel, dropped by 30 per cent in the last two weeks, which indicates an
Nov 30,2022
AMMAN — Experts are calling on the government to reduce prices of kerosene during the months of December and January to secure heating
Oct 06,2023
AMMAN — The Kingdom's dams are ready to receive the upcoming rainy season, said the Ministry of Water and Irrigation spokesperson, Omar Sala