You are here
STEP education, training programme inaugurated
By Mays Ibrahim Mustafa - Oct 02,2022 - Last updated at Oct 02,2022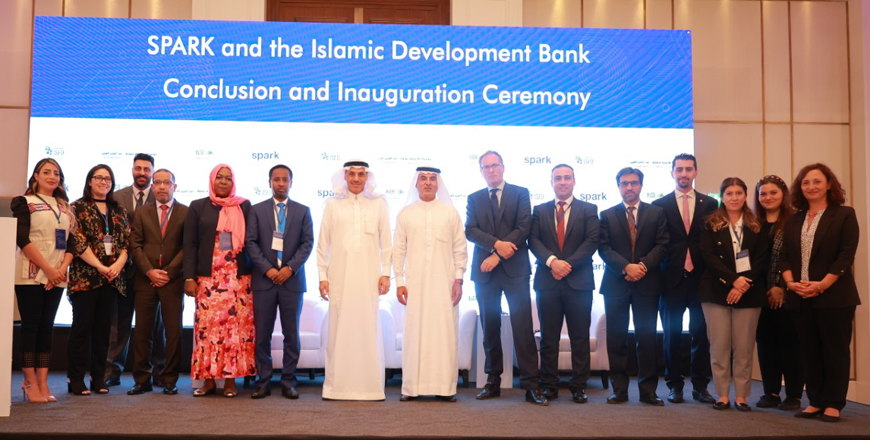 Guests pose for a photo during the inauguration of the STEP education and training programme for youth on Saturday (Photo courtesy of SPARK)
AMMAN — SPARK Jordan and the Islamic Development Bank (IsDB) held a ceremony on Saturday inaugurating the STEP education and training programme for youth.
Starting this October, the programme will be implemented over the next 24 months by SPARK in Jordan and Lebanon, in partnership with the IsDB and the Abdul Aziz Al Ghurair Refugee Education Fund. The programme has a budget of $10 million, according to a SPARK statement sent to The Jordan Times.
The education fund was founded by Abdul Aziz Al Ghurair, an Emirati businessman, to provide refugees and other vulnerable youth in Lebanon, Jordan and the UAE access to learning opportunities, according to its website.
Founder and CEO of SPARK Yannick Du Pont noted that STEP aims to support emerging and existing businesses, create jobs and increase the youth's access to the labour market.
The programme targets the refugee youth and young people from host communities between the ages of 15 and 24, with 50 per cent female participation.
It will provide participants with "technical and vocational education and training (TVET), curriculum support and business skills training" as well as internships and job placements, according to Du Pont.
He also reviewed SPARK's achievements and its role as an international developmental organisation, which supports Jordanian and refugee youth by facilitating their pathways towards higher education and entrepreneurship.
SPARK has offered disadvantaged youth in the region, including women and refugees, 12,000 scholarships this year, said Du Pont.
He also discussed the outcomes of "Tadamon", a programme jointly funded by SPARK and the IsDB, noting that female participation in the programme exceeded 50 per cent.
"Tadamon" was implemented as a response to the ramifications of the COVID-19 pandemic on youth, including women and refugees. It focuses on providing scholarships, creating job opportunities and supporting SMEs, according to SPARK's website.
Chairman of the IsDB Muhammad Sulaiman Al Jasser noted the importance of supporting youth by helping them develop the right skills and education to become entrepreneurs, "especially considering that [Jordan's] economy relies largely on SMEs, which make up 98 per cent of private sector enterprises".
He added that the achievements of the youth benefiting from SPARK's programme "proves that they can undoubtedly be successful entrepreneurs, academics and leaders with the proper support".
Related Articles
Dec 02,2020
"Jobs Now: Going digital during COVID-19", organised by the international non-governmental organisation SPARK with the contributions of the
Jun 11,2022
AMMAN — Abdul Aziz Al Ghurair Refugee Education Fund announced that it is inviting proposals for programmes that explore and identify new so
Mar 20,2023
AMMAN — Tadamon Crowdfunding Academy's training programme in Jordan (CFA) was launched on Monday with the participation of 24 selected civil