You are here
Spain believes in Jordan's safety, stabilising role in region — ambassador
By Ica Wahbeh - Oct 11,2015 - Last updated at Oct 11,2015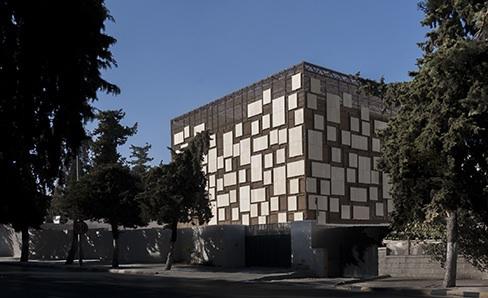 A view of the Spanish embassy's new building in Amman (Photo courtesy of the Spanish embassy)
AMMAN — "I feel it is a privilege to serve Spain in Jordan," said Ambassador Santiago Cabanas Ansorena a few days before Spain's observance of its national day, which falls on October 12.
"After two years here, I feel I am a lucky person. I am living in a very special, interesting, moment in the Middle East that will strengthen our relations," he told The Jordan Times in an interview at the new embassy in Amman.
The modern building that organically integrates in Amman's landscape, yet stands out as a daring feat of architecture, was open in January. It is symbolic in many ways.
"In these times of [economic] crisis — that lasted for five years — this is the only new building that we had. It shows the importance we attach to Jordan," said the ambassador.
The open, transparent structure, "not a fortress", stresses the ambassador, is not the typical embassy building anywhere. The one here "shows our confidence in Jordan".
Ties between Jordan and Spain go back a long way. Started in 1947, they went from strength to strength, in no small part due to the affinity between the leaderships of the two countries and, most importantly, of the two peoples.
"In Spain, we are very proud of our Arab heritage and legacy. We feel very close to this part of the world, especially to Jordan. And I know there is sympathy for Spain," said the envoy.
If only the excitement, the outright polarisation of society stirred by the two most famous football teams of his country were telling, the "sympathy" would be obvious. But it goes deeper and at different levels.
Relations have been close; the two countries share common historical traits and have common political, economic and cultural interests.
"It is not only a privilege [to be Spain's ambassador to Jordan], it is easy. And I see the results," said Cabanas Ansorena, comparing some economic figures.
In 2012, Spanish exports amounted to 208 million euros; the figure reached 304 million euros in November 2014, "a notable increase".
"We still have some way to go with Jordan's exports, which stand at 44 million euros," said the ambassador, who acknowledged that "there is still space to grow".
Proof that things are moving in the desired direction are the big-name businesses, "some of the most important Spanish companies", that came to Jordan this last year: OHL, a construction group that will build the Jordan strategic reserves terminal, a $165 million petroleum products storage facility near Amman, Elecnor, which is building a wind farm of 75 megawatt capacity in Maan; and TR (Técnicas Reunidas), part of a consortium that signed a contract to re-qualify and expand the industrial pier at the port of Aqaba, for a value of 130 million euros.
These newest additions complement Spanish companies that are already in Jordan, the best known, perhaps, ALDEASA (Jordan Airport Duty Free Shops).
The increasing presence of Spanish companies in the country is yet another proof of trust in the Kingdom's safety and stability, which comes with appreciation of the stabilising role Jordan plays in the region.
"We recognise the tremendous role Jordan plays in hosting refugees, in leading the way in the search for peace and stability in the region, and in fighting terrorism," said the envoy.
"Spain is always ready to assist in those efforts — to find a political solution in Syria, to restart negotiations between Palestinians and Israelis."
Both Jordan and Spain are members of the UN Security Council, and "consultations on all issues are close and fruitful", said the ambassador.
"We are happy that we are cooperating very closely with Jordan, especially in regard to the humanitarian crisis in Syria. Together with New Zealand, we are penholders, responsible for this field."
To solve the crisis in Syria and put an end to the accompanying acts of terrorism, a multi-pronged approach is needed, guidelines for which already exist.
"One area we are very appreciative of is King Abdullah's message regarding the importance of winning the hearts and minds of people. It resonates with Spain, where so many people of different religions — Christians, Muslims, Jews — always lived and maintained dialogue.
"We fully share this commitment of Jordan and His Majesty. His seven-step speech in New York was very well received in Spain. We believe they are seven arrows in the good direction," stressed the envoy.
Support for Jordan comes in many ways. Besides the moral and political, the cultural and economic aspects are also emphasised.
"Thanks to the tremendous effort of the Spanish people," the Spanish economy is "again growing, at 3 per cent this year. This is encouraging. It shows that our efforts, sacrifices and reform programmes are working. And this is very important for our presence in the international community", said Cabanas Ansorena.
The growth is bound to reflect on Spain's relations: "We start again to increase funds for bilateral cooperation, for cultural events — we had more than 20 activities with Cervantes [the Spanish cultural centre] this year."
Among the objectives: support for the resilience plan of Jordan, involving support for local communities — a "beautiful programme" is already in place in Madaba, where "few international organisations were working", in cooperation with NGOs, to support both refugees and the local community, support reproductive health programmes and a facility for disabled persons; and trying to gain again scholarships for Jordanian students.
"Here in Jordan, many hundreds of students study Spanish; 500 major in Spanish at Jordan University" alone, and about 600 students register per year with Cervantes.
The interest in Spanish and Spain, the "sympathy" the ambassador is talking about is "heart warming".
"Even if I get lost in the middle of nowhere, somewhere in the countryside, when I say I come from Spain, a big smile" breaks on the face of the interlocutor and the inevitable question pops: "Madrid or Barcelona?"
"It makes me go to work happy. I know that whatever I do here will be well received."
The envoy attributes the warm reception everywhere partly to the famous Jordanian hospitality and partly to the sympathy for Spain.
"Jordan is a very good space for a Spanish ambassador. You have success because the sympathy is there. It is very rewarding."
True, but the hard diplomatic work that goes behind should not go unacknowledged. Its results speak at several levels, and the soon-to-be seven decades of ties between the two countries are testimony to this.
Incidentally, at the risk of angering some and lowering the volume of sympathy, the ambassador admits to being a Real Madrid fan.
Related Articles
Feb 02,2014
Culture Minister Lana Mamkegh on Sunday met with Spanish Ambassador to Jordan Santiago Cabanas Ansorena and discussed means to boost cultural cooperation.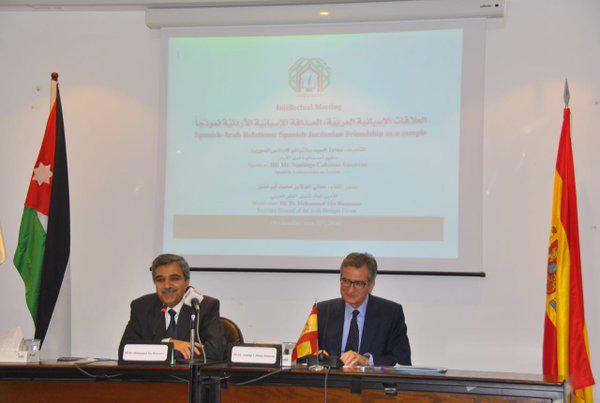 May 12,2016
AMMAN — The link between Spain and the Arab world dates back to the time of Andalusia and Muslim conquests of the Iberian Peninsula, accordi
Mar 18,2014
Relations between Spain and this part of the region are distinguished, but ties with Jordan are "extraordinary" on all levels with room for further development, Spanish Ambassador to Jordan Santiago Cabanas Ansorena said.
Newsletter
Get top stories and blog posts emailed to you each day.