You are here
Six Jordanians recognised in UAE for excellence in education, entrepreneurship and community service
By Suzanna Goussous - Dec 20,2016 - Last updated at Dec 20,2016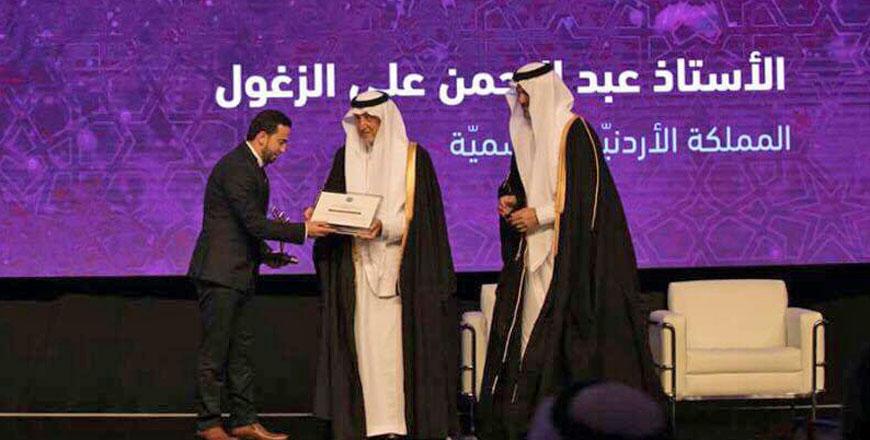 Abdelrahman Zghoul receive awards in the United Arab Emirates recently (Photo courtesy of Abdelrahman Zghoul)
AMMAN — Six Jordanians from different sectors have recently received awards in the UAE for achievements in entrepreneurship, education and community service.
Four awards at the Arab Social Media Influencers Summit (ASMIS) in Abu Dhabi were given to Jordanians.
Samih Toukan, from start-up incubator Oasis500, won the private sector award, while the education sector prize went to the Queen Rania Foundation. Jordanian news anchor Ola Al Fares was also recognised for community service, while Kharabeesh co-founder Wael Attili received the award for entrepreneurship.
The ASMIS awards received submissions from 21 countries with more than 87 per cent of the candidates holding Arab nationalities, according to the Emirates 24/7 newspaper.
Attili said the award made him realise he needs to "give back" to the community.
"I was wondering all the time about what I did to deserve this honour. Then I found that it's never been about me. It's about those men I belong to who are walking under the sun trying to find the light at the end of the dark tunnel," he said in a post on his LinkedIn page.
"It's about those who gave me all what they can to make me reach somewhere. It's about partnership, belief and resilience. Life is a give and take game. Yesterday I took, today I need to give back!"
Kharabeesh is an Amman-based online media, entertainment and animation network that produces original video content with a satirical take on social and political issues in the Arab world.
In Dubai, two Jordanians received awards at the Arab Thought Foundation.
The vice president of the electrical engineering department at the German-Jordanian University, Raed Mesleh, and activist Abdelrahman Zghoul were recognised for their initiatives that aim to serve the public.
Mesleh created a project using the terrestrial free-space optical information system.
"Jordan has very high efficiency in science and innovation in the Arab world. This is something we can do to give back to Jordan and the region. Through science and different technologies, we can achieve progress," he told The Jordan Times.
As for Zghoul, who received the Community Innovation award for his "Bread for Education" initiative, he sees education as a right for everyone and bread as a tool to spread the word.
He said he aims through his initiative, which was launched in 2013, to provide underprivileged Jordanian and Syrian children with education after selling bread leftovers to fodder traders.
The initiative works on three projects: recycling bread, paper and plastic, Zghoul said, in Jordan, Palestine, Morocco, Kuwait and soon in the UAE.
"It is my responsibility to serve my country through causes that serve education and the environment," he told The Jordan Times.
Related Articles
Jan 27,2016
AMMAN — Consumers bought around 80 million bread loaves before and during the snowstorm, a quantity "sufficient for 25 million people", but
Feb 17,2014
Abdul Rahman Zghoul, a schoolteacher, is aware that giving bread to the needy has a deeper meaning in a community where bread is the staple food and a symbol of sufficiency, when available.
Jan 09,2018
AMMAN — The founder of the "Bread 4 Education" initiative Abdul Rahman Zghoul has received the Mohammed Bin Rashid Award for Young Business