You are here
Siemens, SAM Engineering team up to spur Jordan's digital transformation under EU-funded programme
By JT - Dec 06,2021 - Last updated at Dec 06,2021
AMMAN — SAM Engineering, a solution provider for industrial efficiency seekers based in Amman, chose Siemens Digital Industries on Sunday as a partner to implement the European Union-funded Jordan Industry 4.0 & Digitalisation Innovation Centre, which aims to generate jobs and sustainable industrial growth, according to a SAM Engineering statement.
Siemens Digital Industries will support SAM Engineering in assessing the digital competitiveness of manufacturing companies in Jordan and identifying the challenges that these firms can overcome using the latest Industry 4.0 technologies.
The partnership between Siemens and SAM Engineering–Jordan is part of the EU's "Innovation for Enterprise Growth and Jobs" programme "Innovate Jordan" that supports private sector-led innovation to drive inclusive economic development and promote systematic change in the local enterprise.
The project will establish the Jordan Industry 4.0 & Digitalisation Innovation Centre (InJo4.0), which is the first of its kind in Jordan, to promote digital manufacturing, according to the statement.
The centre will be fully equipped with Industry 4.0 and digitalisation demos that shall serve as a showcase for the manufacturers and their beneficiaries, as well as expertise on digital transformation that will be mobilised for Jordanian SMEs.
The centre will seek to accelerate the adoption of Fourth Industrial Revolution Technologies (Industry 4.0) in order to strengthen Jordan's manufacturing and IT businesses. It will support the digital transformation of traditional manufacturers and help them deploy new, smart technologies to increase automation and productivity, according to the statement.
"Our main objective is to show the value of Industry 4.0 technologies and how they can enhance the competitiveness of industry sectors through collaboration. We selected Siemens as our partner because Siemens combines consulting expertise with their industrial domain proficiency. We are pleased to work jointly with Siemens on transforming Jordan into an Industry 4.0 hub, not only for Jordan but also for the whole Middle East," said Samir Ayasrah, an executive director at SAM Engineering.
Siemens will conduct a digitalisation assessment of 20 manufacturing firms in Jordan's pharmaceutical, food and beverage industries. It will help them identify common challenges that they can overcome by using the latest technologies.
The partnership will support the government's vision to develop the Digital Transformation Strategy, empower Jordan as a regional hub for digital transformation and enhance the growth and export potential of the Kingdom's industries, read the statement.
"We are honoured to be selected as a trusted partner of SAM Engineering for this initiative to jointly drive the digital transformation of the industrial sectors in Jordan. We will work closely together with SAM Engineering to assess the digital maturity of the defined industrial clusters, while considering all dimensions. Our ultimate target is not only to improve the digital competitiveness and productivity of Jordan's industries but also to shape the country's digital transformation, knowledge building and future workforce," said Fida Khalil, head of Digital Enterprise Labs, Siemens Middle East.
"Siemens in Jordan has been active for many years, and we are serving the industrial market with the latest and best products and technologies. However, this digital transformation initiative and collaboration with SAM Engineering is a major milestone for Siemens in Jordan. With our industrial and digitalisation expertise, we will make sure to achieve the ambitious vision of the In Jo4.0 programme," said Mohammed Khalifa, Siemens Middle East Chief Executive of Digital Industries.
Related Articles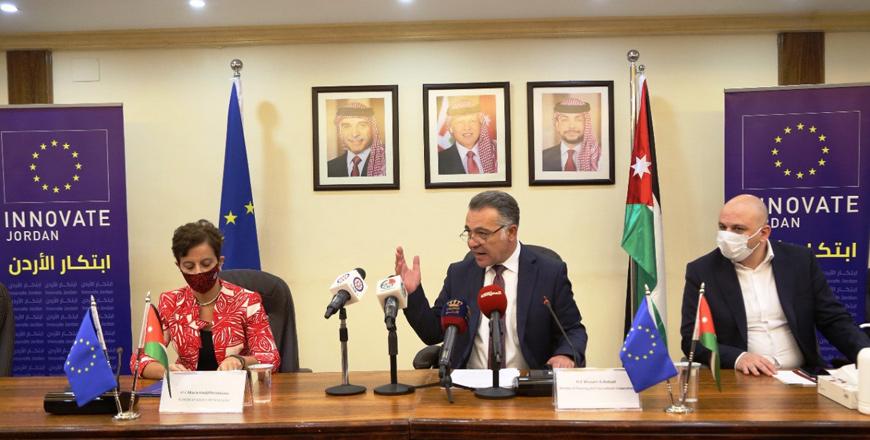 Sep 29,2020
AMMAN — With the aim of encouraging more Jordanian youths to become more involved in innovation projects, government entities and the Europe
Nov 23,2021
DUBAI – The United Arab Emirates' industrial sector received a major boost as the Ministry of Industry and Advanced Technology announce
May 17,2023
AMMAN — Umniah has announced the launch of its 5G services in the Kingdom during a press conference on Wednesday, making it the first