You are here
Shoppers say Ramadan food prices lower than previous years
By Omar Obeidat - Jun 28,2016 - Last updated at Jun 28,2016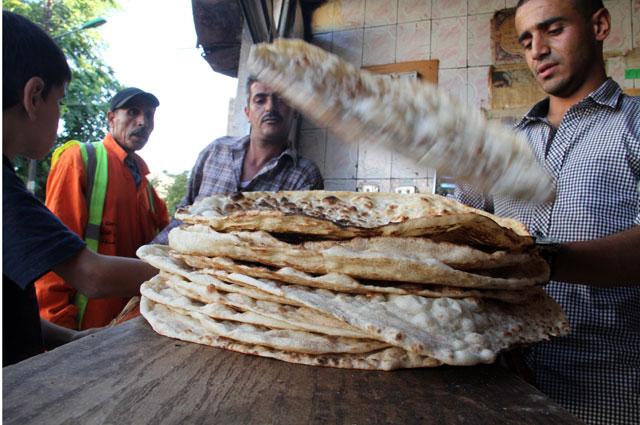 A baker prepares bread in downtown Amman recently. Consumers say prices of food items are lower this Ramadan than in previous years (Photo by Osama Aqarbeh)
AMMAN — Muhannad Abu Hija says he paid higher prices for fresh meat last Ramadan, a sentiment echoed by consumers across Jordan.
Vegetables are also cheaper this Ramadan, the 32-year-old Amman resident told The Jordan Times on Sunday.
"I find prices more stable this year. The prices of some basic items such as chicken and rice are lower," said Rana Jammal, a housewife from Amman's Tlaa Al Ali neighbourhood.
Mohammad Al Khaldi, from Irbid, said prices of meals prepared at restaurants are more affordable this year.
The 44-year-old public sector employee added that he ordered three large platters of mansaf — Jordan's national dish — for a family gathering to break the fast for only JD120, while in Ramadan last year he paid JD150.
The consumers' observations were confirmed by Foodstuff Traders Association President Khalil Haj Tawfiq, who said food prices this Ramadan were the lowest in five years.
Haj Tawfiq told The Jordan Times that prices of staples such as fresh and frozen red meat, poultry, rice and other commodities were "very reasonable" this year, adding that a kilogramme of fresh local red meat, for example, is sold at JD10 to JD11, while last Ramadan it sold for around JD13.
"Imported red meat is much cheaper this year," he added.
Prices are lower this year because of the large quantities of goods and commodities on the domestic market and due to "strong" competition between wholesalers and hypermarkets that offer discounts on almost all products, he said.
The FTA president described demand for food products this Ramadan as "disappointing" and the lowest in nearly a decade, blaming it on "the weakening purchasing electricity of Jordanians".
"Jordanians have too many issues to think about when it comes to spending. They have school and university fees, rising power and water bills, rent and other priorities," Haj Tawfiq said, adding that consumers cut back on their food bills to save for other necessities.
He indicated that merchants were expecting the low demand for food items this year.
Related Articles
Jul 16,2015
AMMAN — A total of JD350 million was spent on food items during Ramadan across the Kingdom, a sector leader revealed Thursday.This number in
Jun 20,2015
AMMAN — Demand for food items returned to normal after an overall increase by around 15 per cent at the beginning of the Ramadan season, Foo
Jun 15,2015
AMMAN — Jordanians started preparing for Ramadan this week, causing a "remarkable" increase in demand for poultry products and grocery items
Newsletter
Get top stories and blog posts emailed to you each day.