You are here
Shboul inaugurates Arab Media Forum
By JT - Jan 28,2023 - Last updated at Jan 28,2023
Minister of Government Communications Faisal Shboul speaks during the opening of the Arab Media Forum in Amman on Saturday (Petra photo)
AMMAN — Minister of Government Communications Faisal Shboul on Saturday attended the opening of the Arab Media Forum, which is organised by the Arab League's media and communication sector in partnership with the Jordanian Ministry of Government Communication and the Arab Organisation for Satellite Broadcasting.
Addressing the gathering during the event's opening ceremony, Shboul emphasised the importance of the Arab forum, which falls within the Arab League's efforts to addressing the challenges facing Arab media.
This is the second Arab media meeting held in partnership with the Arab League in Amman in six months, Shboul said, according to the Jordan News Agency, Petra.
Highlighting the challenges facing the world and Arab societies in particular due to the "negative use of the information revolution", Shboul emphasised the need for collective Arab action to combat the negative use of social media platforms, notably hate speech, violations of privacy and misinformation.
The number of Arabic content consumers is estimated at 175 million subscribers on the Internet, he said, drawing attention to the strength of joint Arab action.
"If we can create an Arab negotiating force with international media companies, as we moving in this direction, we will inevitably address multiple challenges and maintain the security of our societies and protect the media," the minister said.
Shboul also stressed the need to instil the concepts of media literacy in Arab societies, especially among the younger generations, and to develop practical courses in universities and media institutes, noting that Jordan has started introducing such concepts in the curricula of all schools.
Arab League Deputy Secretary General and Head of the Media and Communication Sector Ahmed Rachid Khattabi expressed his hope that the forum would serve as a platform for dialogue that brings together all partners, including governments, councils, professional unions, civil society institutions and experts to set advanced forms of Arab media cooperation.
Mohammad Adaileh, president of the Arab Organisation for Satellite Broadcasting, said that the event's agenda includes the first edition of the Government Institutions for Sustainable Development Forum, which aims to promote joint Arab action to serve Arab issues and enhance public-private sector partnerships.
Related Articles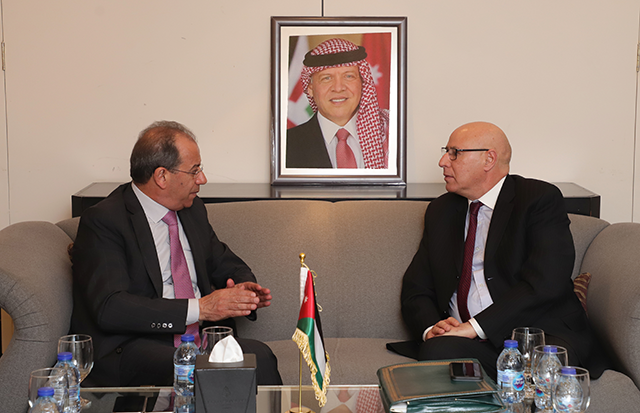 Jan 29,2023
AMMAN — Minister of Government Communications Faisal Shboul on Saturday met Arab League Deputy Secretary General and Head of the Media and C
Jul 24,2022
AMMAN — Jordan on Tuesday will host the media meetings of the Arab League General Secretariat, in cooperation with the Arab Commission for S
Feb 05,2023
AMMAN — Deputising for Prime Minister Bisher Khasawneh, Minister of Government Communications Faisal Shboul on Sunday inaugurated the eighth