You are here
Safadi denounces unverified claims of Hamas node at Al Shifa Hospital
By JT - Nov 19,2023 - Last updated at Nov 19,2023
AMMAN — Deputy Prime Minister and Minister of Foreign Affairs Ayman Safadi said on Thursday that both Israel and the US claim stating that a Hamas command node is operating under Al Shifa hospital has not been verified by any independent international entity, appears baseless and "ridiculous", particularly when examining the evidence presented.
In an interview with CNN News channel, Safadi said that Israel's actions at Al Shifa hospital are facts for everyone to witness, people are denied access to medical care, children removed off incubators and mothers crying because they cannot provide painkillers for their children. These actions constitute war crimes, among many other crimes committed by Israel in Gaza.
Safadi strongly condemned the attack on the Jordanian field hospital which has resulted in injuring its staff members, which currently are in stable condition.
The minister noted that the Jordanian field hospital is still besieged as Israel has tanks within 50 metres from its entrances, and the medical staff cannot access the supply store for food and medicine.
Safadi asserted that Israel attempts to excuse its actions by claiming self-defence is unacceptable.
"This is raw ugly vengeance and the world has the responsibility to stop it," Safadi said.
He noted that over 11 thousand Palestinians have been killed with 67 per cent of the casualties being women and children.
Safadi underlined that 1.65 million Palestinians have been displaced out of the north to the south of Gaza after being told it is for their safety however Israel is attacking the south which is beyond what the world should tolerate.
So far Israel has destroyed 61 per cent of Gaza's medical infrastructure, Safadi said.
"Israel has killed any embrace of peace in the region; it is jeopardising all its peaceful relations. We were discussing with the Israelis a while ago the prosperity deal as it were called, we provide them solar energy, they provide us water. The discussions have stopped now," the minister emphasised.
On the 1993 peace deal with Israel, the minister said that Jordan will not cooperate with Israel after its war crimes in Gaza, its defiance of the international community and its violation of every tenant of international law.
Concerning the UN Security Council resolution for multiple humanitarian pauses, Safadi said the resolution is a step in the right direction; however it is not enough as it does not call for a ceasefire. "… Israel bluntly, openly said it will not abide by and that puts the test now, the challenge on the international community," Safadi added.
"Again, what Israel is doing is not about to bring about peace or security to anybody in the region, certainly not to the Palestinians but definitely not to Israel as well, because it is simply investing, creating an environment of hatred, of chaos that will not be conducive to peaceful interaction," Safadi stressed.
The minister said that Israeli war crimes are within the legal definition of genocide.
"It has to stop." Safadi said.
Related Articles
Nov 16,2023
AMMAN — Deputy Prime Minister and Foreign Minister Ayman Safdai condemned Israeli troops' raid on Gaza's Al Shifa Hospital, saying that the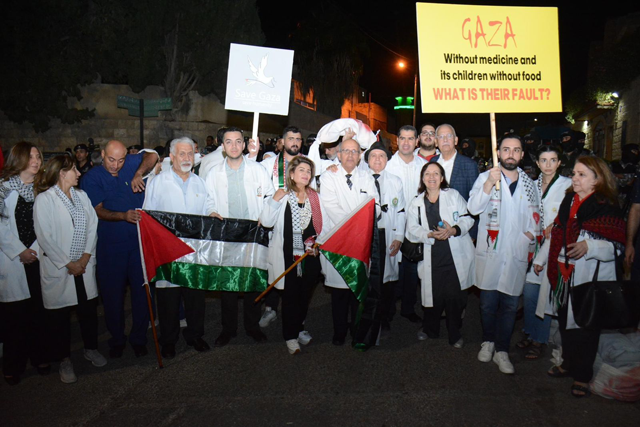 Nov 07,2023
AMMAN — Hundreds of healthcare workers marched on Monday from the Professional Associations Complex to the office of the United Nations (UN)
Nov 17,2023
AMMAN — A historical analysis of the acts of "Zionist" groups and the occupation forces revealed a consistent pattern of attacks on hospital