You are here
Romanians in Jordan keep tradition of Martisor alive
By Muath Freij - Mar 01,2015 - Last updated at Mar 01,2015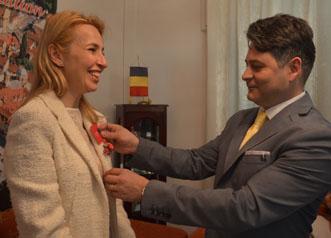 AMMAN — Romanian women residing in the Kingdom took advantage of Sunday's celebration of the ancient tradition of "Martisor", which marks the advent of spring, to catch up with acquaintances and make new friends.
Martisor is a diminutive of "Martie", the Romanian word for March, to celebrate rebirth and regeneration, embodied in an amulet offered to loved ones (also called a Martisor) that symbolises purity, innocence and love towards women, as well as the optimism of springtime.
Cernaianu Lenardo, the Romanian embassy's deputy head of mission, said this celebration is a very old one and it is important for all Romanians
"Now the tradition is to give the amulets to the ladies as a symbol of rebirth and hope," he told The Jordan Times in an interview at the embassy.
People celebrate Martisor by offering amulets to their loved ones, and the red and white thread that is attached to the amulet is the symbol of this festival.
"In some cities, a man gives the amulet to a woman and vice versa but mostly men give the amulets to women," he added.
Mariana Al Sarabi, who has been in Jordan for 12 years, said the event provided her with the chance to see her friends.
"We do not usually have the chance to meet our friends so it is good to meet them and give [them] these amulets," she told The Jordan Times.
Jeny Lebade, another Romanian residing in the capital, said she has not missed any of these annual celebrations in Amman.
"Every year, we meet our friends who can hardly meet [us] on regular days. The embassy is like our second home," she added.
Lebade noted that she always talks to her children about these traditions and brings them to the embassy to keep them connected to her forefathers' traditions.
"I used to receive these amulets when I was a student at university," she added.
Florina Abu Nadi, another Romanian who came to celebrate the occasion, said Martisor makes her feel optimistic.
"It symbolises prosperity which makes you feel loved," she added.
Between 3,000 and 4,000 Romanians are residing in the Kingdom, according to the embassy's figures.
Related Articles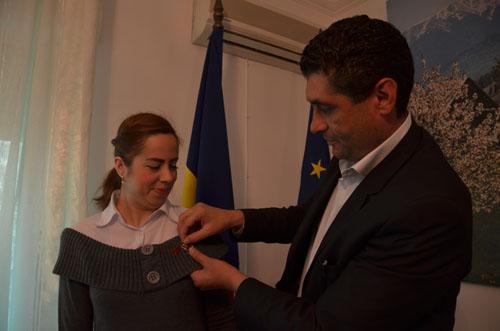 Mar 01,2014
For Persu Doina Saturday's celebration of the ancient Romanian tradition of "Martisor", which marks the advent of spring, was not just an enjoyable event, but also a chance to remember her family back home. 
Mar 01,2016
AMMAN — At this time of the year, Romanian women residing in Jordan look back on their childhood, when they would wait for the first day of
Feb 25,2015
On the occasion of Martisor, the Romanian celebration marking the advent of spring, the embassy of Romania in Amman will be open on Sunday between 10am and 6pm.
Newsletter
Get top stories and blog posts emailed to you each day.