You are here
Response to Amman floods raises fears of future rainfall
By Dana Al Emam , Petra - Nov 09,2015 - Last updated at Nov 09,2015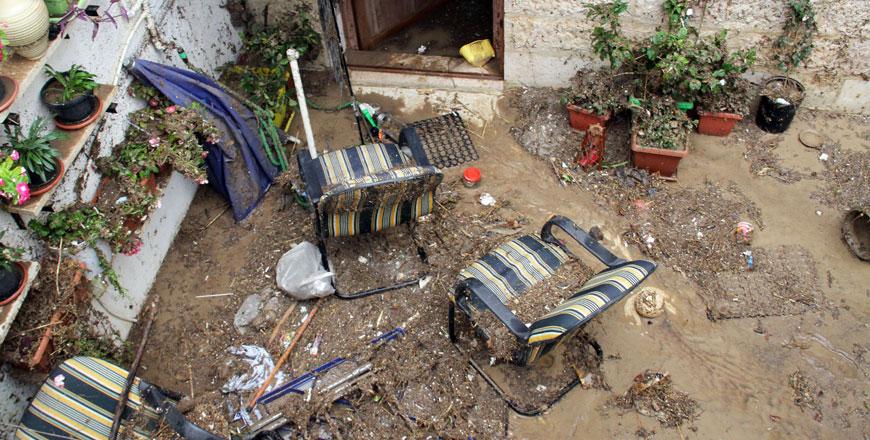 Garden furniture damaged by last Thursday's deluge in the courtyard of a house in Amman (Photo by Osama Aqarbeh)
AMMAN — Jordanians have expressed concern that heavy rainfall could "cripple" their daily lives as the wet season approaches, reflecting on the damage brought about by the downpour last Thursday, which killed four people.
Facebook user Yazeed Kanaan expressed "fear" of rainfall after last week's floods, describing the public institutions' response to the crisis as ineffectual.
Another user, Hada Abu Shahout, said she hoped city officials would take these events as seriously as average citizens do.
Last Thursday, the main concern for Amer Khalil, a father of two living in the capital's Hai Nazzal neighbourhood, was to make sure his kids were safe at home after their schools decided to suspend classes while he was "stuck" at work in the Khalda area.
"It is illogical for the capital to have a poor sanitation system," he told The Jordan Times over the phone, adding that the city needs a comprehensive maintenance campaign for the entire sanitation network, which the last rains showed was "full of dirt".
In order to evaluate institutional shortcomings during the recent unstable weather, Interior Minister Salameh Hammad, who heads the Higher Civil Defence Council, submitted an initial report on the flash floods, which resulted in the four deaths and widespread property damage.
The government will study the report and decide if damages occurred due to the Greater Amman Municipality's (GAM) inadequate performance or because of exceptional weather conditions, Government Spokesperson Mohammad Momani said at a Cabinet meeting on Sunday.
He added that those found guilty would be punished, noting that while natural disasters resulting in deaths occur all over the world, Jordan should learn from its experience with flooding.
Momani offered condolences to the families of those who died in the floods.
For his part, Imad Hiyari, deputy city director for planning affairs at GAM, said the municipality was identifying the locations of weaknesses in buildings and roads, and will take the necessary measures to "ensure the safety of residents", according to a statement carried by the Jordan News Agency, Petra.
But Issam Qadamani, an economist and Al Rai columnist, suggested that GAM should prioritise essential maintenance work on roads and sanitation networks, which is more urgent than other, less important "income-generating" tasks.
In an article published on Saturday, he said infrastructure defects were revealed last winter, but GAM did not "rectify" the problems over the summer.
Meanwhile, former industry and trade minister Wasif Azar pointed to "shortcomings in politics and city planning" throughout consecutive GAM councils and ministerial teams, arguing that corruption and personal financial interests were behind the "arbitrary" expansion of the city.
Future expansion should be towards the eastern desert areas, not the southern and western agricultural lands, Azar told The Jordan Times over the phone, suggesting satellite cities 40-50 kilometres from the main city as an option that could alleviate pressure on infrastructure, while still providing residents with work opportunities.
The city's infrastructure must provide sanitation services not only for Amman's growing population but for workers coming from other governorates, including Balqa, Zarqa and Madaba, to work in the capital, Azar added.
He said "vertical expansion" and multi-storey buildings must be served by advanced sanitation systems.
Jordan Engineers Association (JEA) President Majid Tabaa called for revamping the capital's infrastructure, which he said should be a national priority for the government.
In a JEA statement, Tabaa said the association should be examine infrastructure projects as a quality assurance measure to ensure that they are in line with building codes and international standards.
At present, water and wastewater network projects are not examined by the JEA, the statement said.
In a related development, a Social Development Ministry committee is assessing the damage caused by the floods, visiting 115 homes affected by the rain so far, Petra quoted the minister, Reem Abu Hassan, as saying.
Compensation for affected families will be calculated based on the household's average income, the number of family members and the type of damage, in addition to other factors, Abu Hassan added.
After calculating the damage, the ministry, in cooperation with private sector partners, will begin maintenance work on the houses and contribute to restoring furniture, she noted.
The ministry has also prepared a shelter with the capacity to house around 1,000 people in cooperation with its affiliate societies, Petra reported.
up
17 users have voted, including you.
Related Articles
Jan 30,2016
AMMAN — Amman Mayor Aqel Biltaji on Saturday received Jordan Engineers Association (JEA) President Majid Tabaa and discussed ways to enhance
Nov 05,2015
AMMAN — Amman Deputy Mayor Yousef Shawarbeh on Thursday said the hilly topography of the capital leads to flash floods in "exceptional" weat
Nov 07,2015
AMMAN — Following Thursday's floods that caused damages to properties in the capital, a debate emerged on who will compensate owners of dama
Newsletter
Get top stories and blog posts emailed to you each day.