You are here
Renewable energy sources installed at 25.62% of Jordan's mosques
By Rana Tayseer - Mar 29,2023 - Last updated at Apr 02,2023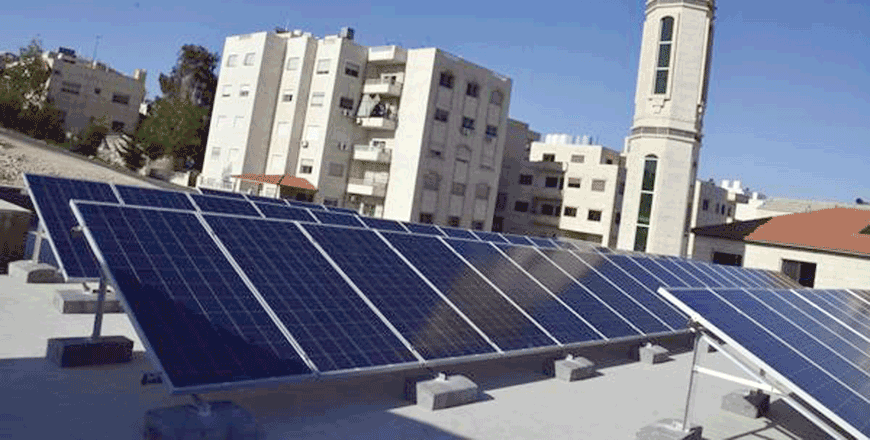 The number of mosques that installed photovoltaic solar energy systems reached 1,864 by the end of 2021, according to the latest annual report from Jordan's Awqaf Ministry (JT file photo)
AMMAN — The number of mosques that installed photovoltaic solar energy systems reached 1,864 by the end of 2021, according to the latest annual report from Jordan's Awqaf Ministry.
According to the statistics, there were 7,275 mosques in Jordan by the end of 2021, indicating that 25.62 per cent of mosques in the Kingdom installed photovoltaic solar energy systems.
The report also noted that these systems have contributed to reducing electricity consumption in mosques by around 35 per cent, amounting to JD3.334 million in savings.
The Fund for Encouraging Renewable Energy and Energy Rationalisation through its programmes, by supporting the installation of solar energy systems in places of worship, installed solar systems in 581 mosques from 2015-2020.
The fund subsidised 25 per cent of the cost of the systems.
Commenting on this report, President of Jordan Environment Union Omar Shoshan told The Jordan Times that "the use of renewable energy for public utilities is very important because they consume large amount of energy," leading to greater public spending.
"This relieves the burden on many institutions and improves the services of public utilities. At the same time, we benefit from the solar energy that exists throughout the year. Likewise, the culture of relying on renewable energy spreads and becomes more common," Shoshan said.
Most mosques, in addition to some associations and schools, were supported by the Renewable Energy Fund, Shoshan said, calling for more support to these entities.
"The greater the expansion of this use, the easier renewable energy becomes to apply and use in various facilities," economist Hosam Ayesh told The Jordan Times.
Jordan must expand these initiatives with the ultimate aim of enabling all facilities and institutions to install solar systems, Ayesh added.
Renewable energy use allows for notable reductions in personal spending, indirectly improving income, he noted.
Newsletter
Get top stories and blog posts emailed to you each day.