You are here
Regional online platform to support young entrepreneurs through mentor programme
By Sara Gharaibeh - Nov 09,2017 - Last updated at Nov 09,2017
AMMAN — A year after the UN Foundation's Global Entrepreneurs Council (GEC) visited Jordan to study its entrepreneurial ecosystem, Mara Foundation and UNDP are launching the Mara Mentor online platform in the Arab region to provide advice, training and networking for entrepreneurs.
Ashish Thakkar, chair of GEC and founder of Mara Foundation, which is a social enterprise supporting youth and women entrepreneurs, said that the study of the Kingdom's ecosystem found that there was "a lot of energy, a lot of buzz and people want to do things".
However, it also found out that the support system for entrepreneurs was lacking.
Based on the GEC's findings, a two-day forum started on Wednesday in partnership with UNDP and the Mara Foundation. The forum matches 35 mentors from the region with 100 first-time entrepreneurs to advise them on ideas and solutions for their enterprises over the course of six months.
The support will be provided through Mara Mentor, an app that connects entrepreneurs to mentors and other mentees, where they can all "connect, share ideas, brainstorm, ask questions,and get training", according to Thakkar, a serial entrepreneur who dropped out of school at 15 and started his own IT business.
"Education is important, but I think informal education is even more important. Entrepreneurship is not taught in schools… so, if somebody wants to be an entrepreneur and earn money for his or her family, in addition to creating employment in the community, who do they go to for advice? There's no one to turn to. That is where Mara Mentor fits in, as an informal educational tool, designed by entrepreneurs for entrepreneurs," Thakkar told the Jordan Times on Wednesday.
"I was a refugee, I started my business at the age of 15 with 5,000 dollars, so I know what it's like to be in that position where you do not have the ability to network," Thakkar said.
With the region counting some of the highest unemployment rates globally, it is important to "support the youth to invest in themselves and come up with their own ideas to enter the labour market", said Kawtar Zerouli, a UNDP youth leadership and gender equality programme manager.
"We support the youth to become who they want to be, and we give them the skills, the technical [training], and the aspiration to unleash their potential," she said, adding that the UNDP has been working with the entrepreneurs participating in the forum for years now.
Thakkar believes that the answer to unemployment and transforming the region's economies lies in entrepreneurship. "You can't expect governments to create the level of jobs that we need nor can foreign direct investment and big projects do this because they rely on automation and many other things," the entrepreneur said, adding "the only answer is if to nurture small and medium enterprises [SMEs] that we can really help flourish".
"I believe that this region, and Jordan in particular, has so much potential. But we need to strengthen the support ecosystem with programmes such as Mara Mentor," Thakkar stressed.
Zerouli, another mentor in the programme, told The Jordan Times that "when you are a struggling entrepreneur, you end up in a really dark spot. You just need someone to tell you that you can do it, and to give you some solutions, so that you can see the light at the end of the tunnel."
"Our youth really need a role model, somebody to support them with their ideas, not necessarily through financial support, but through mentoring, providing networks. So, we are hoping that our mentors will provide them with this by connecting them with others and [advising] them from their own experiences," Zerouli added.
Jammeelah Samhouri, owner of downtown Amman's "Jameeda Khanum" restaurant and "social café", is no stranger to the entrepreneur's "dark spot". She lost her business to a fire a while ago and was forced to start all over again.
"I believe that sustainability is the main challenge for any business. Even after your success, you can't relax, you have to always keep looking for ideas, and research, research, research," the woman, who is also a mentor in the project, concluded.
Related Articles
Nov 30,2021
AMMAN — Mercy Corps on Sunday hosted an event titled "MicroMentor's Impact and Success" with the aim to provide a mentoring platform for eme
Mar 30,2014
Oasis500, an Amman-based investment company that supports entrepreneurs, is organising a global initiative that aims to identify and reward aspiring entrepreneurs who are developing promising technologies that tackle urban challenges.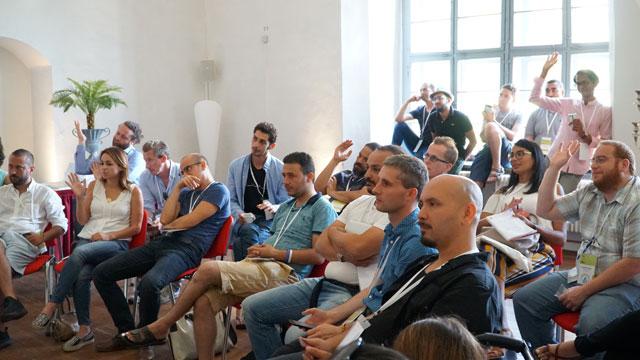 Oct 26,2017
AMMAN — "enpact is about changing the narrative of how people view the Middle East.