You are here
Regional fellowship programme empowers youth's counterterrorism efforts
By Camille Dupire - Apr 28,2018 - Last updated at Apr 30,2018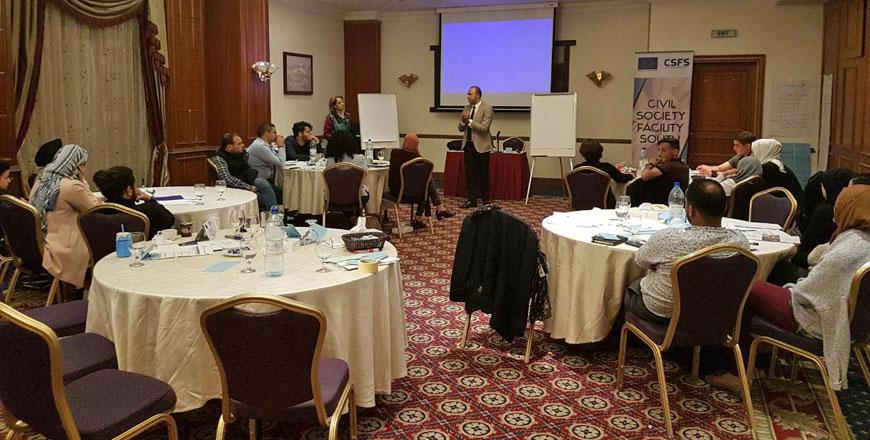 Dialogue fellows from ten Arab countries take part in a six-day workshop in Amman on Saturday (Photo courtesy of CSFS)
AMMAN — A group of young entrepreneurs from ten Arab countries on Saturday convened in Amman to take part in a six-day regional workshop on social entrepreneurship, innovation and ways to counter violent extremism through community resilience.
Organised by the Civil Society South Facility (CSFS) and funded by the European Union, the regional event gathered 24 young men and women aged between 24 and 35 years who constitute the third generation of the CSFS Dialogue Fellows.
The 2018 fellowship programme aims to equip youth from the southern Mediterranean region with tools related to youth leadership, activism and governance, according to CSFS regional team leader Ahmed AlDamrawy, who underscored the importance of creating socio-economic opportunities for empowering youth amidst regional turmoil.
"The lack of upward socioeconomic mobility in almost all regional countries has greatly contributed to the sense of hopelessness that pervades the Arab world, which is a deadly recipe for extremism," Damarawy told The Jordan Times, stressing the need for "far greater investment in human capital, creating incentives for greater entrepreneurship and establishing mechanisms for seeding innovation, training and apprenticeships".
Divided into two thematics, the workshop started off by introducing the fellows to relevant skills and tools on social entrepreneurship and innovation and ways these can enhance the impact of Civil Society Organisations (CSOs) and contribute to positive changes in the community.
"Our goal is to extend the fellows' knowledge about social entrepreneurship, innovation and creativity and their effect on social work, encourage them to link activism and entrepreneurship as means of working towards the public good as well as developing the networking potential of the fellowship programme," Al Damrawy said.
One of the fellows, Khalifa Abdullah, who founded Young Voices, an organisation helping marginalised youth in Libya to counter terrorism and build peace among their local communities, voiced the benefits of taking part in this regional workshop.
"Due to the current situation in Libya, it is very hard to communicate with individuals from the region who share the same context and challenges. Taking part in this event is very insightful in terms of regional perspectives on [countering violent extremism] efforts as I got the chance to interact with a number of extremely talented and resourceful people who tackle the same issues as Young Voices in their own country," he told The Jordan Times after the workshop.
Highlighting the importance of including the private sector to bolster and supplement inadequate public-sector efforts, Al Damrawy also noted its contributions in addressing violent extremism.
Jordanian participant Afnan commended the workshop's input on social entrepreneurship and its role in enhancing youth participation in civil society organisations, saying "This helped us to come up with ideas for future projects and learn about many success stories of people who developed projects with local, national and international entities."
"Labour market oriented education and skills development opportunities in the southern Mediterranean are lagging behind the growth of the young people. The lack of fair and stable employment opportunities in the region accounts for widespread poverty in many countries, directly fuelling extremism," the team leader pointed out, stressing the need to promote the role of youth in CVE and providing them with practical tools they can employ when confronted with situations of radicalisation and conflicts.
Al Damrawy outlined the programme's focus on assisting youth in developing prevention and intervention plans such as community awareness, social media campaigns, community outreach and law enforcement.
"This fellowship programme is very relevant for me and my peers because it treats crucial subjects we deal with in our daily lives such as youth empowerment, governance and how to work together as CSOs with the government and the private sector to truly benefit the youth in our region," said Nisreen, a Tunisian participant.
Running through May 3, the workshop will outline a comprehensive framework, including both preventive and remedial measures in the field of radicalisation and deradicalisation.
"Our objective is to contribute to countering extremism by developing grassroots sound interventions with the aim of raising awareness, outreaching and inform wider circles of youth and the community at large," Al Damrawi concluded.
Related Articles
Sep 02,2018
AMMAN — A group of 85 regional youth and Civil Society Organisations (CSOs) representatives convened in the capital on Sunday where they beg
Nov 02,2017
AMMAN — As part of its efforts to support young social entrepreneurs in Jordan, BADIR, an initiative by the International Youth Foundation (
Apr 25,2018
AMMAN — Two Jordanian activists on Tuesday took the stage at the Paris UNESCO headquarters to launch a regional project aimed at combating v
Newsletter
Get top stories and blog posts emailed to you each day.