You are here
Regent reviews progress of earthquake drill 
By JT - Sep 18,2023 - Last updated at Sep 18,2023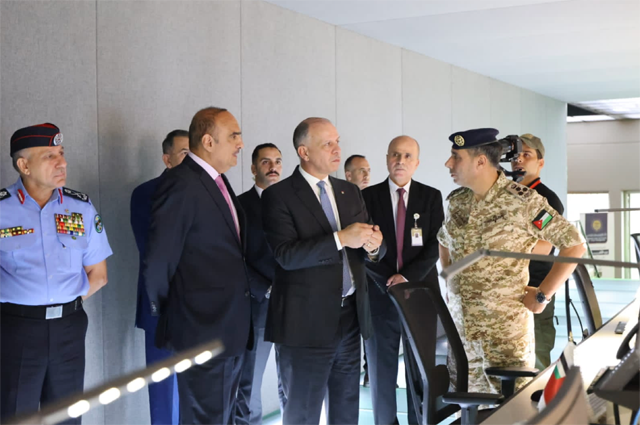 HRH Prince Feisal, the Regent, attends the two-day national exercise 'Darb Al Aman (3)' (Safety Path (3) in English) at the National Centre for Security and Crisis Management on Monday (Petra photo)
AMMAN — HRH Prince Feisal, the Regent, on Monday attended the two-day national exercise "Darb Al Aman (3)" (Safety Path (3) in English) at the National Centre for Security and Crisis Management (NCSCM).
The drill is implemented by the NCSCM in partnership with the concerned ministries, the Jordan Armed Forces-Arab Army (JAF), security agencies and public and private sector institutions, the Jordan News Agency, Petra, reported.
Prince Feisal, in the presence of Prime Minister and NCSCM Chairman Bisher Khasawneh, checked on the essential components of the national plan to deal with earthquakes. The exercise simulates procedures taken by all stakeholders in the event of an earthquake and the mechanisms for dealing with its repercussions.
The Regent listened to a briefing delivered by Deputy Head of the NCSCM Brig. Gen. Hatem Zou'bi on the executive procedures for the national plan to deal with the ramifications of earthquakes.
Zou'bi said that the exercise is based on an earthquake scenario and follows procedures for search, rescue and evacuation operations as well as the activation of pre-set plans that cover all public, security, private sector and voluntary institutions.
He added that the exercise is "a test of national capabilities", including response and rescue operations, infrastructure resilience, updating database-related assistance distribution, and effective dissemination of awareness messages during and after earthquakes, ensuring the continuation of daily activities.
Earlier in the day, Khasawneh chaired a NCSCM meeting in conjunction with the start of the nationwide exercise.
During the meeting, he stressed the importance of the exercise and other similar drills in increasing the level of preparedness and response to any emergencies at a time several countries in the region and the world witness natural disasters, earthquakes, extreme weather conditions and repercussions of climate change.
In press remarks following the meeting, Minister of Government Communications Faisal Shboul said the drill reflects the Kingdom's preparedness in dealing with earthquakes.
Zou'bi said that the exercise was announced in June, before the earthquake in Morocco. The drill is designed to simulate the effects of earthquakes, such as collapsed buildings, lack of shelter, injuries, food and medicine shortages, traffic accidents and overcrowded hospitals.
Newsletter
Get top stories and blog posts emailed to you each day.