You are here
Refugee artists release hopes and suffering on canvases
By Camille Dupire - Dec 20,2017 - Last updated at Dec 20,2017
Sixteen art pieces created by refugees living in Jordan are exhibited at IKEA Jordan (Photo courtesy of UNHCR)
AMMAN — The artwork of refugee artists living in Jordan is covering the walls of IKEA Jordan, in an exhibition titled "Painting Hope: Art from Refugees in Jordan", organised by the UNHCR.
"Art is a powerful tool to communicate important stories and it serves as a therapy to ease conditions while in exile. It provides an opportunity for refugees to release emotions, express their creativity and be empowered to realise their potential," the main text of the exhibition reads, adding that art also helps keep traditions alive and preserve heritage "while making the country of origin present in the country of asylum".
The 16 art pieces combine the diversity of influences brought by years of travel and exile with the influence of the refugees' home country, in a delicate and emotional manner.
Twenty-one year old Mouayad, a Syrian refugee, is one of the artists showcased at the exhibition.
His colourful paintings catch the visitor's eye upon entering, giving an interesting abstract twist to portraits of famous personalities like Albert Einstein and Salvador Dali.
"I started using colours because I wanted to change my soul and spirit. I want to feel that my life is full of colour again," Mouayad said, noting that the yellow he uses reminds him of the sunrise back in Aleppo. The young man, who arrived at Azraq camp in 2016, started teaching art to children and adults inside the camp, opening his house to the most talented students.
"I learned to paint alone when I was a child so I want to ease the road for future artists," he concluded.
Alongside his portraits, the work of Shamal, an Iraqi artist, gives a much more intimate insight into the personal experiences of refugees.
Close up portraits of everyday citizens are finely depicted by the artist specialised in oil painting and charcoal drawing, who is known as "the painter of the soul".
"My work shows the longing for home, for the green, for the traditions and family we left behind. I use different techniques because I want to pass my messages to everyone. I speak to my audience in different languages," he explained.
A third group of paintings gathers the work of artists from the Zaatari refugee camp, offering a broad overview of the wealth of talents living in the camp.
"We were united by art," said Mohammad, a Syrian refugee from Homs who founded the "Jasmin Necklace", an art centre in Zaatari, along with other artists.
An initiative started by two neighbours, the centre now gathers 13 refugee artists daily, in a space that aims to boost creativity, train in new skills and spread positivity in the camp.
"We have the responsibility and obligation of explaining refugee issues to the world and art is our channel, "said Imad, an artist specialised in portraits.
"Time does not stop while in exile. Continuous learning and training of skills are key to guarantee a professional future once the conflict is over.
With their knowledge and talent, artists are positive contributors for the development of future generations," Olga Sarrado Mur, UNHCR external relations officer said.
With over 735,000 refugees registered with UNHCR, Jordan is one of the largest refugee host communities in the region. While most are Syrian, refugees in Jordan come from around 40 different nationalities such as Iraq, Yemen, Sudan, Somalia, amongst others, according to UNHCR.
"Artisanal work provides an opportunity for refugees to meet their economic needs with dignity, as it provides an additional source of income to the families while in displacement, and allows refugee artists to enhance their self-reliance with their own talented hands, reducing dependency on humanitarian assistance," Mur told The Jordan Times.
"My art helps me release stress. I paint in a very small room and I don't have all the materials I need but, despite the limitations, the smell of paint makes me feel happy," Shamal explained.
UNHCR has been supporting art initiatives to improve the lives of the refugees in the camps. Various projects have been implemented in Zaatari and Azraq to "bring life and colour to the originally white shelters, provide space for artists to develop their skills, and allow them to communicate their experiences during their flight and living in exile, while addressing misconceptions about what it is like to be a refugee", according to Mur.
The collection will be displayed in the exit area of the IKEA Jordan store until the end of the year.
Related Articles
Jan 26,2017
AMMAN — Before the civil war flared up in Syria, Emad Kafri was following in the footsteps of his father in Daraa, spending his free time pa
Mar 10,2014
The Canadian embassy is holding an exhibition and sale of artwork by young Syrian artists from the Zaatari Refugee Camp on Thursday, an embassy statement said Monday.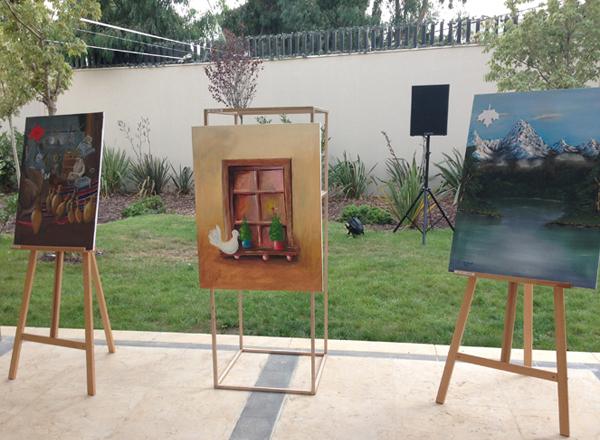 Oct 20,2015
AMMAN — Ayman Hariri, a young Syrian residing at Zaatari Refugee Camp, was among several children invited to display their artwork and give
Newsletter
Get top stories and blog posts emailed to you each day.