You are here
Razzaz meets parliamentary blocs over government's policy statement, other issues
By JT - Jul 11,2018 - Last updated at Jul 11,2018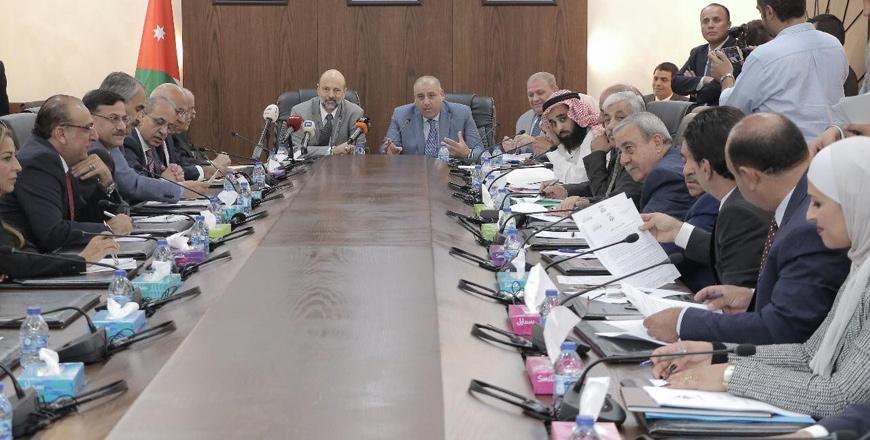 Prime Minister Omar Razzaz meets with members of the Lower House's blocs to discuss government's policy statement and other issues (Photo: Osama Aqarbeh)
AMMAN — Prime Minister Omar Razzaz on Tuesday held closed-door meetings with members of the Lower House's Future and Modernisation and Development blocs during which several issues were discussed.
MP Ahmed Safadi, head of the 23-member Future bloc, was quoted in news websites as saying that the "absence of genuine partnership" between the House and government was among the major concerns raised during the meeting with Razzaz.
Safadi claimed that he was not informed about the government's decision on hybrid vehicles although he is the president of the Chamber's Financial Committee.
Head of the 12-member bloc MP Mazen Qadi was quoted in local news agencies as saying that deputies discussed several issues and concerns with Razzaz, adding that "Jordanians' distrust in MPs and the government" was the major topic of the meeting.
Parliamentary sources told The Jordan Times that Razzaz would discuss his government's policy statements with other blocs and permanent committees until Thursday. The House has 20 permanent committees and eight blocs.
Razzaz presented the government's policy statement on Monday, seeking MPs' confidence.
The House is scheduled to begin its deliberations over the government's policy statement next Sunday, with the vote of confidence expected on Thursday.
The chamber decided to give each parliamentary bloc 30 minutes and each individual MP 15 minutes to present their replies to the government's policy statement.
Razzaz to launch a comprehensive development programme seeking to empower Jordanians, realise their ambitions and fulfill their needs. He also vowed to establish a new "social contract" that shapes and defines the relationship between citizens and their government based on the Constitution and Jordanians' role in achieving sustainable development.
In a statement on Monday, veteran MP Khalil Atiyyeh described the government's policy statement as "disappointing, lacking well-defined programmes to solve the country's woes, primarily unemployment and corruption".
Outspoken Karak Deputy Saddah Habashneh echoed Atiyyeh's remarks, saying on his Facebook account that the policy statement "is similar to those of former government and lacked a clear action plan".
"It is clear that price and tax hikes are the titles of the coming stage," Habashneh said.
For MP Habes Fayez, the government's policy statement was "loose, weak and similar to previous policy statement of former governments".
Related Articles
Jul 10,2018
AMMAN — Prime Minister Omar Razzaz on Monday pledged to launch a comprehensive development programme seeking primarily to empower Jordanians
Jun 27,2018
AMMAN — Prime Minister Omar Razzaz on Tuesday said that the government has commenced drafting its policy statement that will be presented to
Oct 10,2016
AMMAN — The corridors of the Lower House have been busy recently, witnessing non-stop meetings of the newly elected MPs over the formation o
Newsletter
Get top stories and blog posts emailed to you each day.