You are here
Queen urges more sustainable support to countries hosting refugees
By JT - Apr 16,2016 - Last updated at Apr 16,2016
Her Majesty Queen Rania participates in the World Bank Group Session on Forced Displacement in Washington, DC, on Friday (Photo courtesy of Royal Court)
AMMAN — Her Majesty Queen Rania pressed an audience of senior officials and representatives of grass roots organisations on the urgent need for a more sustainable humanitarian response to the global refugee crisis.
She made these statements in Washington, DC on Friday in a speech she delivered at the World Bank Group Session on Forced Displacement, in the presence of HRH Crown Prince Hussein.
Also speaking at the session were UN Secretary General Ban Ki-moon, World Bank Group President Jim Yong Kim and European Commission President Jean-Claude Juncker.
Queen Rania, who comes from a region that has been at the centre of ongoing civil wars causing the worst humanitarian crisis since World War II, identified the unfortunate title the Middle East has earned itself as "the world's largest producer and host of forced displacement".
The consequences of this mass influx have been disastrous, according to the Queen, stripping millions of a future that rests on the support of dependable schools, careers and families living in safe conditions.
Her Majesty stated that over the last five years, almost 5 million Syrian refugees have been streaming into Syria's neighbouring countries, with 1.3 million to Jordan alone, according to a statement from the Queen's office.
"If the United States received an equivalent influx, it would mean accommodating 50 million refugees," she said. "That's almost two-and-a-half more Floridas, five Ohios, or 10 South Carolinas."
But this humanitarian disaster is not only Jordan's to deal with, she cautioned. "This is a global crisis, and we are deluding ourselves if we think it can be contained."
Queen Rania underlined the need to share the burden of this humanitarian responsibility, insisting that "humanitarian assistance must not only be increased; it must evolve".
Her Majesty also warned that desperation directs the vulnerable into the hands of terror groups, who feed on marginalisation and despair. If things don't change, "the bill of our neglect will only rise".
She told an audience of 500 people that Jordan has done its best to provide for Syrian refugees, "because this is who we are".
Among other pledges, Jordan has committed to ensuring that all Syrian children find access to education by the next school year.
The Queen cited stories of physical and psychological pain that Syrian refugees in Jordan have shared with her, explaining that "years can be stolen" from them while they continue to live in limbo with no end for the conflict in sight and while the international community still depends on short-sighted relief-based aid approaches to help them.
Revealing the stress that hosting refugees has posed on Jordan's economy, Her Majesty explained that the demographic shock of this influx has placed tremendous strain on Jordan's towns and villages, depleting their social and physical infrastructures.
With scant resources and devastating pressure on the country's public services, Jordan's own welfare has been hurt on many fronts, according to the Queen.
"With classrooms overflowing and teachers working double shifts, the quality of education is being compromised" for both Jordanian and Syrian children, she explained.
Healthcare centres have become overcrowded, and in many areas, rent prices have sky-rocketed, leaving Jordan's poorest frustrated and destitute.
The Queen highlighted that Jordan's debt to the gross domestic product rose exponentially from 55 per cent to a shocking 93 per cent, after it was forced to borrow money because international contributions have only covered a third of the country's expenses.
Shifting her remarks to the global arena, Queen Rania added: "We are living in a new age of unprecedented mass displacement." With 60 million displaced people worldwide, the situation is not temporary, but a full-fledged "crisis of human development".
This crossroad in history requires a new approach by the international community and a "paradigm shift in the perspective and mindset". Queen Rania said there is a need to focus on growth and investment rather than ad hoc relief aid programmes.
Pointing to the World Bank's recent decision to offer financing at favourable rates once reserved for the poorest countries in the world, the Queen appealed for "nuanced and progressive thinking" as organisations work to develop new strategies to support refugee-hosting countries.
She maintained this would be critical if host countries are to continue helping refugees without sacrificing their own progress.
The session, titled "Forced Displacement: A Global Development Challenge", focused on advancing the debate on the response to the global refugee crisis by finding long-term, innovative and sustainable solutions.
The World Bank Group Spring Meetings are held once a year, bringing together governments and actors from across a wide scope of humanitarian organisations and their supporters.
Related Articles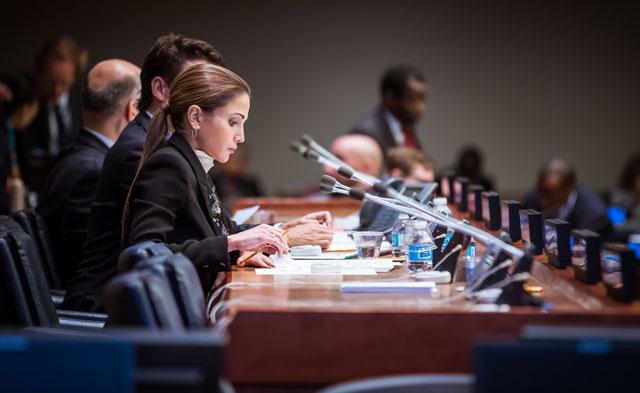 Sep 20,2016
AMMAN — Her Majesty Queen Rania said on Monday that the burden of the Syrian refugee crisis cannot fall on the countries closest to the conf
Sep 24,2014
Her Majesty Queen Rania on Wednesday met with a group of social and humanitarian activists representing various civil society institutions as well as the private sector.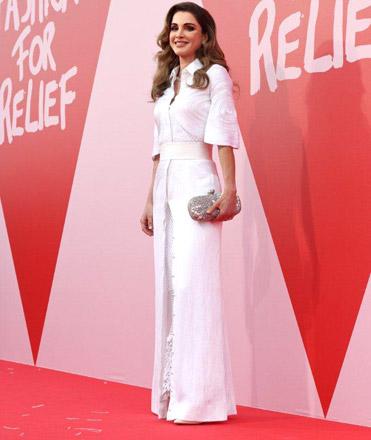 May 21,2017
AMMAN — Her Majesty Queen Rania on Sunday received an award at the 2017 Fashion for Relief charity gala in France, in recognition of her hum
Newsletter
Get top stories and blog posts emailed to you each day.