You are here
Promoting culture of dialogue, preserving heritage at heart of Ifpo mission, says new chief
By Saeb Rawashdeh - Jan 24,2023 - Last updated at Jan 24,2023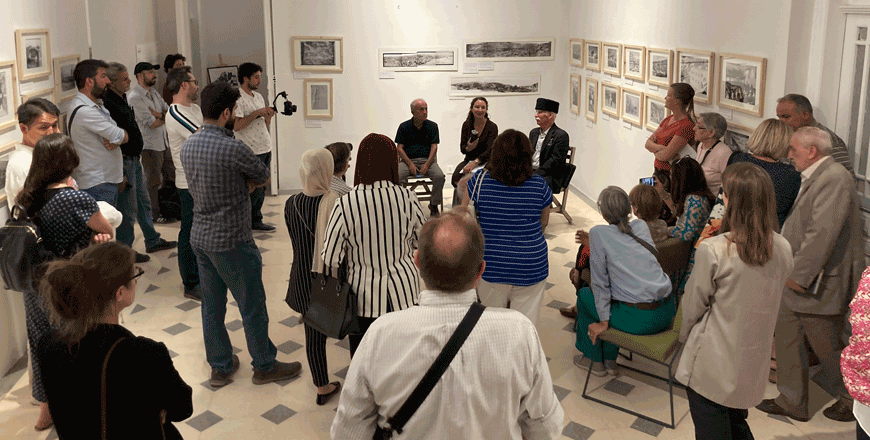 Guests during the opening of an exhibition by Myriam Ababsa, Saleem Quna and Adnan Younes Bazadugh titled 'Amman's Social History through Photography' organised by Ifpo at the MMAG foundation during the 11th Image Festival in Amman curated by Darat Al Tasweer (Photo courtesy of Ifpo)
AMMAN — The French research centre in Amman (Ifpo) aims to disseminate knowledge about the Middle East to develop a culture of dialogue between international academic centres and Jordanian universities and institutions, according to its new head Julie Bonnéric.
Located at the Third Circle in Amman, Institut Français du Proche-Orient (Ifpo) deals with history, archaeology, political science, sociology and the other humanities along with the institute's other offices in Beirut, Damascus and Aleppo.
Ifpo also studies Iraq and the Palestinian Territories, and is affiliated to France's Ministry of Foreign Affairs and the National Centre for Scientific Research (CNRS).
"Ifpo collaborates with, in particular, the University of Jordan, Yarmouk University in Irbid and the Department of Antiquities [DoA]," said Bonnéric in a recent interview with The Jordan Times.
"We try to organise lectures in Arabic because Ifpo has Arabic-speaking scholars," Bonnéric said, adding that Ifpo's library in Amman contains around 11,000 books and periodicals in Arabic, English, French and German.
The mission of Ifpo, which has operated for decades in the region, is to produce knowledge about the Near East, covering periods from prehistoric times to the contemporary period, Bonnéric said.
"Ifpo in Amman coordinates with other Ifpo offices in the region as well as French academic institutions," Bonnéric said, noting that Ifpo also provides training in different academic disciplines, such as excavation, conservation and preservation.
Regarding ongoing initiatives, Ifpo plans to continue excavations in Petra and Jerash, and will start a new project in Aqaba in 2023, she said.
"Since the visit of President Emanuel Macron, we have been preparing a new conservation plan in Jerash's Zeus Temple and we are continuing our programme about migration that includes researchers specialising in refugees in Jordan," Bonnéric highlighted.
The institute also provides scholarships for Jordanian academics to study in France and is organised into three scientific departments: Archaeology and History or Antiquities, Arabic Studies and Contemporaneous Studies.
"Our goal is to continue work on the Aqaba Church with our partners from the American Centre of Research (ACOR) and the DoA," Bonnéric said.
Newsletter
Get top stories and blog posts emailed to you each day.