You are here
Project digs into ancient agricultural practices in Umm Al Rassas
By Saeb Rawashdeh - Aug 19,2019 - Last updated at Aug 26,2019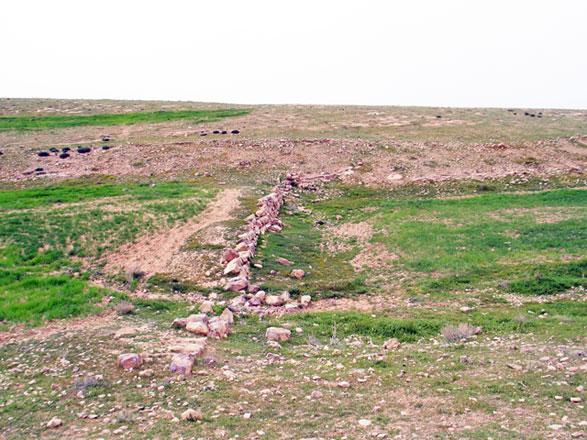 Umm Al Rassas Byzantine damwall in March 2017 (Photo courtesy of  J.M. Castex)
AMMAN — Umm Al Rassas is a UNESCO World Heritage site, located about 75 kilometres south of Amman, famous for its 16 Byzantine churches.
In the late third century AD, the place was known under the name Kastron Mefaa, being the military camp of a cavalry unit, which protected the neighbouring villages from bedouin raids. Due to population growth in the fifth and sixth centuries, the place became the civilian, double-walled town of Mefaa.
What was the economic basis of such a town in the semi-arid steppe? Archaeologist Claudine Dauphin is directing the project that has been working to answer this question since 2017.
The GIS (Geographic Information System) and Landscape Archaeology project is affiliated to the Council for British Research in the Levant (British Academy) and funded by the Anglo-Swiss Augustus Foundation.
Together with GIS expert Mohamed Ben Jeddou, Dauphin calculated that the agricultural lands of Byzantine Mefaa covered an area of 3,850 hectares.
Byzantine agriculture was developed on a large scale between the sixth and eighth centuries in the region south of Madaba and in Palestine's Naqab Desert thanks to an irrigation system, which made use of the water run-off in wadis, Dauphin told The Jordan Times in a recent e-mail interview.
"The beds of the main wadis and of their tributaries were divided into terraced agricultural plots," she said.
Dam walls retained the winter rains necessary for the growing of wheat and barley which were harvested in the spring, as well as for horticulture, which included olives, pears, apples and pomegranates.
"Within the iconographic repertory of the mosaic pavements of the sixth-eighth century churches of Mefaa, activities connected with vineyards held an important place," Dauphin said.
The agricultural landscape of Mefaa included large tracts of vineyards accessed by paths which led to winepresses, Dauphin said, noting that the productivity of the vine-covered gentle slopes required trading outlets, hence "the spider-web system" of roads connecting Mefaa with neighbouring villages and towns, notably to Madaba, to the markets of the cities of the Decapolis and to Jerusalem.
Also thanks to their work, in 2018 the Department of Antiquities (DoA), declared it a "Protected Ancient Landscape", the first not only in Jordan, but in the entire eastern Mediterranean.
Newsletter
Get top stories and blog posts emailed to you each day.