You are here
Prince Hassan opens virtual symposium on fusion energy
By JT - Mar 09,2023 - Last updated at Mar 10,2023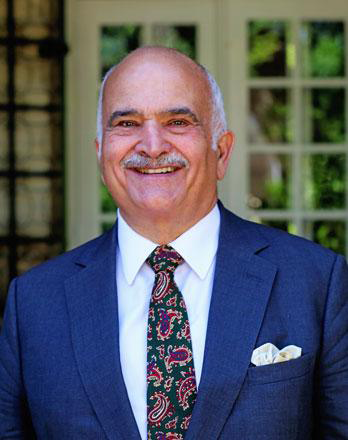 AMMAN — HRH Prince Hassan, chairman of the Higher Council for Science and Technology, on Wednesday opened a virtual symposium titled "Towards a pan-Arab initiative for fusion energy", organised by Al Hussein Technical University.
The symposium aimed to raise awareness of the importance of developing a sustainable energy source in the Arab world and discussing possible collaborations to achieve the clean energy nuclear fusion project, one of the world's newest and largest science and technology projects, the Jordan News Agency, Petra, reported.
In his opening remarks, in the presence of several university presidents, energy scientists, experts and specialists, Prince Hassan stressed that human dignity and integrity must be the ultimate goal of scientific endeavours towards the nuclear integration project, which promises a safer, healthier and more sustainable future for coming generations.
The prince referred to the need for scientists and experts to clarify the social impact of technological advancements, mainly those pertaining to the project, for the people and policy makers alike.
He stressed the importance of technology in bringing about a scientific renaissance in the way water, energy and food are produced, which are vital areas for enhancing human security and dignity in Mashreq, which is one of the most vulnerable areas to climate change.
Prince Hassan underscored the need to promote investment in the scientific field, develop initiatives in Mashreq based on scientific diplomacy to exchange expertise, achieve sustainable energy sources, encourage innovation and develop knowledge.
Tim Luce, chief of Science and Operations and chief Scientist of the International Thermonuclear Experimental Reactor, went over the advantages and benefits of fusion energy.
He highlighted the great potential of fusion energy and underlined the importance of cooperation among countries concerned in the field of sustainable energy, mainly fusion energy.
Moreover, Tony Donné, EUROfusion CEO and senior director of energy integration research in Europe, discussed the progress made in fusion energy and the potential for electricity production, shedding light on EU fusion projects.
Stephen Cowley, the director of the Princeton Plasma Physics Laboratory in the US and professor of astrophysical sciences at Princeton University, spoke about the challenges of achieving fusion energy and the need for continued research and innovation, citing the Princeton Centre's research activities and the lab's consultations with decision-making centres, such as the White House, on fusion energy.
For his part, international energy policy and strategy expert and CEO of the Fusion Industry Association, Andrew Holland, went over prospects for accelerating fusion energy capacity with private investment.
Related Articles
Oct 08,2014
The question of development relates to the practical measures that can be taken by individuals and organisations "within the scientific community" to maintain values alongside innovation and create a culture of scientific education, according to HRH Prince Hassan.
Mar 14,2022
AMMAN — Under the patronage of HRH Prince Hassan a seminar within the Future Dams Project was launched on Monday. Future Dams is a thre
Sep 21,2020
AMMAN — HRH Prince Hassan, chairman of the Higher Council for Science and Technology, has called for formulating a "realistic proposal" that